African-American pastors learn about Mission Board resources in special day
Posted
Excellent day of fellowship, equipping
Mission Board Vice President Steve Parr, who substituted as host for ailing host and Assistant Executive Director Bobby Boswell, said the Mission Board was "honored to host our African-American pastors for this important day and encourage them to bring their friends next year. This has been an excellent day of fellowship and equipping that we will build on for years to come.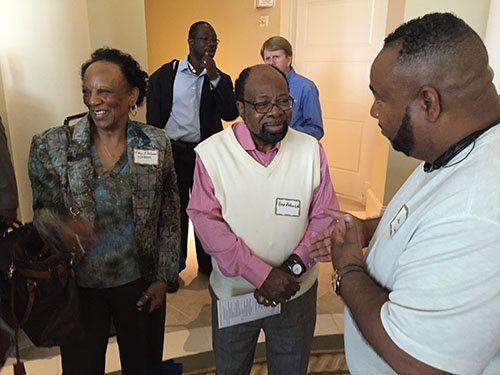 Posey Redmond, center, and his wife Eveyln, left, discuss the day's options with Pastor Jean Ward of East Atlanta Church. Ward also serves as president of the African-American Fellowship. JOE WESTBURY/Index[/caption] "While the primary focus is fellowship and getting to know each other, when all is said and done we as a Mission Board are here to equip the churches. Part of how we accomplish that is by introducing our guests to 20 different ministries provided by our staff." He concluded by noting that Georgia Baptist Mission Board leadership and state missionaries "pray that the sharing of our resources will be used to enhance their leadership skills and strengthen their churches. "When we depart today we will not be finishing but only beginning. This will be an ongoing partnership as together we work to reduce lostness in our state."
A healthy turnout of pastors, staff, and some church members characterized the first annual African-American Day at the Georgia Baptist Missions and Ministry Center. The March 10 event focused on fellowship and networking among not just state missionaries but the guests themselves. A crowd nearing the 60 total registrants spent the day visiting departments to learn how the agency can help equip them to be more effective in reaching their communities for Christ. Dennis Mitchell, senior pastor at Greenforest Community Baptist Church in Decatur, said networking among attendees and state missionaries was first and foremost why he and others attended. He then concluded by saying "everything hinges on relationships." One church, Greater Young Zion, brought a group of nine from Augusta for the day. Associational Missionary Dwayne Boudreaux hailed the day as an excellent opportunity to bring more African-Americans into Georgia Baptist life.