ALBANY — Using fishermen to further the work of the Gospel is hardly a new concept, but for two men in Albany, it just made sense to use the tried-and-true method.  
Bruce English, discipleship pastor at First Baptist Church of Albany, and Jeff Morey, owner of Moe Jigs fishing lures, organized a bass tournament on Lake Seminole in April to raise money for local disaster relief in the wake of Hurricane Michael.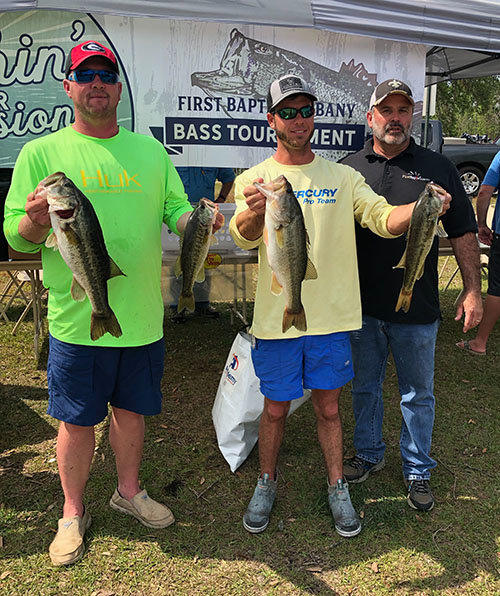 At right Bruce English, discipleship pastor at First Baptist Church in Albany, stands with two participants of the fishing tournament held at Reynolds Landing on Lake Seminole in April. First Albany has had several events to reach men like "Fishing for Missions," such as "Smokin' for Missions" and "Golfin' for Missions." CHANDLER ENGLISH/Special
English explains that the idea was an extension of the philosophy that First Baptist has already been using to disciple men. "We try to take ordinary, everyday activities that men are already doing and use them for ministry opportunities. I call it the 'Jesus Model.'"
The model was first implemented in an endeavor called "Smokin' for Missions." The church has a large smoker the men use every fifth Friday to smoke meats, which are then sold with the proceeds going to help fund the four mission trips taken by the church's students each year.
"We smoke a lot of Boston butts, and around the holidays, we do a lot of turkeys and hams," says English. His thought is that many people are going to be smoking meat for those occasions anyway, so turn that into an opportunity to promote mission involvement.
From there, "Smokin' for Missions" soon evolved into "Golfin' for Missions." "Fishin' for Missions" was the next logical step.
English describes Jeff Morey, who he discipled through a local mentoring group, as the driving force behind the tournament. Morey lives in nearby Leesburg and manufactures fishing lures, about which he has become very passionate as a ministry.
"Jeff is always asking me, 'What are we going to do next?'" English smiles.
The tournament, which was based on a biggest-fish format, was originally planned for October 2018. Ironically, severe damage inflicted by Michael on the facilities at Reynolds Landing where the tournament was hosted delayed its start. Big Jims, the restaurant at the landing, received heavy damaged with clean-up crews using the large parking lot as a depository for a huge mountain of fallen trees and storm debris.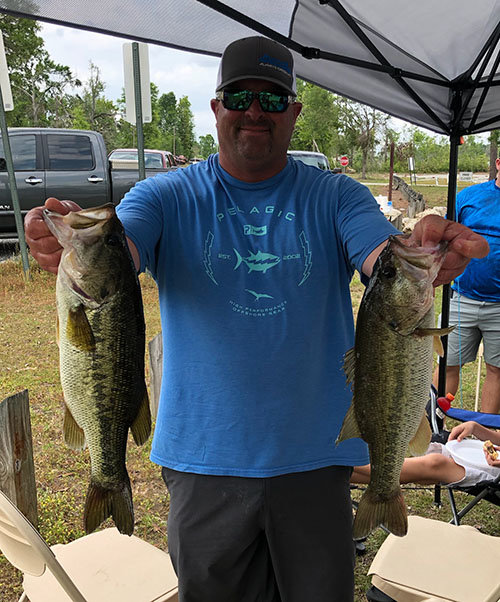 A participant in the fishing tournament recently co-sponsored by First Baptist Church in Albany holds up his catch. CHANDLER ENGLISH/Special
About 20 fishing teams paid $100 entry fees to compete for a flat-screen television, Bass Pro Shops gift cards, and fishing gear that had been donated by local businesses.
A number of nice post-spawn largemouth bass were caught with the winning entry tipping the scales at four pounds and six ounces. When asked what the fishermen were using to catch the fish, English shakes his head sadly.
"They just flat, will not tell you anything," he said.
While the judges were determining the winner, English gave a presentation of the Gospel to the fishermen who he describes as being "very receptive."
Going forward, First Baptist plans to host tournaments in both spring and fall as well as semi-annual golf tournaments.
"Guys are going to be fishing and golfing most weekends in South Georgia. They are going to be handing somebody a hundred dollars," English states, "Why not use that to get them involved in missions?"