Chris Alexander came from Tennessee to follow legendary pastor Tommy Jordan as pastor of Chestnut Grove Baptist Church in Grayson.
By J. Gerald Harris
GRAYSON - Chris Alexander, who is about to begin his third year as pastor of Chestnut Grove Baptist Church in Grayson, is the kind of man you know you will like the first time you meet him. He is a winsome gentleman, an genuine Christian, and a faithful pastor.
Alexander grew up in a Christian home and as a third grader began to ask his parents about the pathway to heaven. He father shared with him God's plan of salvation and led him to have a saving relationship with Christ. A visit to the pastor of his church confirmed the reality of his saving faith, and he was subsequently baptized in Poplar Heights Baptist Church in Jackson, TN.
After moving to Memphis, TN, in 1988 Alexander became involved in a youth group at Ridgeway Baptist Church. One night during a revival, he surrendered his life to serve God in Christian ministry. He prayed, "Lord, I don't know what You are telling me, but whatever it is, I'll do it."
The Tennessee native was only a sophomore in high school at the time of his call into ministry, but he explained, "I still had much to learn, but I focused everything thing in my life around that call. After graduating from the University of Memphis in 1998, I attended Mid-America Baptist theological Seminary to earn a Master of Divinity; and in 2009, God called me back to Mid-America to earn a Doctor of Ministry."
Alexander continued, "For over 25-years I have served at churches of various sizes averaging from 25 to more than 600 in average attendance. At one point in my ministry, I was on staff at a crisis pregnancy center in Oak Ridge, TN. I have tried to follow the example of Isaiah (Isaiah 6:8) by going wherever God has directed me; and it gives me great joy to know that He has called me to serve Him."
While in Oak Ridge, Alexander met Meredith, the young lady who became his wife. He explained, "We were living in the Knoxville area and were part of a few select people who were not fans of the Tennessee Volunteers. We had an instant connection. Meredith, a 1997 graduate of UGA is a Georgia 'Bulldawg' and as a University of Memphis graduate my blood bleeds blue and gray.
"Meredith has been a perfect helpmate for me in ministry. She sees things that I don't see, and her perception is almost 100 percent accurate. I am an extrovert; and she is more of an introvert; but she has taught me so much about how to minister to people who are not like me."
The Alexanders have a 9-year-old son, Landry, who dreams of being featured on the cover of an EA Sports baseball video game and ultimately playing for the Atlanta Braves. Their 7-year-old daughter, Amelia aspires to be the next YouTube star making videos of her playing, teaching, cooking, etc.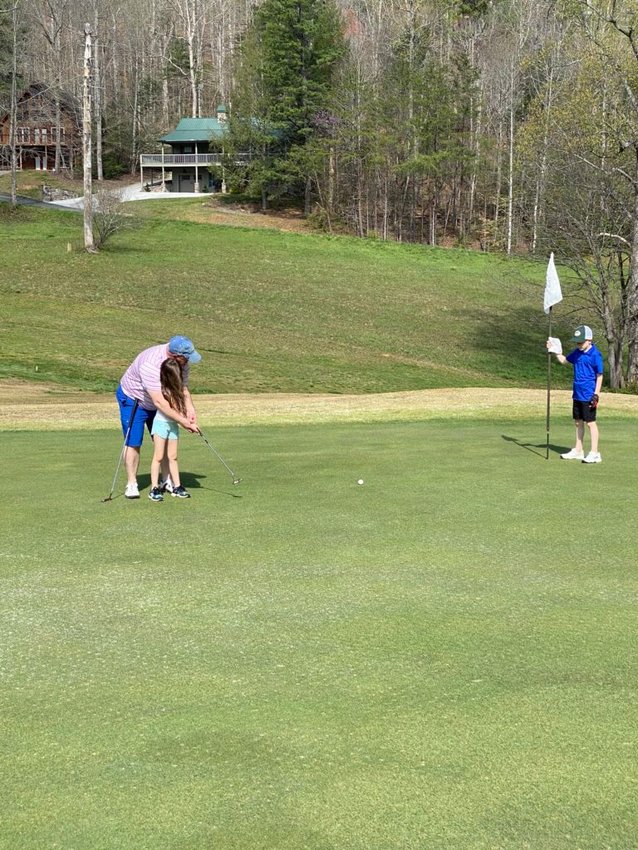 Chris Alexander helps his daughter, Amelia, with her putting as her brother, Landry, holds the pin for her.
"Before Meredith and I were married," Alexander explained, "I was reminded that God ordained the family before He ordained the church. Therefore, I resolved to make sure that my family is my first priority. I fear that many pastors are workaholics and spend so much time ministering to everyone else that they neglect their families who need them most. If I fail as a husband or a father, then I am automatically a failure as a pastor."
Alexander recalled, "I was a two-sport letterman in high school, playing baseball and golf. I was not all that good at golf, but they let me play on the team anyway. I got better as the years passed; and for a short time, I had a single digit handicap. After high school I played golf with my dad every Saturday morning.
That tradition is being continued, because one of the ways Chris bonds with his children is by taking them with him to the golf course. He reported, "Now that my two children are getting older, they enjoy going to the golf course with me. I look forward to giving them that same experience that I had with my dad."
Alexander recalled, "One wild experience I had on the golf course was in college. My buddies and I always knew how to have fun no matter where we were or what we were doing. At the time, there was a television commercial titled 'Full Contact Golf.' It was the combination of golf and football. It was a silly, dumb, commercial where golfers tried to compete while football players tried to tackle them. My buddies decided that we should try this. Needless to say, we went home that day with mud, blood, and grass stains on our golf shirts. And we still talk about that day whenever we get together."
When Alexander came to Georgia to assume the responsibilities of pastoring the Chestnut Grove Baptist Church, he believed it would be a challenge to follow the previous pastor, Tommy Jordan, who had faithfully served the church for thirty years. He stated, "Not only did Brother Tommy leave huge shoes to fill, but every sane person loved him to death. There was no way I could compare to his effectiveness in ministry.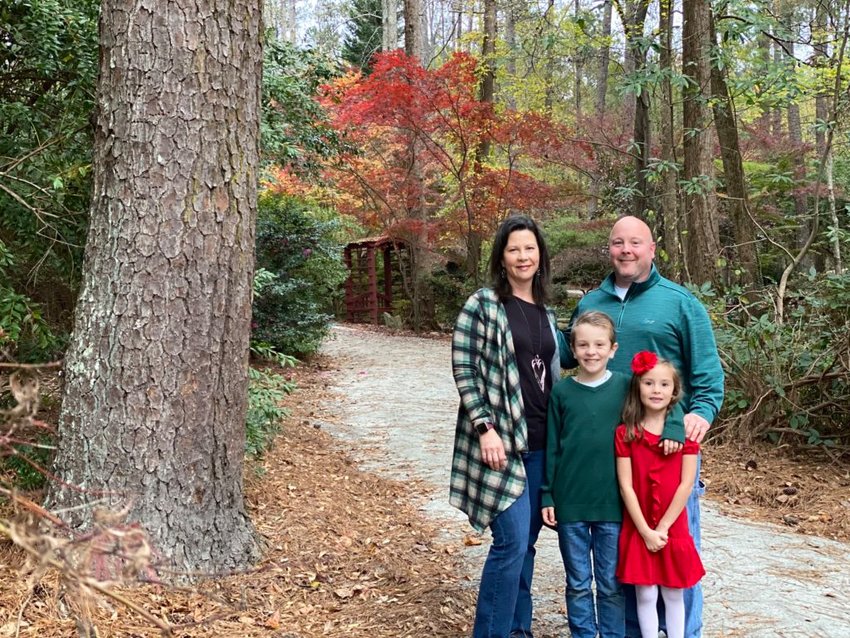 Chris is making his family a priority. Here his is pictured with his wife, Meredith, and their children Landry and Amelia.
"However, Brother Tommy has been one of my greatest supporters. He has been a helper to me more than anything and I greatly value his friendship."
"When I became the pastor, I immediately saw two opportunities for growth. The church needed more young families and more diversity. The church was strong and had a great reputation in the city of Grayson, but we were not attracting young families with small children and the church did not reflect the diversity of cultures typical of our community.
"In 2019, my first full year at Chestnut Grove, we were making tremendous strides at meeting those challenges, but everything changed with the onslaught of the pandemic. From the first Sunday we reopened in June 2020, we averaged 70-75 percent of our pre-Covid attendance. However, the momentum that we had started to grain with young and diverse families came to a grinding halt. Now, I feel that we are back to square one or minus square one. We have a long way to go, but I know that our God is able."
The rampaging Covid pandemic frustrated some of the folks at Chestnut Grove as it did in all churches, but Alexander avows, "We have such great deacons and church leaders that most things are dealt with and resolved before it ever comes to me. It is a joy to be a part of and lead a church like Chestnut Grove."
Alexander is an expository preacher and is currently preaching through the four Gospels simultaneously by harmonizing them and preaching chronologically through the life of Christ. Occasionally, the Chestnut Grove pastor will preach on the subject of marriage, the home, or the End Times. He exclaimed, "In a couple of weeks I will preach a sermon that will inform the members of the status of the Southern Baptist Convention.
"However, expository preaching through books of the Bible is so much better for me. Each sermon builds on the previous sermons, and eventually, every subject under the sun is addressed. But as long as I can preach that all are sinners, hell is hot, and Jesus loves us all, then I am a happy camper."
Basically, Alexander is committed to seeing that Chestnut Grove glorifies God by making disciples who will make more disciples. He explained, "We must reach Grayson and Gwinnett County with the love and message of Jesus Christ."