Andy Childs will join the Pastor Wellness team as the catalyst in the Northern regions. He is pictured with his wife Melissa. COURTESY/Andy Childs
---
DULUTH – The Georgia Baptist Mission Board's Pastor Wellness team will be rounded out with the addition of Andy Childs as a catalyst in the Northern Regions.
Childs will start with the mission board on March 1. He has served as the pastor of Ebenezer Baptist Church since November 2003. Previously, Childs was the youth pastor and later the assistant pastor for next generations at First Baptist Snellville.
Child said he still feels deep roots with the church in Snellville. Childs accepted Christ as a 9-year-old during a Vacation Bible School at Oak Ridge Baptist Church in Houston, Texas. A few years later, his family returned to Georgia and his mother started working as the administrative secretary at First Baptist Snellville. During a youth trip to Bluefield, West Virginia, Childs felt the call to ministry as a 13-year-old.
"I didn't know what that meant," Childs said. "My mom was a church secretary. Nobody else in my family was in ministry, but they were believers. I wasn't sure what I would do. I couldn't sing. I was a short, chubby kid and didn't think I was the greatest speaker. I wasn't cool enough to be a youth pastor. I had no idea what God was going to do with my life."
Childs said he focused on what was known and what he could do at the time – learning to share his faith, learning to have a daily devotion, learning to love the church, and learning to love lost people. He came to a point where he realized there was nothing else he could do that would stir his heart like ministry.
In high school, he helped start evangelism ministries at First Baptist Snellville. While attending college, he served under Richard Jackson at North Phoenix Baptist Church in Arizona where he helped baptize about 1,000 people a year. Later, he and his wife shifted to a smaller church of mainly older attendees. After he finished college, he went to First Baptist North Mobile in Alabama as a youth pastor.
Childs later joined the Snellville staff, and he was able to serve in a transitional role after James Merritt left the church after 18 years as pastor to start Cross Pointe Church in Duluth.
"When he started Cross Pointe, I was still there at Snellville and felt the Lord call me to stay and walk through the transition with them," Childs said. "We love Dr. Merritt, but we felt like the Lord wanted us to be a stabilizing factor."
Childs said he was able to work with the church while they started answering questions like "who are we?" and "what is our mission?"
"It was understanding that even though God has moved the man, the mission doesn't stop," Childs said.
Childs explained that several of the other staff members left with Merritt, so he was able to encourage a new work with a new vision for the church in Snellville. This time in a transitional role showed him the importance of integrity, the value of transparency, and how emotions can fluctuate in a time of transition. Childs emphasized that bringing these emotions to focus on the church's purpose is the highest priority.
Childs remained with Snellville until the new pastor came. Then, he and his family felt a call to Ebenezer from Metro Atlanta.
"We thought that we would be at Ebenezer for a few years," Childs said. "The Lord surprised us by allowing me to have the longest tenure in Ebenezer's history since starting in 1849. I had no idea of the amazing things the Lord would do here in Toccoa. We have seen the church grow numerically, grow in missions, and grow in community impact."
Childs said during his 17 years as pastor, he has had opportunities to leave and minister elsewhere.
"I really felt like there were times when God would say, 'no,'" Childs said. "Then there were times when the Lord said, 'I'll give you a choice. If you choose A, I'll honor and bless you, and if you choose B, I'll honor and bless you.'"
Childs said the decision to serve with the Mission Board was different.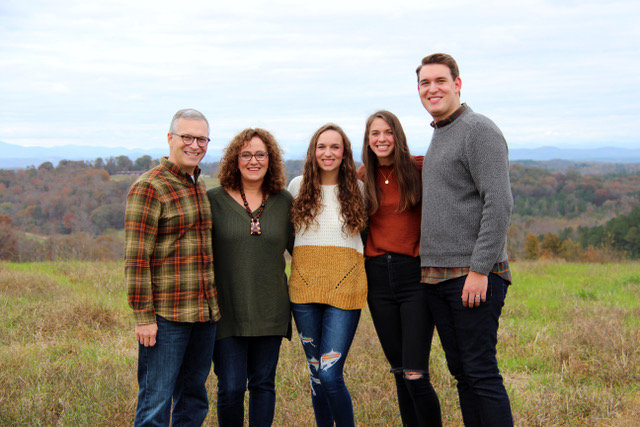 Andy Childs is pictured with his wife, Melissa, their daughter Emilee (middle), their daughter-in-law Jordan, and son Micah (right). COURTESY/Andy Childs
"When Tim Dowdy reached out to me before Christmas, we set it aside for a time with family time and vacations," Childs explained. "Then, it went from a choice to a call. I told my wife, my daughter, and my son that I knew this was what God had called us to, and if I didn't do it, I was being disobedient."
Tim Dowdy, lead strategist of GBMB Pastor Wellness, said Childs brings a wealth of experience to the team and a love of North Georgia. Dowdy said Childs has a lot of energy and passion for the ministry of encouragement and care for pastors.
"He's been in just about every size church and has done a tremendous job in Toccoa," Dowdy said. "He was able to grow a church in a town that wasn't growing in population. He has a heart for pastors. One of the things I love about the conversations I had with him is that he genuinely feels like the Lord has called him to this position."
Childs said he resonates with the vision GBMB Executive Director Thomas Hammond has established with pastors as heroes, churches as the priority, and Georgia as the mission field. He said he can look back on his experiences serving in churches of different sizes with different ministries and know he's been prepared for this role.
"The common denominator is that every church matters," Childs said. "Every church of every size. Every pastor, whether he's known or unknown, is known by God. Having the opportunity to pour into men's lives like God has poured into me is what I'm most excited about."
For more information about the Pastor Wellness resources offered by the mission board, visit gabaptist.org/pastorwellness.
---