CLAYTON — With six months to go until the annual Georgia Baptist backpacks collection season begins, the newly formed Appalachian Mountain Ministry is up and running.
The group was founded by and is housed at the Georgia Baptist Mission Board following January's staff addition of state missionary Bill Barker. The Appalachian native led the Appalachian Regional Ministry founded by the state conventions in Appalachia, the National WMU, and the North American Mission Board (NAMB) 18 years ago. Last year NAMB transitioned its focus in the region to a Send Relief Appalachian Ministry Center located in Ashland, Ky.
AMM Director and State Missionary Barker presided over the newly expanded ministry during its organizational meeting held in May at Pinnacle Retreat Center.
While the national ministry will be coordinated by Georgia Baptists, its traditional partnership with a dozen states and 13 state conventions – including the two Virginia conventions – will remain intact and expand as interest grows, Barker says. The states span a dozen states along the Eastern Seaboard from Montgomery, Ala. to Adirondack, N.Y. – the heart of Appalachia.
Nine of those state conventions were represented at the meeting.
State Missionary Frank Nuckolls, who works with Barker and oversees the ministry through the Association Missions office where it is housed, noted that AMM will be "intentional, Christ-centered, and transformational." He added that it will work closely with state conventions and Associations throughout the region to bring a redeeming ministry to families struggling with poverty.
Founding officers include State Missionary Ricky Thrasher, who will serve as chairman and fellowship director; Joe Sorah from Tennessee, who will serve as vice chairman; and Teresa Parrett from Kentucky, who will serve as secretary. Barker and Nuckolls will round out the team.
The Appalachian Mountain Ministry Advisory Fellowship, as it will be called, also includes a representative of National Woman's Missionary Union. State Missionary Beth Ann Williams, who serves as Georgia WMU executive director, represented the Birmingham, AL-based auxiliary to the Southern Baptist Convention.
The meeting included a discussion of future plans, including a potentially annual AMM Summit Missions Conference scheduled for 2019 or 2020 in rotating locations. The workshop will allow ministry leaders to share various needs in their region with interested groups as they cast the vision for outreach and enlistment of mission teams.
Representatives from Alabama, Georgia, Kentucky, New York, Ohio, Pennsylvania, South Carolina, Tennessee, and West Virginia attended the gathering. States not able to attend included Maryland, North Carolina, Pennsylvania, and Virginia.
Primary focus outlined
The primary focus of AMM, according to its foundational documents, will include sharing the gospel, serving those who serve the poor, and strengthening the local church, missions, and new church starts.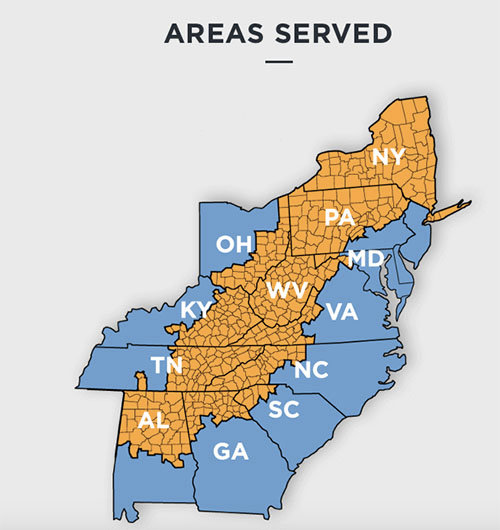 The ministry area was defined as "more than hills and mountains. It is far more than the region portrayed by the media. Appalachia is a diverse region of poverty and wealth, of multiple ethnic groups, of illiteracy and major universities. Appalachia is people. The region has more than 90 metropolitan cities. Appalachia is a region that is spiritually lost.
"Key areas within the region are more than 90% unchurched. Many areas do not have a Southern Baptist work."
The region is tied together by certain economic, political, and sociological factors, as well as missional strategies, the report acknowledged
Groups interested in more information are encouraged to contact ammserve.org.
Last year Georgia Baptists collected 38,246 backpacks for children and their families through the ministry. This year's goal has been set at a record 40,000. When added to those donated by other states, the total reached 74,376. While the annual Christmas backpacks collection is just one element of AMM, it plays an integral role in the overall outreach.
This year messengers will bring the items, color-coded for boys or girls, to the annual convention meeting Nov. 12-13 at Second Baptist Church in Warner Robbins. Collection sites will also be established statewide for those unable to attend the meeting.
As surprisingly well as Georgia and other state conventions have done, the need remains great. In 2016 Barker had 60,000 requests from elementary schools and others in Appalachia. Last year it jumped to 80,000 and total donations fell about 8,000 short. Slightly more than half of those came from Georgia Baptists.
Georgia Baptist President Mike Stone, who was elected by messengers in November, immediately embraced the cause as a key emphasis of his presidency. Barker said he was very encouraged to see Stone embrace the ministry and bring a new family focus to the outreach.
"It will be great to see it expand beyond church groups and involve children as well as parents," Barker explained.
He noted that Emmanuel Baptist Church in Blackshear, where Stone serves as pastor, has shown it is committed to the project by providing 700 backpacks last year.
2018 backpacks emphasis to again include impoverished counties in Georgia
In 2017 the emphasis was expanded to include children in two southwest Georgia Associations with some of the state's highest childhood poverty rates. The theme was also adjusted to "Backpacks of Hope" to highlight both Appalachia and Georgia.
Bethel Baptist Association in Edison and Summerhill Baptist Association in Dawson were that year's recipients.
State missionary Nuckolls, who oversees the annual outreach, said the Georgia Baptist Mission Board identified the top 10 counties with the highest rates of childhood poverty. Those results largely focused on the southern tier of counties.
Terrell County in Summerhill Association appeared as number 8 with the number of children under the age of 19 living in poverty. That rate is about 48 percent, but Clay and Randolph counties in Bethel Association are even higher at nearly 54 percent.
Information on which counties will be featured in this year's outreach will be announced in the near future.
Earlier this year AMM – formerly known as Appalachian Regional Ministry – moved its headquarters from Hurricane, W. Va., where Barker had served as a NAMB missionary. It has now been relocated to a new base of operations in the northeast Georgia town of Clayton, where Barker lives with his wife, Arlene.