Youth leader, NOBTS student, dies on mission field
NAKARU, Kenya (BP) — Even as family and friends mourn the loss of a loved one, they celebrated the Christ-honoring legacy left behind by Emily Martin, an interim youth leader who died Jan. 1 while serving on her third mission trip to Kenya.
Martin, 21, of Hebron Baptist Church in Bush, La., passed away following complications from a blood clot that developed inside her lungs shortly after arriving in the country.
Martin organized the trip, traveling with her brother Joshua, cousin Ashtin Mullett, and friend Vally O'Connor. While in the country, she worked alongside missionaries Len and Susan Eastwood, who represent Neighbors Outreach Worldwide ministry in Nakaru, Kenya.
Even before her first visit to Kenya, Martin had a love for missions that began as a teenager with a church evangelistic trip to Oklahoma where she took part in conducting Vacation Bible School. She also took mission trips to Belize and Guatemala in recent years.
A student with Leavell College of New Orleans Baptist Theological Seminary, Martin likely would have moved to Kenya to continue mission work after graduation, her father, Scot, said.
"Emily had this infectious laugh and smile that drew people to her," he said. "She had a compassion for people and had a way of making people feel loved just like Jesus would."
2017 SBC Pastors' Conference issues financial report
PHOENIX (BP) — In what may be the Southern Baptist Convention Pastors' Conference's first public financial report, 2017 conference president Dave Miller noted expenditures of just over $400,000 for the Phoenix gathering plus an additional $100,000 provided by the Cooperative Program to help pay for meeting space.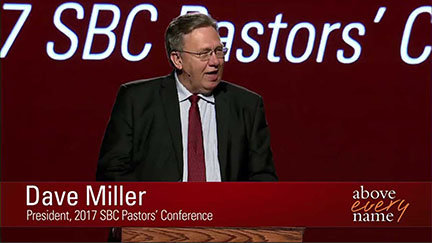 Dave Miller, president of the 2017 SBC Pastors' Conference, issued a written financial report for the conference Jan. 2. Screen capture from sbcannualmeeting.net.[/caption]
"As pastors of average and smaller churches, the costs of the conference boggled our minds," Miller, pastor of Southern Hills Baptist Church in Sioux City, Iowa, wrote in a Jan. 2 report. "But we found that with the support of the entities of the SBC and the help of the Executive Committee, a group of average church pastors can do this."
Last year's Pastors' Conference – held June 11-12 at the Phoenix Convention Center – focused on leaders of small and medium-sized churches, with all conference preachers pastoring congregations of approximately 500 or fewer worship attendees. The conference leadership team also comprised pastors of average-sized churches.
Since 2014, the Pastors' Conference has issued annual financial reports to the Executive Committee, but those reports have not been made public. The EC utilizes the reports in its meetings each February to help set the level of CP funding for future Pastors' Conferences.
GuideStone summit to tackle cybersecurity, sexual abuse
DALLAS (BP) — Cybersecurity and sexual abuse in the church will be among the topics discussed by key ministry decision makers, along with human resources professionals and financial officers of churches and ministries, during GuideStone Financial Resources' second annual Employee Benefits Summit.
The Southern Baptist Business Officers Conference and GuideStone Benefits Forum were merged last year to create a one-of-a-kind conference for church business leaders. The conference, which will be held March 26–28 in Dallas at The Westin Galleria, offers an expanded menu of networking and training opportunities.
The meeting will feature industry experts from GuideStone and the wider employee benefits community. Speakers include Gayla Crain, a noted employment law attorney, Holly Boullion from CapinCrouse, who will cover cybersecurity, and Kimberlee Norris from MinistrySafe to address the topic of sexual abuse in the church.
Additional speakers for the 19 sessions will be announced in the coming weeks. A total of 11 qualifying hours will be available for Continuing Professional Education (CPE) credit.
National CP .98 percent above last year's 1st quarter
NASHVILLE (BP) — Year-to-date contributions through the Southern Baptist Convention's portion of the Cooperative Program are 0.98 percent ahead of the same time frame at the end of 2016 and 3.69 percent under the SBC Cooperative Program Allocation Budget projection for the year according to a news release from SBC Executive Committee President and CEO Frank S. Page.
The $46,229,225.46 received by the Executive Committee from Oct. 1 through Dec. 31 for distribution through the Cooperative Program Allocation Budget represents 96.31 percent of the $48,000,000.00 year-to-date budgeted amount to support Southern Baptist ministries globally and across North America. The total is $447,033.04, or 0.98 percent, above last year's first quarter total of $45,782,192.42.
The year-to-date total represents money received by the Executive Committee or postmarked by the close of the last business day of December and includes receipts from state conventions, churches and individuals for distribution according to the 2017-18 SBC Cooperative Program Allocation Budget.
FEMA: Churches now eligible for recovery funds
WASHINGTON (BP) — Churches whose facilities have been damaged by natural disasters now are eligible to receive relief funds from the federal government, according to a Jan. 2 announcement from the Federal Emergency Management Agency (FEMA).
"Private nonprofit houses of worship will not be singled out for disfavored treatment within the community centers subcategory of nonprofit applicants," FEMA Recovery Directorate Assistant Administrator Alex Amparo wrote in a guide outlining the change in policy. The guide defines, among other matters, the types of nonprofit organizations eligible to receive funding as "community centers" under the federal Stafford Disaster Relief and Emergency Assistance Act.
In the wake of damage to Texas churches by Hurricane Harvey in August, President Trump and Texas Gov. Greg Abbott both had urged FEMA to make houses of worship eligible to receive the same type of disaster relief funds available to other nonprofits.
In the past, FEMA has denied aid to houses of worship after such disasters as 2005's Hurricane Katrina and Superstorm Sandy in 2012 because their buildings were used primarily for religious purposes, Baptist Press reported in September.
Illinois Baptist camp celebrates 75 years
IBSA Newsjoural — In 1928, Illinois Woman's Missionary Union (WMU) began holding youth camps at a lake outside of Pinckneyville owned by F.B. Hiller. In 1942, WMU bought the 40-acre property for $4,800.
The camp was dedicated on July 7 of that year, and later renamed after a visiting missionary from Oklahoma explained the meaning of her name, "Sallateeska." The word, which means "keep looking up," gave the camp its name.
Over the past 75 years, the camp has expanded to 163 acres. Cabins on the campground can sleep 200 people, and the Sallateeska Inn, added in 2000, offers 16 rooms of hotel-style lodging. More recent renovations nearly doubled the size of the dining hall, among other improvements.
Every summer, Judy Halter takes a busload of elementary schoolers from Anna, Ill., to Lake Sallateeska Baptist Camp, where they spend a week learning about Jesus and what it means to tell other people about him.
"I was saved when I was six years old," said Halter, a member of Anna Heights (Ill.) Baptist Church. "But finally, at eight or nine years old, after I came to Lake Sallateeska and the missionaries came and spoke to us, I finally got it. I understood the Great Commission, and that we were called to go, and not just stay when we follow Christ.
Names in the News
William Bell, a biblical studies professor who – from his classroom and a local church – influenced the Southern Baptist Convention's return to biblical authority, was honored in a Dec. 16 memorial service following his death on Thanksgiving Day at age 89.
Bell taught at Dallas Baptist University for nearly 40 years and was theologian-in-residence at First Baptist Church in Euless, Texas, for nearly 30 years. His memorial service was held at the Dallas/Fort Worth-area church. Bell earned a business degree from Georgia Tech in 1945 and an MBA from Louisiana State University in 1950. He served two years in the Army during the Korean War
Milton Ferguson, 89, the second president of Midwestern Baptist Theological Seminary, died Dec. 21 in Kansas City, Mo., after a brief battle with cancer.
Ferguson's tenure as president at Midwestern Seminary began in February 1973, and he served the seminary community in this role before retiring in 1995 at the age of 67.
Prior to his tenure as president of Midwestern Seminary, Ferguson taught for 17 years as instructor of theology as well as associate professor and full professor of Christian philosophy at Southwestern Baptist Theological Seminary in Fort Worth, Texas.
Jeannette Clift George, whose acting career included the film portrayal of Corrie ten Boom, a legendary Dutch woman sent to a Nazi concentration camp for sheltering Jews during World War II, was honored Jan. 12 in a memorial service following her death on Dec. 28 at age 92.
The service for George, whose theater career began with students at Houston Baptist University (then-College) as actress-in-residence, was at Second Baptist Church, Houston.
She was a graduate of the University of Texas and had received honorary doctorates from Houston Baptist University and Dallas Baptist University.