2019 SBC Annual Meeting theme announced by Greear
BIRMINGHAM, Ala. (BP) – The supremacy of the gospel will motivate Southern Baptist Convention President J. D. Greear as he leads Baptists to evangelize, plant churches, and mobilize college students for the Kingdom, he said in announcing his theme for the 2019 SBC annual meeting.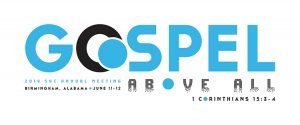 Greear stated his theme as "Gospel Above All" and expressed that he will reflect on the gospel "again and again" during his term.
Empowering cultural diversity, engaging the next generation in cooperative missions, encouraging churches to "take the next step" in church planting, and preventing sexual abuse are also among his goals, said Greear, pastor of The Summit Church in Raleigh-Durham, N.C.
As part of his focus on the gospel, Greear will also launch the "Who's Your One?" personal evangelism initiative in January 2019, he said. He will challenge churches to use their own style and personality in encouraging each church member intentionally to share the gospel and build relationship with one person over the course of a year.
He presented his pledge to appoint a Sexual Abuse Study Initiative as a gospel issue rather than a reaction to current events and political whims.
Contentious debates that go beyond unifying characteristics of the gospel will not direct his work, he told the Executive Committee members and staff, state convention executive directors and presidents, and SBC entity leaders.
Ky. Baptists cut ties with dually aligned churches
PIKEVILLE, Ky (BP) – The Kentucky Baptist Convention will cut ties with a small group of churches that remain dually aligned with a missions network that took steps earlier this year to allow the hiring of LGBT staff members.
Messengers to the KBC annual meeting voted Nov. 13 to accept a recommendation from the Credentials Committee, the Administrative Committee, and the Mission Board to terminate affiliation with congregations that choose to remain a part of the Cooperative Baptist Fellowship (CBF), a fellowship of churches founded in 1991 that objected to the ideology and methods of the SBC's Conservative Resurgence
Dually aligned churches will be given up to a year to comply before they're removed from the KBC's list of affiliated congregations.
Members of the KBC Committee on Credentials have reached out to dually aligned congregations to ask if they were aware of the Cooperative Baptist Fellowship's new hiring policy and to ask if they intended to remain affiliated with the group. Some have broken ranks with the group while others have not.
The Western Recorder, newsjournal of the KBC, reported the state convention's move affects about 25 KBC-affiliated churches that have given financial support to KBC in the past two years and are currently supporting the CBF financially.
Paul Chitwood elected unanimously as IMB president
ROCKVILLE, Va. (BP) – About a decade ago, Paul Chitwood became convinced God was calling him to mobilize missions and missionaries, he told International Mission Board trustees. That call culminated Nov. 15, he said, with his election as IMB president.
The IMB trustees elected Chitwood unanimously as the entity's 13th president during a 20-minute executive session at the IMB's International Learning Center near Richmond, Va. They also elected IMB interim president Clyde Meador as interim executive vice president.
The results of both elections were announced in an open trustee session. Announcement of Chitwood's election, which occurred by secret ballot, was greeted with a standing ovation.
Chitwood, who has been the Kentucky Baptist Convention's executive director since 2011, announced Nov. 6 that, if elected, he would recommend a permanent executive vice president with significant mission field experience.
The only other business items transacted by trustees Nov. 15 were approval of a 3 percent endowment appropriation for 2018 and approval of the IMB's registration with a foreign nation in which the board works.
The previous day, they voted in a brief plenary session to appoint 42 new missionaries.
The trustee officers and executive committee met Nov. 13, and the full board met Nov. 14 in a closed "trustee forum." The board also held various committee meetings Nov. 14-15.
Church plant adopts culture of foster care
MUSTANG – A church plant with the Baptist General Convention of Oklahoma, The Well Church in Mustang, Oklahoma, has worked to cultivate a culture within the church of foster care and adoption.
"Our goal is to make much of Jesus in our city and beyond by making disciples who are satisfied in Him. Foster care and adoption fit into our goal because adoption is gospel language," church planter and lead pastor Stephen Myers explained. "Choosing to love children who don't have a home and bringing them into your home points to the reality of what God has done for us through His Son Jesus."
Through the church plant, Myers and Steven Giblet, pastor of care and discipleship, are disciple makers leading by example. Myers and his wife Jonna have adopted a daughter named Lydia. Giblet and his wife Jessica have fostered many children.
After feeling the "Spirit drawing" them into foster care/adoption, the Giblets became certified and fostered a sibling group. Soon after, the children were moved to a home ready to adopt them. "There is rarely a day I don't think about those two precious babies," he said.
The couple continued fostering other children that have since moved on to live with other families. "Then in November of 2015, Demetri came into our home at three in the morning. This began a slow, hard process that left us heartbroken on multiple occasions… However, "On Dec. 1, 2017, Demetri became fully and wholly our son," he shared
Myers and Giblet offer counsel to pastors who wish to cultivate a culture of foster care and adoption in a church.
Mohler elected vice president of Evangelical Theological Society
DENVER, Co. (SBTS) – R. Albert Mohler Jr. was elected vice president of the Evangelical Theological Society (ETS), effective immediately following this year's annual meeting in Denver, Colorado, Nov. 13-15.
Mohler becomes vice president of ETS with no objections from fellow scholars at the 70th annual ETS meeting. Mohler is the third representative in the last fifteen years from The Southern Baptist Theological Seminary to serve as vice president of ETS, following Thomas R. Schreiner and Bruce A. Ware. Schreiner, James Buchanan Harrison Professor of New Testament, was vice president in 2012 and president in 2013. Ware, T. Rupert and Lucille Coleman Professor of Christian Theology, was vice president of ETS before becoming president in 2009. Gregg R. Allison, professor of Christian theology, was the secretary of ETS in 2018.
Mohler has been an active member of the Evangelical Theological Society for three decades and has presented many papers and addresses for both national and regional meetings.
"The Evangelical Theological Society is the most important academic society for scholars who are, first of all, evangelical, and second of all, committed to the strengthening of this movement, academia, and the engagement of the intellectual world," Mohler said immediately after this morning's ETS business meeting. "The history of ETS is the history of the development of the evangelical movement in America. Even though it is off the screen of most people in evangelical churches because of its academic nature, it was of the most important loadstars of the evangelical movement."
NFL's Watson aids life through Psalm 139
NEW ORLEANS (BP) – National Football League player Benjamin Watson has again joined with the Southern Baptist Convention's ethics entity to provide an ultrasound machine for the benefit of women in crisis pregnancies.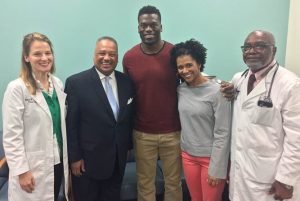 Benjamin Watson, tight end with the New Orleans Saints, and his wife Kirsten funded an ultrasound machine through the ERLC's Psalm 139 Project for a Baptist Community Health Services center in New Orleans. They are joined by former SBC President Fred Luter, a BCHS board member, as well as Hannah Pounds (far left), chief medical officer, and Robert Jemison (far right), family nurse practitioner. SHAWN POWERS/BCHS[/caption]
Watson, a veteran tight end with the New Orleans Saints, and his wife Kirsten donated a machine through the Psalm 139 Project for a center that is part of Baptist Community Health Services (BCHS) in New Orleans, the Ethics & Religious Liberty Commission (ERLC) announced Nov. 5. Psalm 139 is the ERLC's ministry to help place ultrasound machines in pregnancy resource centers across the country.
Earlier this year, the Watsons largely funded an ultrasound machine for the Severna Park (Md.) Pregnancy Clinic outside Baltimore, where he played for the NFL's Ravens the previous season. They made the donation – which resulted in the machine being installed in June – through the Evangelicals for Life (EFL) partnership of the ERLC and Focus on the Family.
The latest machine donated has been placed at BCHS' Andrew P. Sanchez Center in the Lower Ninth Ward of New Orleans. The New Orleans placement marks the fifth in four locations this year involving the Psalm 139 Project.
The ERLC has collaborated with Focus on the Family's Option Ultrasound Program on some of the machine placements. The ERLC and Focus have co-hosted EFL each January the last three years. BCHS staff members have had more than 14,000 prayers and spiritual conversations with patients since the beginning of its ministry in 2014, Shawn Powers, BCHS' chief executive officer and a NOBA missionary, said in comments for the ERLC release.