Pastors and church leaders attended Pastors Day at the Capitol on Feb. 18, 2021. They heard from various legislators and political leaders who encouraged them to be aware of and involved in politics. COURTESY/Myriah Snyder
---
Each year, Georgia Baptist pastors are invited to partake in Pastors Day at the Capitol. This year, saw about 140 people in attendance, including the Governor and several legislators.
Mike Griffin, Public Affairs Representative for the Georgia Baptist Mission Board, hosts the event. He said this year had one of the biggest turnouts compared to years past, even with social distancing guidelines in place.
Griffin opened the event with prayer and an introduction into why pastors should be aware of and ultimately involved in the political scene. He also explained what the Public Affairs Ministry does at the Capitol.
He said the ministry observes what is happening at the Capitol and stays apprised on the various bills that are written and presented each legislative session. The ministry also attempts to motivate Georgia Baptists to get involved.
"When you call your senators and legislators, you're the most important person to that legislator in that moment," Griffin said.
He said the influence of culture impacts what happens in the Capitol. The influence of Georgia Baptists, he emphasized, has the ability to impact the Capitol in a powerful way.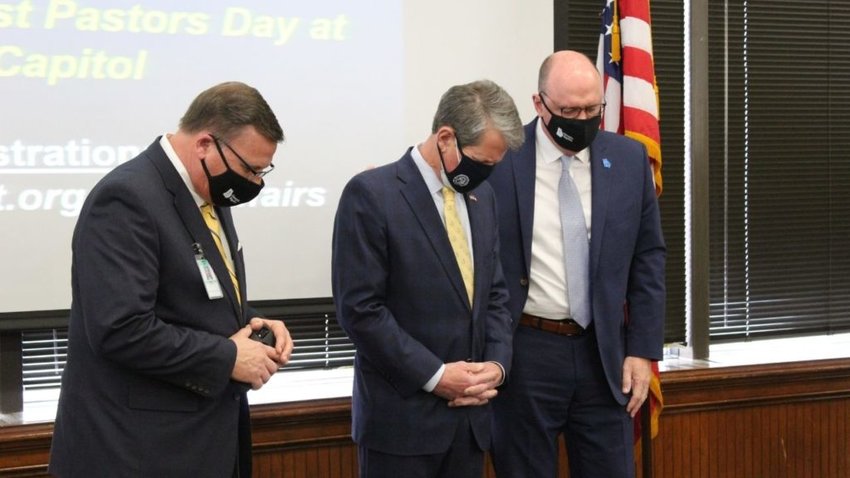 GBMB Executive Director Thomas Hammond prays over Governor Brian Kemp at the 2021 Pastors Day at the Capitol. COURTESY/Myriah Snyder
He played a video from Faith Wins in which David Barton, Texas evangelist, shares why biblical literacy is important to having a strong cultural impact. In the video, Barton displays a list of a topics that have been in the news in recent months – immigration, gender identity, education, estate tax, minimum wages, etc. Barton says every Christian should be equipped with Bible verses to answer each of these issues.
Hear Griffin's full presentation here.
Governor Brian Kemp also spoke to the pastors and expressed his gratitude for their interest in learning more about the political workings of Georgia. He thanked the pastors in attendance for their perseverance during the pandemic. Kemp introduced the Faith Protection Act.
"The Faith Protection Act would ensure that the emergency powers of any governor – present or future – cannot be used to limit the practice of religion," Kemp said. "As you know, we never shuttered churches, synagogues, or other places of worship because we value faith. We value family. We value freedom. After signing this bill into law, we will make Georgia a sanctuary state for people of faith.
Encouraging Georgia Baptists to be involved in the political process and knowledgeable of current issues was a theme of the event.
Be Aware and Be Involved
Alliance Defending Freedom (ADF) Representative Harrison Smith presented legal updates on various cases pertinent to Georgia Baptists.
Smith shared an update on the Equality Act, which has been a hot topic in the news recently. He said the Equality Act is the type of legislation that impacts those who are not yet Christian.
"This isn't just about Christians protecting their rights to be Christians," Smith said. "It's about protecting our right to share the love of Christ with others and also protect those who don't know the Lord yet."
Smith said Georgia does not have a SOGI (Sexual orientation and gender identity) law, but the Equality Act is federal legislation. There is no religious exemption in the Equality Act. Smith emphasized that the Equality Act would also negate any type of Religious Freedom Restoration Act (RFRA) legislation. Read more of the details about this act here.
Smith said ADF's theme verse is 1 Corinthians 12:26. This verse states, "If one member suffers, all suffer together." ADF operates from the standpoint of precedence. If one church suffers or loses a legal battle, it makes it easier for churches to also suffer and lose the same type of battle in the future.
Smith said this is the main reason ADF is dedicated to updating and reviewing core documents for churches. Georgia Baptist churches receive a discount for the organization's services. Smith gave a similar presentation to the Public Affairs Committee in December – read more here. Watch his full presentation here.
Governor Mike Huckabee
Featured speaker Mike Huckabee was unable to attend the event in person, as he was snowed in at his home in Arkansas. He joined the attendees online through Zoom. To watch his presentation, click here.
"Politics start at the most local level," Huckabee emphasized as he encouraged the attendees to be involved. "Sometimes we think it's all about the White House. It's really all about the politics in your house."
Huckabee said there are many people who would claim Christians shouldn't be involved with politics because it is "dirty" business.
"I'd argue that it's dirty business because more Christians are not willing to get involved," Huckabee countered.
Huckabee shared how he was a Southern Baptist pastor prior to entering politics, although he said that the two – pastor and politics – can happen simultaneously. Entering politics was a challenge for him and he often joked during his presentation that it was for those "who've lost their minds." He said he was often told he had abandoned God's call for his life.
"There will be plenty of people who will discourage you from even engaging in encouraging people to vote," Huckabee said. "Don't let them get you down."
Huckabee said he got into politics because he was tired of seeing Christians be sidelined.
"People tell pastors that they don't understand the real world," Huckabee said. "The truth is pastors are the only people I know who 100 percent live in the real world."
There are many people who will compromise their values in ordered to be liked or avoid conflict, Huckabee explained. But, he said, he knows one day he'll stand before God and give an account of his life. He emphasized, therefore, that he will do his best to speak truth based on God's truth, not his truth.
Huckabee closed his time by answering a few questions from attendees and expressing his gratitude for being invited to speak.
Legislator of the Year Awards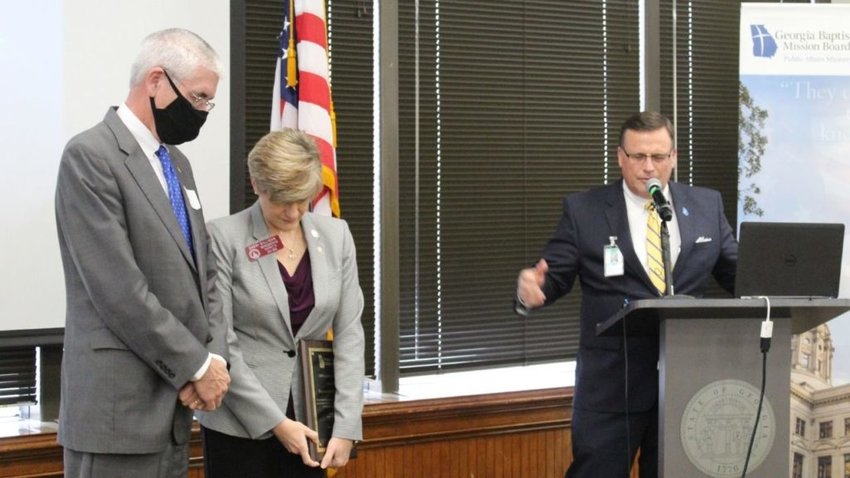 Mike Griffin, Public Affairs Representative, prays over Senator Bill Heath and Representative Sherri Gilligan after awarding them each a Legislator of the Year plaque. COURTESY/Myriah Snyder
Executive Director W. Thomas Hammond, Jr. presented Senator Bill Heath and Representative Sherri Gilligan with Legislator of the Year Awards, as decided by the Public Affairs Committee.
The plaques read, "Given in grateful appreciation for your leadership and commitment to Godly principles as you represent your constituents at the State Capitol."
Brad Hughes, chairman of the committee, said, "This is coming from the heart of pastors to say, 'Thank you for defending the things that matter to us as a people of faith.'"
Hammond and Hughes thanked the legislators for leading well and for everything they do for the state of Georgia.
"Thank you for recognizing that we are all in this together," Gilligan said. "Together we can make a difference." She urged the attendees to continue praying for their leaders and said she hoped to continue to deserve the honor.
The event included lunch and a tour of the Capitol led by Griffin.
---