Caesar Frazer, a former slave from Georgia, returned to his native Liberia as a SBC missionary in 1852. He sailed on the ship "The Liberian Packet" (in the foreground) from the port of Savannah. SPECIAL/GRANGER
---
Freedmen Pioneer Missionaries to Liberia and Early African American Support for Missions
Freedmen Isaac Roberts and Caesar Frazer were pioneer foreign missionaries from Georgia who sailed to Liberia in 1851 and 1852. Unlike African Americans George Liele and David George who became missionaries to Jamaica and Sierra Leone after fleeing Georgia following the Revolution, Roberts and Fraser were leaving with the prayers, blessing, and financial support of the Georgia Baptists they were leaving behind. This support included African Americans both enslaved and free.
Early African American support for missions
African Americans began supporting the American Baptist missions movement from its inception – if not before! The first recorded offerings by African Americans to support the new missions' movement in America were in Georgia, six months prior to the organization of the Triennial Baptist Convention in 1814. Luther Rice, who was raising support for missions recorded in his accounts:
"Dec. 27, (1813) — Of two or three blacks, Sunbury, Georgia * .25
*I am not satisfied with simply mentioning this donation. These blacks were professors, of religion. They had voluntarily rowed me several miles in a boat, when, instead of receiving compensation which I offered them for their services, they, understanding something of the nature of my business gave me their willing contribution. —I thought of the widows two mites and the Saviors approbation."
Two days later, on Dec. 29, 1813, Rice recorded: "Having preached an evening lecture in the meeting-house of the 1st Colored Baptist Church, Savanah, Georgia — from the pastor of that church, by the hand of Rev. Mr. Johnson - - - - 10.00"
The first African American missionaries commissioned by the Triennial Baptist Convention were Lott Carey and Collin Teague from Virginia in 1821. They were a part of a movement by freedmen migrating from America to colonize Liberia. At least 21 African Americans were commissioned as Baptist missionaries to Liberia before 1860. Others served in Sierra Leone and Central Africa (Nigeria). Financial support was often designated for "African Missions" by the African American members of Baptist churches.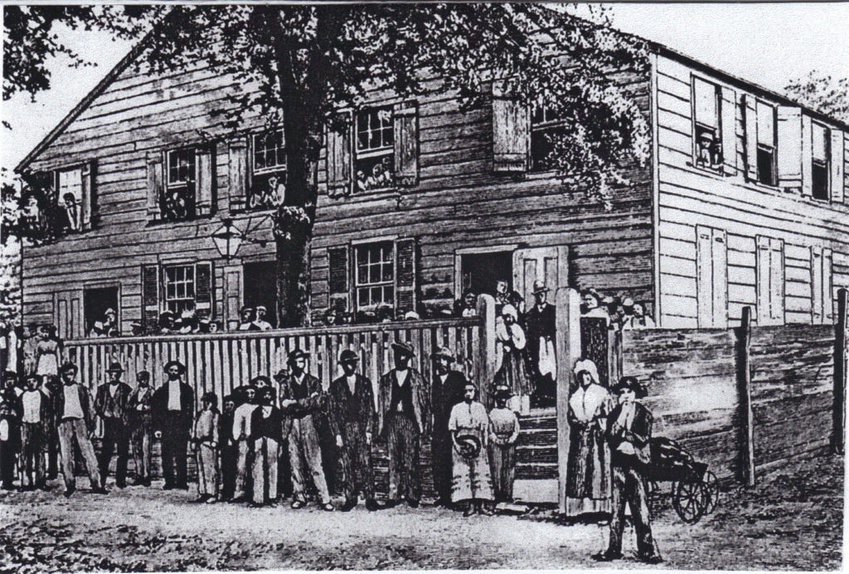 First Bryan Baptist Church in Savannah where Issac Roberts Pastored 1846-1849. SPECIAL/Library of Congress
Isaac Roberts (ca. 1810-1870's)
Isaac Roberts and his wife were both born as free persons in Savannah. His trade was a cooper (barrel maker) and he, unlike most African Americans of his day, was literate, having learned to read as an adult. He and his wife (formerly Miss Brooks) had a large family and had to provide "clandestine instruction" for their children because it was illegal to teach blacks to read in Georgia at that time.
He was converted at age 30 and baptized into the fellowship of the Second African Baptist Church in Savannah. Not long after his conversion he began to preach and was later called to the First Bryan (African) Baptist Church in Savannah. A brief biography in the history of the church stated, "He did much to build up the church and arouse the spirit of its members to work for the Master's cause." His ministry at the church was described as "brilliant." Minutes of the Sunbury Association record his attendance at associational meetings in the 1840's.
The Roberts family sailed with other colonists from Savannah in 1851. In Liberia, he served a number of church fields having a long ministry that lasted least into the 1870's. In his correspondence to the Foreign Mission Board, he indicates at least one of his sons was called into the ministry and served churches in Liberia. Some of his reports included the final greeting: "Yours in the bonds of Christ."

SPECIAL/Charles Jones, SBC Library and Archives, Nashville, TN
Caesar Frazer
Less is known about the life and ministry of Caesar Frazer but what is known is intriguing. He was born free in Liberia before being enslaved as a youth and surviving the horrific journey on a slave ship to America. At some point he was converted and became a member of the Springfield (African American) Baptist Church in Augusta, Georgia.
Frazier began preaching and pastoring in the Augusta area.  His attendance was recorded in associational meeting minutes. His call to the ministry was recognized by his owner who granted him freedom and paid his return passage to Liberia to serve as a missionary. Much of his initial support on the field was raised by the Rehoboth Baptist Association in middle Georgia which had adopted him as one of their missionaries.
In January 1852, he sailed from Savannah on a ship named the "Liberian Packet" with 160 other colonists from Maryland, Tennessee, and Georgia. It is likely he was the only one returning to the land of his birth and under vastly different circumstances than his journey to America. After his arrival Frazer's home region was determined based on his distinct dialect.
Because of his language skills, he would have been a valuable addition to the African mission. At this time translators were typically hired to work with the missionaries. It must have been a beautiful sound for Liberians to have heard the gospel proclaimed directly to them in their own heart language.
Unfortunately, possibly because he may have been illiterate, few records exist concerning his life and ministry in Liberia. His name does not appear on a list of Liberian pastors published in 1860. It may be assumed that by that date he had died since many of the colonists died from tropical diseases. His story is a testimony on the one hand of the inhumanity of man to man and on the other hand to the grace of God.
Their legacies
Both Roberts and Frazer were pioneer African American Baptist missionaries leading the way for others and laying down their life in service for the call of the gospel. They endured hardships, disease, and peril on the seas. Their work was vital and proved to be an inspiration for African Americans in Georgia. Many living in the bonds and poverty of slavery began to pray, give, and support carrying the gospel back to their homelands in Africa. Roberts and Frazer may have been forgotten but today we remember them and celebrate their lives and legacy once more.
---
This article is the first of a series in honor of Black History Month that will focus on the contributions of African Americans to the advancement of the gospel.