Jimmy Blanton smiles during a celebration Oct. 19 honoring his 25 years leading Columbus Baptist Association. CBA/Special
---
COLUMBUS — Jimmy Blanton's 25 years leading Columbus Baptist Association has been transformational, say friends and pastors. And as far as they are concerned, he can stay for 25 more.
Twenty-two years as a pastor in the area prepared Blanton for the associational missionary position he accepted on Aug. 1, 1995. Since then, others testify, he's been a light for the community and encouragement for pastors.
"When I think of Jimmy, I think about his integrity. He also has a strong work ethic. When he was battling cancer, he continued to do his work," said Tony Dickerson, longtime pastor of Pinehurst Baptist Church. Dickerson's appreciation for Blanton extends even further, as the pastor has been engaged in his own battle with cancer for years while continuing to preach.

Tony Dickerson
"We've had some fine men lead this association. But in my opinion, Jimmy is the best," explained Dickerson, who was chairman of the committee that invited Blanton to the position. "He's done well in leading us forward and has served in an outstanding and commendable manner."
One example of that has been Columbus Association's efforts in pushing back against homelessness in the community. In 2010, the Association joined the city's ten-year plan to eradicate homelessness by providing shelter for families at 30-to-90-day intervals. Such steps could provide solid footing – even if temporarily – and break the cycle of poverty crippling many families.
Ministry opportunities continued through Mission Columbus, CBA's outreach arm Blanton started a few years after his arrival. A recent example is the ongoing food distribution efforts that proved to be especially needed during the COVID-19 shutdown this year.  
Craig Bowers, moderator for the Association and pastor of Wynnbrook Baptist Church, helped lead in planning a celebratory gathering for Blanton on Oct. 19 to coincide with the Association's annual meeting.

Craig Bowers
"We had plans for it to be a big gathering when we started putting it together back in January," he said. "But, COVID made us change those plans.
"Jimmy is a visionary leader. He's always thinking ahead on what will help the association and pastors. It's never about himself. He's thinking about how to best serve pastors for a changing future. That has impressed me greatly."
Unity through missions
Blanton credits God for the Association's impact, but also the willingness of churches to work together for the gospel. That came through Blanton establishing an Acts 1:8 strategy to gin up missions involvement on the local, state, and international levels.
"Over the years, volunteers and churches have stepped forward and taken the challenge to do something through the power of God," he said. "Just because you haven't done something before doesn't mean you can't do it now."
That attitude is reflected in Ephesians 3:20-21, a passage of which Blanton is fond and points to as a focus on the One who can "do far more abundantly than all that we ask or think, according to the power at work with us."
Those steps play a strong part in building unity in the Association.
"A lot of walls between churches have come down with them going on mission trips together," Blanton noted.
Out and about
Bowers called on Blanton for guidance not long after arriving at Wynnbrook five years ago.
"I invited him to help our key leaders develop our core values. He really helped us do that and gave us good direction and insight," he said.

Jerry Speer
Such a hands-on approach has served churches well. Next June, Jerry Speer will mark 40 years as pastor of Northside Baptist Church (Only Dickerson's 48 years at Pinehurst exceed Speer's in tenure among Association pastors.). Blanton, he said, directed churches into more of a missional mindset.
"Jimmy doesn't stay in his office," Speer asserted. "He came in here with a zeal for missions and moved us in that direction. He's spent a lot of time in the trenches with us."
That included moving the associational office to a more needy area of the city for more effective impact. "We now have a food ministry that feeds more people than any other in town," Speer added. "The Association is consistently seen as a place where people come to Jesus through things like our clothing and food ministries."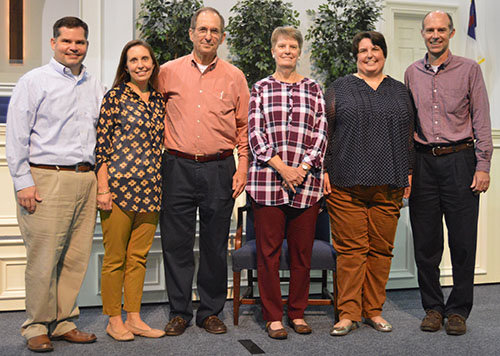 Jimmy Blanton and his wife, Anita, stand with, at left, son-in-law Jason Jay and daughter Ashley and, at right, son-in-law Bruce Hutchens and daughter Angela. CBA/Special
Over the years Blanton has also filled many pulpits.
"He's a phenomenal preacher and a blessing for us to have as a resource," Speer testified.
"When I was very sick, he preached our Sunday evening services for two months," said Dickerson. "He's a gifted pulpiteer – well-prepared, uplifting, and remarkable.
"Those of us in the Association want him to stay as long as possible. We're not interested at all in him retiring. I'm not, and he's welcome to stay as long as I do."
Blanton credits God for working in Columbus Baptist Association, but also the obedience of others.
"It's not only God, but the great volunteers, staff, and support from churches and pastors through the years," he pointed out. "Associational ministry can't be anything more than what the people allow it to be. It goes back on them. It's their association."
---