Michael Boatfield shares the Gospel in Fortera Stadium, the home of the Austin Peay State University football team, where 25 of the players trusted Christ as their Savior. Photo provided
---
POWDER SPRINGS – Michael Boatfield was called to preach at age 32 and has been in full-time ministry since 1994. He is currently pastor of Macland Baptist Church in Powder Springs and has a passion for working with student and children's ministries. In fact, his effectiveness in reaching students for Christ is quite remarkable and worthy of note.
Many churches have a glaring shortage of young people; polls show that 75 percent of today's youth intend to leave the church after they leave home. But our youth have energy. They are daring and adventurous. They have amazing potential Their hearts are filled with visions of the future.  They can be invaluable assets to the cause of Christ.
Boatfield sees today's youth as a mission field and worthy of his time and energy.
He explained, "I got started ministering to sports teams years ago because of my own love for sports. When I was growing up, I thought sports was the reason for my significance. As I matured, I realized that I was not to be defined by my athletics but by my personal relationship to Jesus Christ.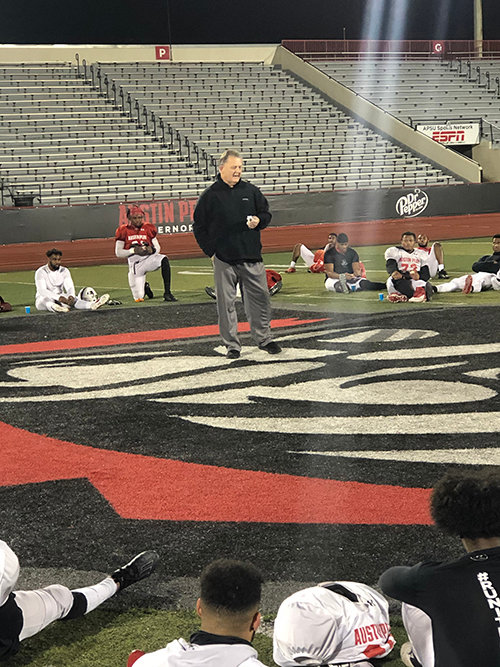 God has opened multiple doors for Michael Boatfield to present his message of: (1) Grace alone, (2) Faith alone, and (3) Christ alone. Photo provided
The Austin Peay State University football team has been the most recent recipient of Boatfield's ministry. A friend, Scott Pope, opened the door for the Georgia Baptist pastor to go to Clarksville, Tenn. to share the Gospel with the APSU Governors.
Boatfield said, "I got to share Jesus with their football team on a Friday night. There were 25 young men who made professions of faith and gave their hearts to Him. We will continue to serve these young men by taking them Bibles and providing discipleship materials as they begin their walk with the Lord."
APSU has a young coach, Scotty Walden, who is a devout Christian. He is in his first season as a college football head coach and is preparing his team for an abbreviated winter/spring schedule due to most of the 2020 games being cancelled due to the pandemic. He welcomed Boatfield's ministry because he wants his team to be prepared for the season not only physically and mentally, but spiritually.
Boatfield explained, "I began ministering to students years ago in Kingsport, Tenn,, to the Sullivan South High School Rebels and later to the athletes at Rush Strong Middle School in Strawberry Plains, Tenn."
In 2007 Boatfield moved to Cartersville, Ga. to become the pastor of Atco Baptist Church and the door opened for him to be the team pastor for the Cartersville High School Hurricanes where he saw approximately 350 young men pray to receive Christ. He added, "We had one young man who was saved in the dressing room at halftime.
I am convinced that student athletes must not only be saved but given Bibles and discipled. It must be a team effort, because one pastor and one church cannot do all the follow-up that is needed."
In the two years Boatfield has been at Macland, God has opened doors for him to minister in 14 - 15 schools and several sports teams. He indicated that he has seen athletes or students saved at Osborne, Kennesaw Mountain, McEachern High Schools, and North Cobb Christian School. He has also had opportunities to minister to students and Woodland Middle School in Cartersville.
It's easy to assume that public schools are not open to a Christian witness, but the Macland pastor stated, "I think doors have been opened because I have a burden for our younger generation. The Fellowship of Christian Athletes has been helpful in getting some of those doors to open. Sometimes it only takes a simple phone call and a visit so that I can ask, 'How may I serve you or how may I pray for you?'"
Boatfield continued, "I try to let school officials know that my primary interest is not to benefit church, but to be a blessing to the school. I want our church's focus to be outward, not inward. The Christian life is all about relationships, just as the ministry of Jesus was all about relationships."
"My message is simple – grace alone, faith alone, Christ alone. That has always been the message and it will always be the message. Our youth today are looking for something different. They want something that is real; and many say that they don't want what their parents have. They want something that is authentic, not something that is shallow and fake.
"I almost always use the Roman Road plan of salvation with an emphasis on the transformation that occurs when a person by faith accepts Christ. There has to be a heart change. God does not want to clean up our hearts, but He puts inside of us the heart of His Son, Jesus. When we understand that we will discover that we want what He wants."
The Macland pastor's message is evidence that the Gospel still works. Since 2007 he has seen approximately 900 students and student athletes come to faith in Christ; and he is very careful to give all the glory of God.
Boatfield's presentation of the Gospel not only resonates with high school and college students, but with the members of Macland Baptist Church. He commends his congregation by saying, "It is an awesome group of people that allow me to go wherever God opens doors for the proclamation of the Good News. I am blessed to serve with the people of our church; and I know they want to be a catalyst for revival in our community and the great spiritual awakening we believe is coming soon."
Georgia Baptists are focusing on three values; Pastors are our heroes, churches are our priority, Georgia is our mission field. I know Michael would never think it or say it, but he is one of our Georgia Baptist heroes.
---