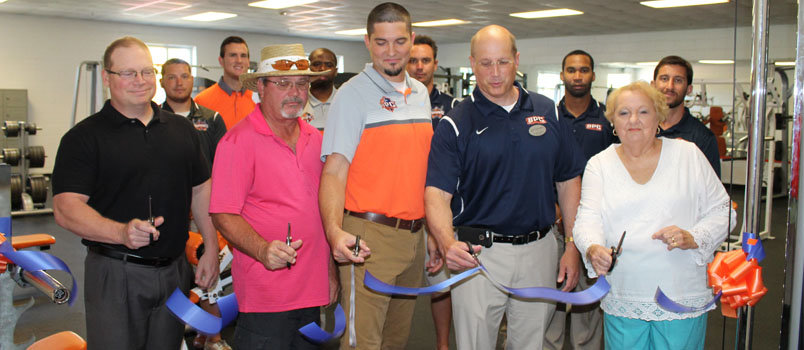 Brewton-Parker President Steve Echols (in front, blue shirt) and Vice President for Athletics and Student Development Daniel Prevett (in front, orange shirt) join trustees, administrators, staff, and community members July 23 to celebrate the grand re-opening of the college's Community Abundant Life and Wellness Program. MANDY CORBIN/BPC[/caption]
By Mandy Corbin
MOUNT VERNON — Brewton-Parker College celebrated the grand re-opening of its Community Abundant Life and Wellness Program with a ribbon cutting ceremony July 23 thanks to a $100,000 grant from the Georgia Baptist Health Care Ministry Foundation.
The event took place in conjunction with Tri-County Family Connection's Back-to-School Resource and Health Fair, which was held at the Gillis Gymnasium on the Mount Vernon Campus.
"We are very grateful for the $100,000 grant from the Georgia Baptist Health Care Ministry Foundation for new exercise equipment and other expenses associated with this new program," said Steve Echols, BPC president. "This wonderful foundation provides Georgia Baptists and others with the funds to minister to the health needs of communities in the name of Christ. Without this very generous gift the securing of new equipment would not have been possible."
New equipment added
"We also have received a gracious provision from Optim Healthcare to provide for a professional exercise specialist who will be leading this wellness program for BPC and the public," added Echols. "Optim Healthcare has been a great partner in providing a trainer for BPC athletic teams. We deeply appreciate this additional gift to BPC and our community. Brewton-Parker College is excited about the opportunity to provide this service to our community that has given so much to BPC in so many ways."
According to Daniel Prevett, vice president for Athletics and Student Development, the grant was used to buy new equipment for the program. "We bought strength equipment that not only replaced old broken machines, but also added eight new machines we did not have before," he said. "We also bought seven brand new cardio machines, a power lift platform, two cable machines, a set of dumbbells, plyo boxes, slam balls and two Smith machines."
Developing physically and spiritually
Prevett further noted, "This gift provides us with an opportunity to continue to develop our student-athletes both spiritually and physically by creating an atmosphere of excellence.  The future at BPC is very bright and the Georgia Baptist Health Care Ministry Foundation has given us the head start we needed."
Prevett says the program is scheduled to begin Aug. 1. Classes will be offered in weight training, weight loss, equipment training, aerobics, body fat percentage tracking, and "Faith and Fitness." There will also be on-duty assistance during community hours. Signup cost for an access card is $10. Hours for the exercise facilities and class times will be posted on the athletic website. To sign up, email leecenter@bpc.edu or stop by the athletic offices in the Gillis Gymnasium.