Originally printed in The Christian Index Nov. 29, 2012. 
WARNER ROBINS — During the annual meeting Disaster Relief ministries collected more than 1,000 buckets filled with cleaning supplies for victims of Hurricane Sandy. The buckets were destined for Manahawkin, NJ, where nearly 50 Georgia Baptist volunteers remain on site.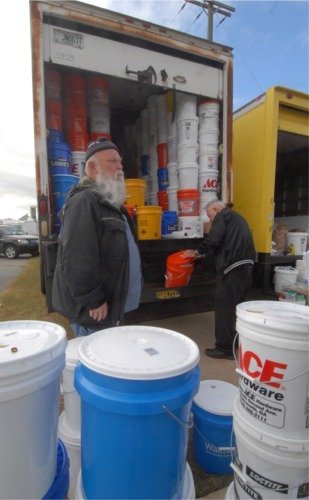 Ronald Clements. foreground, and Lloyd Britt, background, both from First Church Centerville, collect and check the "Buckets of Care" donated at the Georgia Baptist annual meeting. SHERRI BROWN/Index[/caption]
DR Coordinator Stuart Lang said the volunteers are still engaged in feeding, cleanup, and chaplaincy ministry and the Georgia Baptist presence is expected to remain on site through the end of the month.
The statewide appeal for the "Buckets of Care" – which included safety equipment, tools, and first aid items packed in a 5-gallon bucket – topped out at 1,331. The buckets also included evangelistic information. The day after the annual meeting closed, two trucks loaded with the buckets left the Baptist Missions and Ministry Center to be distributed by Southern Baptist disaster relief volunteers already working on site.
Georgia Baptists responded within days of the Oct. 29 "Superstorm" as it was called, sending two cleanup and recovery teams. On Nov. 7 GBC Executive Director J. Robert White issued a plea for 1,000 buckets to be brought to the annual convention meeting.