By Tyler Sanders/Gateway Seminary
RIVERSIDE, Calif. (BP) – Ray Tong has joined the Gateway Seminary executive leadership team as vice president of business services and chief financial officer. His employment begins June 1, and he will take on the CFO role August 1.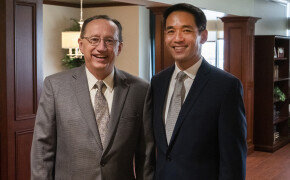 Jeff Iorg and Ray Tong
"Mr. Tong is a proven business leader with more than 25 years of experience working in financial leadership for two Fortune 50 companies," Gateway President Jeff Iorg said. "We are amazed God has brought us such a competent person to Gateway and are eager to work with him."
Tong was most recently CFO and vice president of Global Fanatics Brands, a market leader for licensed sports merchandise. He previously held leadership positions at Walmart and Dell Technologies and began his career as an accountant with Price Waterhouse Cooper in San Francisco.
Tong earned an MBA from the Fuqua School of Business at Duke University and a BA in business economics from UCLA. He is a certified public accountant and a certified treasury professional.
"Ray is a passionate Christian and committed churchman who prioritized God's mission while serving as a lay church leader," Iorg said. "His transition from the business world to Gateway reflects God's leading him to be more directly involved with the equipping of ministry leaders. We are grateful to add his experience and skill set to our ministry setting."
Tong was born in Hong Kong and moved to the San Francisco Bay Area as a child. He accepted Christ as a teenager and has served churches as a youth leader, Bible teacher and elder.
---
Austin appointed SBTS senior VP for institutional administration
By Jeff Robinson/SBTS
LOUISVILLE, Ky. (BP) – Jonathan B. Austin has been appointed as the new senior vice president for institutional administration at Southern Baptist Theological Seminary, President Albert Mohler announced Thursday afternoon (May 20).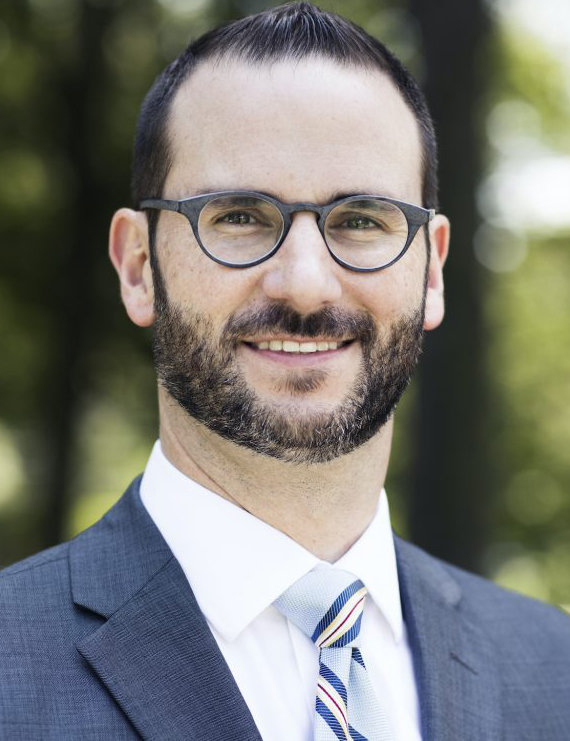 Jonathan Austin
Austin, who has served as Mohler's executive assistant and chief of staff since 2017, will begin in the role August 1. He will succeed Craig Parker, who recently announced his retirement after serving SBTS in that role and others for many years.
"Jon is a remarkable leader and one of the most capable managers with whom I've had the experience to work," Mohler said. "He has a remarkable background, including having served as a partner in a law firm. He reveals a deep love of Christ and great Christian character. He is also a graduate of Southern Seminary. I know the entire Southern Seminary family will take great satisfaction in Jon's appointment."
An Oklahoma native, Austin holds an undergraduate degree in business from Oklahoma State University and a law degree from the University of Oklahoma College of Law. He practiced law for nearly 15 years at a specialty firm in Oklahoma City and was a partner in the firm. His primary areas of practice were in business transactional work, commercial real estate and non-profit law. Austin graduated from SBTS on May 7 with a master of arts in theological studies.
An experienced teacher, Austin also serves as an assistant professor of law at Boyce College. Prior to his move to Louisville in 2016 to attend SBTS, he served as an adjunct professor at the University of Central Oklahoma and taught for the Oklahoma Bar Association. Jon and his wife, Erin, have four children and are members of Ninth & O Baptist Church in Louisville.
"It is a tremendous privilege to assume this responsibility," Austin said. "I'm extremely grateful to Dr. Mohler for his leadership, and I look forward to continuing to serve Southern Seminary in this new capacity.
"It's an honor and a significant undertaking to follow Craig Parker in this role. He has served the Lord and Southern Seminary faithfully for many years, so it is no small task to follow him. He is a model servant leader."
---
Fire damages student apartments at SBTS
By Kentucky Today
LOUISVILLE, Ky. (BP) – A May 14 fire damaged student dwellings at Southern Baptist Theological Seminary's Grinstead Apartments.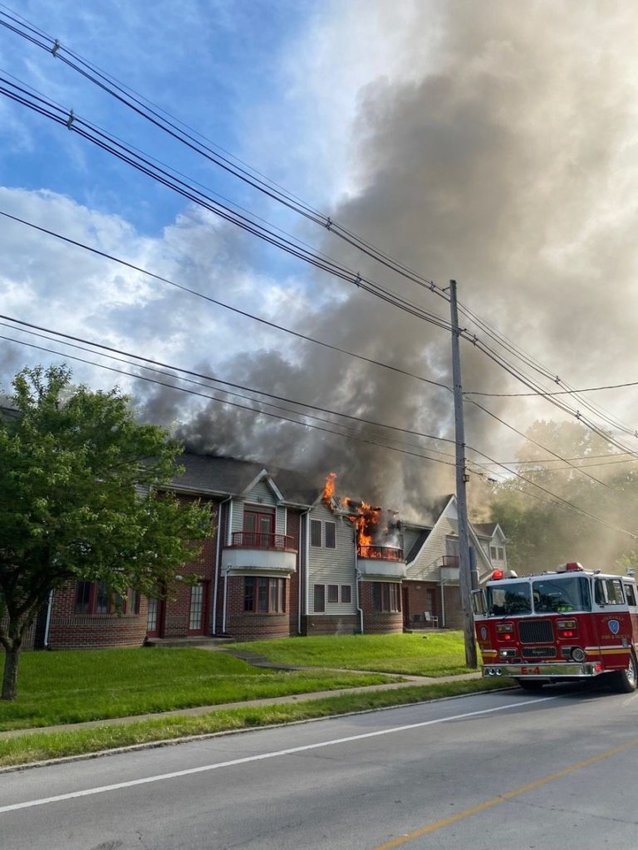 Photo from Twitter
"There are 10 families affected and temporarily displaced," said Caleb Shaw, SBTS director of communications. That included four married couples with children and six married couples with no children. There were no injuries as all the residents in the building were safely evacuated.
Shaw said Campus Housing arranged for every family to move into temporary housing on campus while Grinstead is restored. He said the affected building has 12 total units, and eight of those were damaged.
"We are incredibly thankful that all lives are safe and that no one was injured in this fire," said SBTS President Albert Mohler. "It was a significant blaze that has destroyed several units. But material goods can be replaced, while human lives cannot. We are just so thankful to God that everyone is safe. Our team is taking care of the affected students and their families."
"We believe that God's hand of protection was on these students and their families," said Matthew Hall, SBTS provost. "We exhaled a little bit when we found out no one was hurt and no one had to even go to the hospital … and thankfully no fatalities."
---
Pastor's wife earns D.Min. from NOBTS at age 72
By Marilyn Stewart/NOBTS
NEW ORLEANS (BP) – Stephanie Friend, 72, waited until husband Jeffrey Friend crossed the graduation stage with his D.Ed.Min. degree in 2016 before she enrolled in New Orleans Baptist Theological Seminary's professional doctorate program.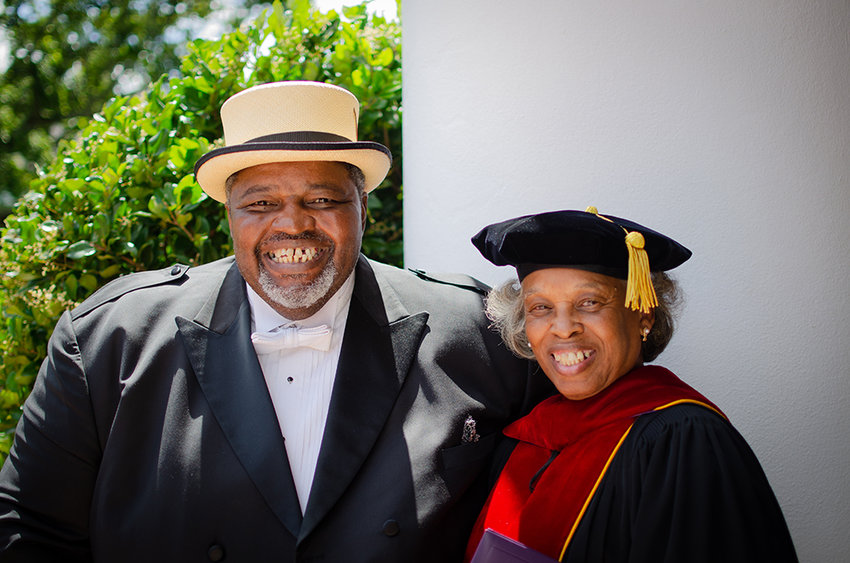 Jeffrey and Stephanie Friend
This year, Stephanie crossed the graduation stage herself to receive her D.Min. and become the second "Dr. Friend" in the family. The milestone marked a completion – though perhaps not an end – to an academic journey that began when she enrolled in NOBTS' Leavell College in her 50s.
Along the way, people often asked why the busy senior pastor's wife at New Orleans' Suburban Baptist Church would bother with school.
"When God calls you, He doesn't say it will be easy," Stephanie said. "God has given me this passion and once He does that, you just don't have any peace until you follow."
Stephanie's passion for reaching the women in a diverse community that includes Muslim, Vietnamese, Indian and Hispanic neighbors inspired her doctoral research project. As women from varied cultures joined the women's conferences and Bible studies at her church, she saw the need to equip women in intercultural discipleship skills.
"I want to empower the women closest to me, not to impose our culture, but to know how to talk to a Muslim about Jesus," Stephanie said.
Engaging others for the Gospel begins with conversation, Stephanie has learned. Mistakes will be made, but those of other cultures will understand and will be eager to offer guidance, she said.
For Stephanie, her doctoral degree is a beginning point, not an end. She hopes to build on her research, produce a conference, and perhaps "take it on the road." Pursuing another degree is also not out of the question, she said.
Church and ministry responsibilities, plus the financial burden of both being in the program at the same time, led to the couple's decision that Jeffrey would earn his doctorate first while Stephanie took occasional classes and helped him with research.
After Jeffrey graduated, he returned the favor.
"My husband is my hero. He is God's masterpiece," Stephanie said. "Next to Jesus, of course, he's the best thing that's ever happened to me. He encouraged me in a strong, strong way, but always deferred to what God says. I'm so thankful."
A former police officer and an Army veteran, Stephanie is no stranger to difficult experiences. Still, the unexpected came along as she worked toward the doctorate.