Volunteer Susan Webster of Called to Care in Tifton packs a Journey Bag in the Resource Room. CALLED TO CARE/Special
---
DOUGLAS — A non-profit organization in South Georgia is striving to remedy poverty issues while addressing current and future effects of COVID-19 on the foster care system.
Suitably named Called to Care, the group meets the needs of children in foster care in their area. That is accomplished, as stated on their website, in providing "safe events for teens, educate the community about needs, provide tangible needs, provide support to foster and biological families, and provide education and resources to families going through adoptions."
Based in Tifton, Called to Care offers support and resources in 20 counties across South Georgia. The Coffee County arm is headquartered at Eastside Baptist Church in Douglas and spearheaded by director and pastor's wife Gentry Colson.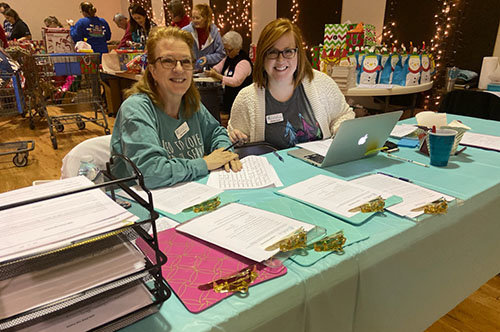 Volunteers, Beth Greene and Melissa Guest from the Atkinson County Called to Care Chapter check in foster families and relative placements at the Christmas gift store. CALLED TO CARE/Special
"We minister to children in foster care and those whose families are under investigation," said Colson. "We also serve the birth parents, foster parents, relative placements, and Department of Family and Children Services (DFCS) workers."
Many area churches partner with Eastside to collect donations and volunteer in the Resource Center where those items are kept and distributed. As families "shop" for items in the Center, Eastside members make use of the time to share the Gospel. Just as the items in their hands have been paid for, so have their sins through Christ.
Called to Care partners with DFCS as well as the Coffee County School System to identify families in need. Mission Georgia is also partnering with the organization to help churches establish ways to minister among those in the foster care system as well as respond to the impact of the coronavirus pandemic.
Lorna Bius, Mission Georgia mobilizer, is helping direct masks sewn by volunteers to go to Called to Care chapters who have requested them. "We've already sent 100 masks sewn by several volunteers to four counties. These masks will be delivered by Called to Care staff to their local DFCS office to support their work during COVID, Bius explained.
Serving foster needs in Sumter
Seeing the number of foster care needs drove home the urgency of such a ministry in her area, said Courtenay Puckett. A member of Ellaville Baptist Church, Puckett is founder and director of the Americus-based chapter of Called for Care that serves Sumter County.
"I had become familiar with Called to Care as an organization and wanted to be a part of it," said Puckett, whose husband, Brian, serves as Baptist Collegiate Ministries director at Georgia Southwestern State University. "When we moved to Americus, I got to know some of the organizations and civic groups through Friendship Baptist Association. It helped me realize how valuable an organization like Called to Care could be here."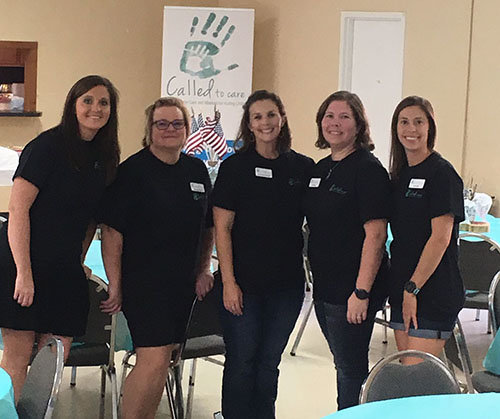 The Sumter County Called to Care leadership team stand at a recent benefit ride through Heaven Saints Motorcycle Ministry, Christian Cruisers, and Shema Baptist Church. Left to right are Victoria Kelley, Stacy Dominick, Courtenay Puckett, Jennifer McCarthy, and Emmy Reid. COURTENAY PUCKETT/Special
More to the point, Puckett – who founded the local chapter in 2017 – had learned of Sumter County's need for foster homes compared to neighboring counties.
"Seeing those numbers really drove home the need for us to get involved. That first year we had 83 kids in foster care when other counties had them in the single digits."
Low reporting during COVID-19 doesn't mean the need has gone away. Most of the calls, Puckett explained, come from teachers and coaches away from children since schools are closed.
"I've been calling school districts about putting in a hotline number for those delivering meals to report signs of abuse," she said. "We'll be putting a flier inside of meal kits urging people to report signs as well. Those fliers will also be at grocery stores and clinics. Also, we're concluding a 30-day Be the Change campaign collecting items such as gift cards for teens."
Churches have been providing "Journey Bag" items such as pajamas, books, and shoes. Such items are for children who either don't have them because the items weren't provided in their home or they had to leave an abusive situation in a hurry. Churches who have contributed include First Baptist, Central Baptist, and Shiloh Baptist, all in Americus, as well as Ellaville Baptist.
More information can be found on the linked Facebook pages above. The number to report suspicions of abuse in Georgia is (855) 422-4453.
---