SAVANNAH — Calvary Baptist Temple, host of next month's 195th annual session of the Georgia Baptist Convention, sustained no structural damage during Hurricane Matthew's landfall on Friday morning. Pastor Kenny Grant reports that the church did encounter new leaks in the sanctuary and enhanced damage to the steeple which occurred in a previous storm, but nothing substantial.
The church's athletic field used by its K-12 school "has a lot of flood damage" and the church itself remains without power. Services were cancelled over the weekend due to power issues and staff members not allowed to return to the city. An official estimate pegged the number of residents who evacuated at 90 percent of those east of the I-95 corridor.
Grant and his wife, Shirley, were among the thousands of coastal residents who fled the Category 2 level storm prior to its 1 a.m. Friday landfall. The couple spent the weekend in Atlanta with their two daughters and are returning today following Gov. Nathan Deal's lifting of the mandatory evacuation order last night.
However, the governor is urging a cautious return during to chronic power outages, flooding and downed trees and power lines throughout the areas.
Grant said he and his congregation look forward to welcoming messengers to the church Nov. 14-15 and the Sunday evening inspirational rally.
Savannah Association closed for remainder of week
Buddy Wasson, associational missionary for Savannah Baptist Association, reports that his office will be closed at least through this week as workers strive to bring power back to the city.
"I drove through Savannah yesterday and it looked pretty bad," he said this morning.
Most churches cancelled their Sunday services due to power outages and the evacuation of residents and curfews; if congregations did meet, it was only for worship and not other events like Sunday School, he added.
Wasson, who has a power generator on the back of his pickup truck, has been offering temporary power to resident's freezers and refrigerators to prevent food from spoiling for as long as possible.
Feeding units now on location in Savannah, Brunswick, Richmond Hill, Hinesville
He spent this morning securing space for Tennessee Baptist disaster relief teams to set up their feeding kitchens and food distribution network when they arrive later today. Southside Baptist Church will serve as the primary location with Crossroads Baptist Church ­– both in midtown – on standby as a backup site.
Savannah was on curfew yesterday until 5 p.m. with only a few returning evacuees allowed back in, he noted, with a 10 p.m. through 7 a.m. curfew in effect through this morning for everyone. Public schools will be closed through next Monday as standing water recedes and power is restored.
The city recorded more than 14 inches of rain as the massive Category 2 storm passed up the coast. Hurricane Matthew came ashore around 1 a.m. Friday with gusts of 96 miles per hour on Tybee and with sustained winds of 45 miles per hour.
"Where I live 20 miles south of Savannah in Richmond Hills, there were long lines of power lines either down or broken in two by the force of the winds," he recounted.
"We appreciate the prayers of Georgia Baptists as we struggle to rebuild and minister to those in need through this crisis," he added.
Georgia Baptist Mission Board Disaster Relief Coordinator Stuart Lang said that one feeding unit, 11-F from Stone Mountain Baptist Association, set up operations in Brunswick last night. Unit 2-F out of Hephzibah-Kilpatrick Baptist Association in Waynesboro began feeding out of First Baptist Church of Richmond Hill on Sunday morning while Unit 1-F from Rehobath Baptist Association in Thomson is operating out of First Baptist Church of Hinesville.
Dudley Baptist serving along I-16 corridor
If a church is very missions minded, it is always seeking ways to serve. And Dudley Baptist, situated just off I-16 between Savannah and Macon, is geographically suited for extra ministry opportunities during hurricane evacuations.
Pastor Billy Daws said his congregation rose to the challenge, helping assemble cots among three locations in nearby Dublin as Savannah evacuees hit the road for higher ground.
"They knocked those cots out left and right" at shelters such at those at Dublin High School, East Laurens High School, and West Laurens High School. "They made this pastor proud," he remarked about the volunteers.
When the call went our for pillows, "our folks canvassed local merchants who were very generous with discounts because they wanted to help.
"The community's plan was to use local gyms and then open homes as needed. Our folks housed some families and my wife and I housed some evacuees as well ... including my sister from Merritt Island. FL.
"I put the word out on Facebook the we had three extra bedrooms in our home and before long we ended up with three adults, four children, a German shepherd, and a cat," he said with a laugh.
Mission Board reactivates Buckets of Care ministry
The Georgia Baptist Mission Board has reactivated its popular Buckets of Care campaign for homeowner cleanup efforts.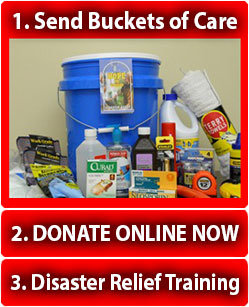 In an online video at gabaptist.org, Georgia Baptist Disaster Relief Coordinator Stuart Lang announces the relief effort and directs viewers to gbcdisasterrelief.org. That site gives information on how to collect bucket contents and donate to the cause. Lang reminded donors that every dollar goes directly to help the cleanup effort "and to help homeowners help themselves in the aftermath of this storm."
Updates and a photo of the bucket contents are also posted on the Georgia Baptist Mission Board Facebook page. Three ways to be involved in the relief effort are also posted at the site.