Fun and games are a apart of the Camp Pinnacle experience, along with Bible studies and spiritual reflection.
By Roger Alford

CLAYTON, Ga. – Butterflies flitter on a warm summer's breeze. Songbirds call to one another from towering pines and leafy oaks. Geese float lazily on a glassy pond, sending tiny ripples across the otherwise peaceful surface. And in every direction, mountains rise skyward.

Little wonder people feel so close to God at the Pinnacle Retreat Center, a Southern Baptist getaway in Georgia's Appalachian region.

For some, this is where they made their decisions to become Christians. For others, it's where they surrendered their lives to become missionaries. For all, it's a place where they sense the nearness of God.

"It's one of the most tranquil, peaceful places you can find," said Beth Ann Williams, Lead Strategist for Georgia Baptist Women. "It's one of those places where God left his thumbprint on creation. It's impossible to spend time here without sensing God's presence. This place is truly special."

This is the setting in which some 500 girls will spend alternating weeks this summer worshipping, studying the Bible, hiking, swimming, playing games, and learning about international missions in what's known as Camp Pinnacle. This is the setting in which many of them will make life-changing decisions.

This is where Charlotte Woodard first felt God's call to become a missionary to Asia. It's where the groundwork was laid for her to join the Southern Baptist Convention's International Mission Board.

Woodard had first come to Camp Pinnacle when she was in second grade. She kept coming back every summer until she finished high school. Now, she's back, all grown up, serving as a missionary in residence, sharing stories about her experiences on the mission field with wide-eyed young ladies who absorb every word of her adventures.

After a hiatus last summer because of the COVID pandemic, the girls have returned to this tranquil property owned by the Baptist Woman's Missionary Union of Georgia, an auxiliary to the Georgia Baptist Convention.

Over the two summers before COVID, 54 girls made salvation decisions here and 22 said they felt a call to become missionaries.

Alayna Davis, who grew up attending Camp Pinnacle and who now is back as a unit leader, said it's thrilling to see the girls make major spiritual decisions, especially decisions to become Christians.

"That's the most rewarding," she said.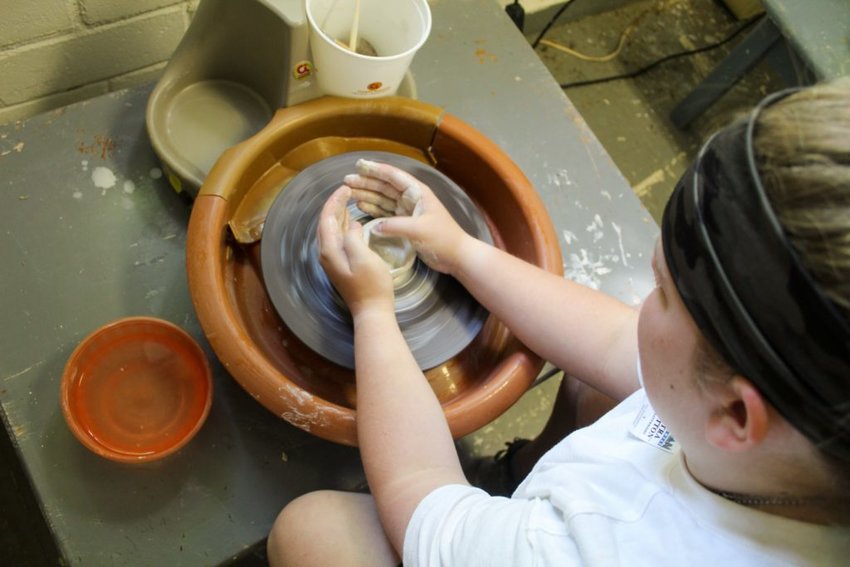 At Camp Pinnacle, girls find lots of fun activities, including pottery.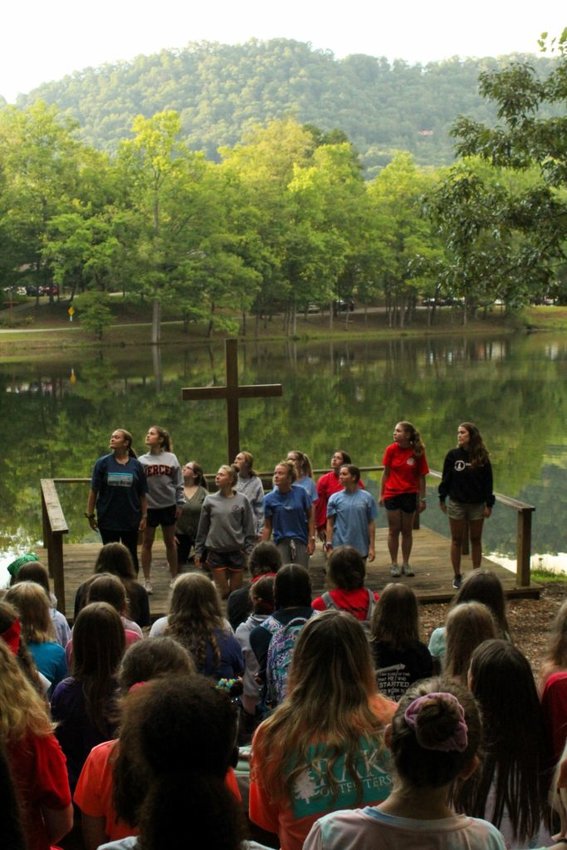 Girls at Camp Pinnacle enjoy activities on the shore of a small lake on the property.
The Pinnacle Retreat Center, which was founded in 1947, isn't limited to girls summer camps. It is a year-round, modern, full-service facility that is used regularly for retreats and conferences by churches and non-profit organizations, as long as their purpose, mission and values do not conflict with the Baptist Woman's Missionary Union of Georgia.
The organization kicked off a $10 million dollar capital campaign in 2003, adding seven new buildings. The historical Pinnacle Chapel was restored and upgraded in 2011, and the gym was upgraded in 2012.
A new home is under construction now for the camp administrator. Additional buildings are part of an overall master plan, and fundraising is underway for those.
The main building at the retreat center is a two-story lodge with 36 rooms, all of which have private baths. The dining hall in the lodge can accommodate 200 guests.
Six large cabins on the grounds have bedrooms on each side with a meeting room in the middle. Each cabin can accommodate 28 guests.
Williams, walking the grounds last week as campers hiked the trails and kayaked on the pond, said she is so glad restrictions from the COVID pandemic have been lifted so that Camp Pinnacle could return to normal.
"What I've enjoyed is seeing how excited the girls are about camp after having to miss a summer because of COVID," she said.
Camp program coordinator Mary Stevens agreed. "I think it helped us grow in our appreciation for camp, for what happens here," she said.

___

To learn more, make a reservation or support the ministries of Pinnacle go to pinnacleretreatcenter.com.