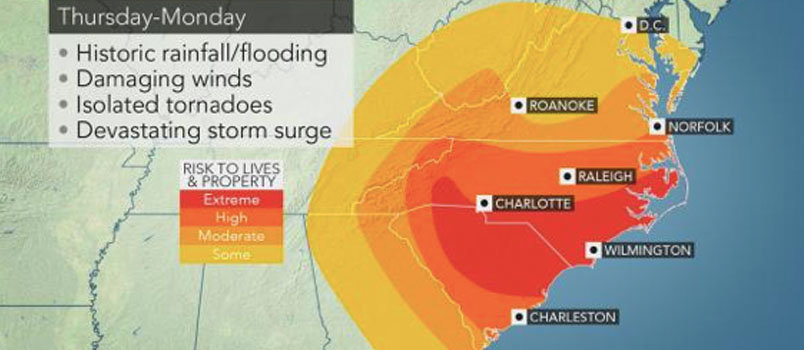 Latest forecasts predict Hurricane Florence is drifting south into Georgia; full impact is still unknown. Churches are ready to help where needed. ACCUWEATHER/Special[/caption]
MILLEDGEVILLE — David Self, associational mission strategist for Washington Baptist Association, was already packing for his weekend trip to Moultrie for Disaster Relief recertification when he got the email.
At around noon today, Stuart Lang, who coordinates Georgia Disaster Relief efforts, and his team had decided to postpone the Moultrie training until Oct. 6. The reason: latest weather predictions suggested that Hurricane Florence was drifting southward and would impact parts of the state more than previously expected.
Self, and others from his Association who have long been involved in the volunteer ministry, might be needed closer to home or be dispatched to areas that sustained flooding and wind damage.
Lang agreed in his email, noting that "If Florence impacts Georgia, we will take care of our state first and help others as available to do so."
The jury is still out on where the largest storm to hit the eastern seaboard in a quarter of a century will make landfall, but Georgia Baptists stand ready to assist evacuees where needed. Most churches contacted in the Augusta area, the first point of entry for any evacuees seeking to outrun the storm, have adopted a wait-and-see stance as of late this afternoon.
South Carolina is expected to bear the brunt of the storm with the potential to displace hundreds of thousands with an expected rainfall of 17 trillion gallons of rain. Shelters are already opening across Georgia with residents opening homes and rural farmland for campers. As in past disasters, Atlanta Motor Speedway, about 25 miles south of Atlanta, is opening its camping facilities to evacuees.
Gov. Nathan Deal has issued an emergency declaration for all of the state's 159 counties.
Florence is forecast to make landfall near Cape Fear, NC, as a Category 2 or Category 1 storm sometime tonight or early Friday morning, according to AccuWeather.
Warren Baptist Church is a Red Cross Shelter and willing to respond with lodging in the Family Life Center if the guests arrive in the next 24 hours. The church has a longstanding partnership with the relief agency and would be the second to be activated, after a local Methodist congregation.
A spokesman for the Augusta Association of Baptist Churches said it had received an offer of a three-bedroom home that could be pressed into service if needed. The offer came from a member of Piney Grove Baptist Church, the spokesman noted.
Washington Association ready to assemble Buckets of Hope
Self, from Milledgeville, said the Association has materials ready to begin assembling Buckets of Hope once the call goes out for assistance. The Association also has fully stocked buckets left from an earlier disaster response which could be distributed immediately.
"Several members in our churches are well trained in disaster relief and are ready to help in any way if needed. My experience is that people need people in times of loss and there is no better way to reach out to them in the name of Christ than helping out where it is needed the most," he added.
In his communique to Associational Mission Strategists and state missionaries this afternoon, Lang noted that in addition to the postponement of this weekend's training, a second orientation has been scheduled for Oct. 11 in Carrollton. Information and registration for both events is located on the Training tab of the disaster relief website at gbcdisasterrelief.org.
He also confirmed that "as large and looming as this storm is, all credentialed DR volunteers are on alert for possible deployment. We will follow our normal call-out procedures for all deployments, and will do our best to communicate via email, Face Book, and website."