CLARKSTON — After just three months of exploratory meetings that will forever change the future of Clarkston International Bible Church, the congregation voted 77-0 to enter into a partnership with the North American Mission Board.
The vote came May 7 on the heels of a joint worship service celebrating the eight congregations that comprise the growing network of ethnic congregations in Atlanta's nationally recognized refugee and immigrant community. The congregation has been featured in the Wall Street Journal and New York Times, among other publications, for its outreach.
The Clarkston mother congregation has 150 members and averages 120 in regular morning worship, but the packed joint service was held in the gym. At the conclusion of the service, members of the church adjourned to the standing room only dining hall to cast their votes.
"This is an historic moment for our congregation to partner with NAMB as its first church-based Send Relief hub. We are excited and expectant concerning what God has in store for us next," said Pastor Trent DeLoach after the vote.
DeLoach and the church's task force conducted at least seven question-and-answer sessions over the past 12 weeks to communicate the ramifications of the partnership. The vote came exactly three months to the day after NAMB trustees, meeting in Ontario, CA, on Feb. 7 gave the green light to the proposal.
"Our task force did an incredible job of reading every detail in the Asset Purchase Agreement proposing the partnership. Essentially, NAMB will purchase our property for $1 and assume certain obligations and responsibilities. We, in turn, we will write them a $1 check each year for use of the buildings," he noted.
An architectural review will most likely result in significant improvements to make the complex more efficient. As a result, NAMB will promote the church as a national training center for congregations desiring to know more about how to minister in a diverse community.
First of two national partnerships for mercy/compassion ministry hubs
The agreement is the first of two being introduced by the Alpharetta-based agency. Others, with different but just as unique ministries, will be added later pending similar affirmations as occurred in Clarkston today.
A second site in Ashland, KY, is under consideration and will serve the Appalachia Region.
David Melber, NAMB vice president for Send Relief which is overseeing the partnership, said the agency "hopes to use each of these as distinctive examples from which congregations nationwide can choose to visit and study and then make practical application when they return home.
"We get a lot of calls from churches requesting missions exposure to different mercy/compassion focused ministries. We want to provide that through such ventures that we are proposing at the Georgia site but not at the expense of the local congregation," he added.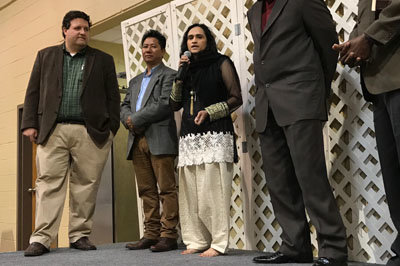 Samreen Javed, representing the Vertical Life Pakistani congregation, brings words of greeting from her fellow members. Javed was one of the ministry leaders from the seven churches who are hosted by CIBC. JOE WESTBURY/Index[/caption]
"NAMB will cover certain operational costs but Clarkston International will continue to worship here as it always has. The only difference is NAMB will help us to tell our story to a wider audience. We will be able to leverage what we have learned over 40 years of ministry, of surviving in a highly transitional community that was not easy at times, and emerging as a congregation that very closely resembles the community in which it is located.
Clarkson congregation on solid financial footing, debt free
DeLoach noted that the church is on sound financial footing, is debt free, and was not motivated by a weak balance sheet. The partnership will accelerate what the congregation is already doing but expand those options, such as providing one- or two-day seminars, more indepth four-or-five-day total immersions for short-term teams, and even longer summer or six-month internships.
In addition to continuing to serve as pastor, DeLoach will gain NAMB missionary status and serve as director of the hub.
During today's joint worship service, Georgia Baptist Mission Board State Missionary Jerry Baker brought the sermon and detailed the contributions refugees and immigrants have made to the nation. The former Clarkston resident, who now lives in Lawrenceville, noted that Georgia has the nation's ninth largest immigrant population and Atlanta has the nation's ninth largest metropolitan area.
He also noted that 105 million of the world's 214 million immigrant and refugees are Christians.
"Few people realize that nearly half of the world's immigrants and refugees are fellow believers who are bringing a spiritual dimension to the communities wherever they settle. Statistics also reveal that 74 percent of the immigrants coming to the United States are Christians and 5 percent are Muslim," he stated.
Another interesting fact is that for the first time in 1,000 years, there are more Christians living below the equator than who live above it. The center of Christianity has now moved from Europe to South and Central America, Baker explained.
Baker acknowledged the sacrifice those in the room have made by pulling up roots and moving to another country. Starting a life over from scratch is something few families have endured.
"God has blessed you in order for you to bless others. May the blessing continue," he concluded.