CLARKSTON — A historic partnership between Clarkston International Bible Church and the North American Mission Board will energize its local ministry and solidify Georgia Baptists as a national ministry leader among refugees and immigrants.
On Feb. 5 the congregation voted unanimously to sign a Letter of Intent to accept NAMB's purchase of their property and to partner with the group in its groundbreaking ministries.
Trustees of the Alpharetta-based entity approved the plan on Feb. 7 at their meeting in Ontario, CA. Now both groups will enter a 60-day period of due diligence as they iron out the details before signing the legal documents.
The process will allow the congregation to ask questions while NAMB will be allowed to inspect the property to make a list of maintenance and infrastructure concerns on which to base a formal offer. No monetary value has been placed on the deal due to the unknowns in those areas, both parties stated.
Trent DeLoach, who will celebrate his first anniversary as senior pastor at the church on Feb. 28, will remain in that role and become the director of the Send Relief ministry hub, as the mother church and its peripheral ministries will be known.
The Savannah-area native is no stranger to NAMB, having served with the entity for seven years in Kentucky as a Nehemiah Church Planter and later as a Mission Service Corps missionary.
Deloach: 'Functionally nothing will change'
"Functionally nothing will change," DeLoach told The Index. "It will be NAMB's property but we – one of seven congregations that meet here – will continue as the primary partner. We want to avoid the 'landlord/tenant' mindset since we will really be ministry partners."
The mother congregation is composed of one-third Americans (a terminology including both Anglos and African Americans), one-third Africans (primarily from Ethiopia, Sudan, Liberia, and the Congo), and one-third Asians (featuring former residents of the Philippines, Burma, and Nepal).
Other congregations speaking in their native language are Atlanta Nepali, Ray of Hope Nepali, Vertical Life Pakistani, Sudanese Christian Mission Church, Karen Christian Fellowship (Burmese), and the Burmese Home Group Network.
Clarkston has frequently been called the most diverse square mile in America and the Ellis Island of the South. Deloach said the city has an estimated 60 nationalities, 92 distinct ethnic groups, and more than 100 languages. The small city of about 12,000 residents is featured prominently in the January issue of Atlanta magazine.
In the 1990s the U.S. government identified it as a good fit for immigrants fleeing persecution and, eventually, seeking citizenship. The suburban Atlanta community was chosen for refugee resettlement largely due to the abundance of affordable rental units.
The abundance of housing was partially occurring as longtime residents moved further out from Atlanta's urban core. Another plus was that the city was the last stop on MARTA, making it easier for misplaced persons with no transportation to move about the metropolitan area.
Today, more than 25 years later, Clarkston High School has students from more than 50 nations, a local mosque has 800 worshipers, and half of its population is from outside the U.S. Its population was 7,554 as of the 2010 census.
NAMB: Partnership is between itself and local church
David Melber, NAMB vice president for Send Relief which is overseeing the proposed partnership, affirmed Deloach's assessment of the venture as a partnership between itself and the Georgia Baptist congregation.
"We get a lot of calls from churches requesting missions exposure to different mercy/compassion ministries. We want to provide that through such ventures that we are proposing with the Georgia site," he said.
Melber noted that Clarkston will be one of three Send Relief ministry hubs that will be rolled out in the next few months, if all goes well. A site in Memphis will be based out of Leawood Baptist Church located northeast of downtown Memphis, TN. A site in Ashland, KY will serve the Appalachia Region.
"We hope to use each of these as distinctive examples from which congregations nationwide can choose to visit and study and then make practical application when they return home.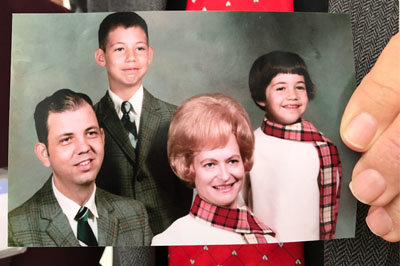 The Griffin family as they looked in 1971 – 46 years ago – when they joined the church in their matching Sunday clothes. Son Mike, who was ten at the time, is now 56. Daughter Lisa, then seven, is now 53.JOE WESTBURY/Index[/caption]
"For example, Clarkston will serve as a multicultural urban setting with refugees and immigrants while Ashland will serve for a more rural experience," Melber explained.
Some of these churches are seeking not just a few days of mission exposure but a long-term partnership. There will be opportunities for youth groups to experience a specific setting and for internships where individuals receive a more in-depth, hands-on experience.
Ministry hubs will build on existing ministry
Melber said NAMB wants to build on the existing ministry in locations such as Clarkston and use them to educate others in how to do similar ministry.
"We have certain objectives that we would like to see met, such as equipping churches to be more involved in mercy ministry but not at the expense of the local congregation. We do not intend to restrict, but support, the local church's ongoing outreach into its community."
DeLoach wholeheartedly agreed.
"NAMB will assume all operational costs but Clarkston International will continue to worship here as it always has. The only difference is NAMB will help us to tell our story to a wider audience. We will be able to leverage what we have learned over 40 years of ministry, of surviving a transitional community that was not easy at times, and emerging as a congregation that very closely reflects the community in which it is located.
Seven congregations, 13 ministries to benefit
"NAMB will renovate our facility to make it more efficient for our seven congregations to worship together and assume our operational costs. It will also help us coordinate the 13 distinct ministries – some of ours, some non-profits from the community – that undergird our work.
The partnership will enable the ministry hub to provide three levels of ministry training:
One- or two-day seminars, known as Send Relief labs, where individuals will receive a biblical context for mercy ministry such as that to immigrants and refugees. The training will include a "nuts and bolts" classroom/lab application of applying theory to the real world.

Provide a four-or-five-day immersion for short term teams for a more indepth experience; and

Offer an even more in depth summer or six-month internship for more practical application.
"NAMB is fully committed to working through us as the local church. They are not interested in reaching Clarkston for Christ apart from what we are already doing. That is our mission field and responsibility and NAMB understands and fully supports that," DeLoach noted.
"This partnership is not born out of any sense of desperation on the part of Clarkston International; we are debt free and are doing very well. But this will leverage both of our strengths to reach a common goal for Christ.
"What NAMB wants to do is come alongside us and help us accomplish that, linking us with other churches who want to become involved in ministries in their own communities."
Melber said if the discovery period goes well, he expects the property transfer to occur around April with a grand opening set for later in the year.
A follow up story to this historic agreement will feature an interview with DeLoach and his approach to ministry among refugees and new immigrants.