Georgia Baptist Convention President Kevin Williams discusses the role missions have played in the growth of First Baptist Church Villa Rica.


By Buck Burch
Churches are ready to get back to going. That seems to be the consensus from those who attended the Georgia Baptist Missions Tour throughout the state during the month of August. In twelve locations, two in each of the six regions of Georgia, pastors and key missions leaders gathered to hear testimony of church growth from missional engagement and to find out the latest opportunities for upcoming vision trips within regional, national, and international partnerships. Great churches in Macon, Thomson, Gainesville, Athens, Fayetteville, Roopville, Columbus, Albany, Blackshear, Savannah, Cartersville, and Dalton hosted the tour meetings this year.

Buck Burch
About 424 leaders from 180 Georgia Baptist churches attended the tour locations. Thomas Hammond, GBMB executive director, recapped the original vision for creating partnerships for churches that may not yet have them. On the local level, Associational Missions Strategists were highlighted for sister churches to work together. Beth Ann Williams also shared how engagement through Mission Georgia on local levels can affect human trafficking, pre/post-natal care, childhood literacy, ministry to refugees and internationals in state, and foster care and adoption in Georgia.
On the regional levels, the most unchurched, most lost zip codes were emphasized: 30040 Cumming (NW), 30044 Lawrenceville (NE), 20281 Stockbridge (WC), 30907 Augusta (EC), 31907 Columbus (SW), and 31419 Savannah (SE). In one of those zips, Columbus Baptist Association has taken the lead to create a "Crossover Columbus 907" evangelistic event for next Spring.
On the national levels, partnerships have been mutually crafted with other state conventions: Utah/Idaho Baptist Convention (NW), Baptist Convention of New England (NE), Baptist State Convention of New York (WC), Michigan Baptist Convention (EC), Baptist Resource Network of Pennsylvania and South New Jersey (SW), and Puerto Rico Baptist Convention (SE). New England had a representative at the meetings to share their encouragement for the partnership. Some key churches have already undertaken vision trips to help formulate ongoing strategic direction and connections through virtual strategy coordination.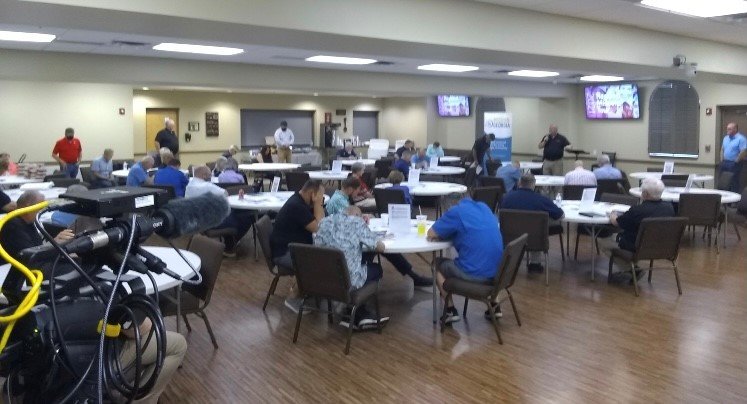 Georgia Baptists attended meetings across the state in August to talk about missions.
COVID has put a pause on several of our international partnerships throughout 2020, but doors are starting to open again in those and alternative locations in Central and South America. The international partnerships are primarily with those indigenous national Baptist conventions, but conversations for partnership and cooperation are also ongoing with the Americas affinity of the International Mission Board and other SBC missionaries in the countries: Argentina (NW), Peru (NE), Ecuador (WC), Nicaragua (EC), Colombia (SW), and Guatemala (SE). Some key partners were introduced, like Gary Bulley of Pastor-to-Pastor training, Renew World Outreach, E3 Volunteers, NAMB SEND Relief, Catalyst Coalition, and Spanish for Missions.
In each location, Kevin Williams, GBC president, shared a remarkable testimony of how God unlocked his church's evangelism and outreach potential through missions at First Baptist Church of Villa Rica. He talked about how God used mission trips to mobilize his entire congregation for local, national and international missions. One amazing statement was how Villa Rica FBC has now sent more people into mission trips overseas than the amount of people sitting in the pews when Kevin was first called to the church eight years ago.
The missions tour meetings lasted up to eighty minutes, and more "plug-and-play missions opportunities", from local to overseas, were discussed than could be digested during the short meeting. So a follow-up email with all resources and opportunities was sent to everyone who registered at the meetings, and ongoing connections with regional consultants can still be made through signing up at gabaptist.org/missions.