Javier Chavez, pastor of Amistad Cristiana in Gainesville, visiting professor of global mission at Truett McConnell University and nominee for second vice president of the SBC, speaks at Truett-McConnell Missions Day.
By J. Gerald Harris
GAINESVILLE – In a recent meeting at Air Line Baptist Church the statement was made, "Southern Baptists need the Latinos (Hispanics) living in this country more than the Latinos need Southern Baptists." One might reason that the need is mutual, but why do Southern Baptists need Latinos?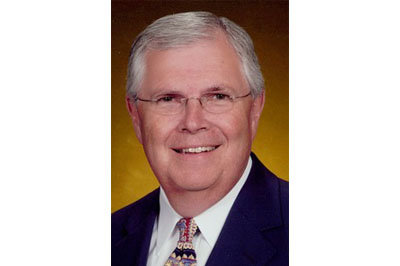 Gerald Harris
According to the 2020 census there are 56.5 million Latinos living in the United States, making them the largest minority group in the nation. How can we reach them for the cause of Christ? Pastor Javier Chavez, lead pastor of Amistad Cristiana in Gainesville and candidate for second vice president of the SBC, explained, "Hispanics are not only growing in number, but also developing deeper roots in America. Second and third generation Hispanics are presenting a challenge to many of us pastors who serve first generation churches."
Pastor Chavez indicated that he sees three major challenges for Hispanic churches: (1) Inasmuch as many Latino pastors are not fluent in English the language barrier from Spanish to English must be bridged. (2) There is a need to develop a leadership transition. It is time for young Latinos to be called and empowered for church planting, prepared for local church leadership, and international mission initiatives. (3) There is an imperative need to connect our younger generations to local associations, state conventions and our national convention. Chavez added, "Unless we empower them and give them opportunities for leadership, we are in danger of losing them to other churches or even worse to the world."
Population projections in the U. S. indicate that by 2050 the number of Latinos will more than double and that the white/Caucasian population will be reduced from over 60 percent to 47 percent during that time period. Chavez insists that Georgia Baptists need to join hands to create more cross-cultural relationships in the church. The Amistad Cristiana pastor stated, "Today the only thing that divides us is the issue of language. I refuse to make this a racial case. Galatians 3:28 acknowledges the reality that there were Jews and Gentiles, but that we are all one in Christ Jesus."
Chavez continued, "No one can deny that there are different cultures in America, but multicultural variety is a good opportunity for the Gospel. However, we must make sure that we clearly preach and model the message of unity that only the Gospel can offer.
"Speaking the language is very important when trying to connect with Hispanics, but there is another language I would love to see being used more frequently and that is the language of love. Love breaks down barriers that even a shared language could not. Let's start speaking in love to one another.
"Latinos value their culture, history, music, food, and family traditions. There are two words dear to our hearts: 'amigo' (friend) and 'familia' (family). In the church I planted and presently lead we have experienced positive results in growth and development by making a philosophy of ministry out of those two words. Every person with whom we connect becomes our 'amigo' and we seek to make them part of our 'familia' (church family)."
Latino churches need Georgia Baptists and Southern Baptists to bless and support their ministries. Three out of every four Hispanic/Latino pastors are bi-vocational. Chavez revealed that those pastors deal with issues of time for sermon preparation and prayer, family responsibilities, and personal stress. He reported, "Doing ministry in the U. S. demands multi-tasking and a core group of leaders who will pray, embrace, and support the pastor and his family. Latino pastors are heroes that need more friends and ministry networks."
The church led by Pastor Chavez in Gainesville is a multicultural church that shares a common language with some variances. Chavez explained, "Even though the Mexican community is the largest Latino community in North America, it shows a lack of cultural understanding to identify everyone as Mexican. South Americans, Central Americans, Hispanic Caribbeans, Hispanics born in the U. S. etc., also represent a rich variety of cultures and people. For example, I am from Peru, my wife is Mexican-American, our four children are Peruvian-Mexican-American. I am a pastor of a church with 15 different nationalities. That cultural diversity feels like heaven every Sunday morning."
Anyone who has been to one of the Hispanic/Latino Baptist churches in Georgia has likely seen the people's enthusiasm and passion in worship. Chavez commented, "Latinos are religious people in essence. Catholicism in many instances became part of our cultural makeup. In fact, I still remember that the constitutions of different Latin American countries required that elected officials embraced the Catholic religion.
"Those years have changed for sure. But the evangelical movement in Latin America has grown exponentially in later years and the Pentecostal-Charismatic movement has even grown more rapidly. However, with it we have seen a rampant growth of prosperity preachers and self-declared apostles and prophets. (Latinos are looking for truth and something that will sustain them in times of hardship and adversity).
"Latinos are dynamic, vibrant, and bring their culture into their worship and liturgy. But you can also see that passion in our daily life and our family relationships. Once we come to Christ, we become passionate for the Word, for sharing the Gospel, for serving in a local church, and for using our God-given gifts for His glory. I would ask my Latino brothers and sisters to move beyond our cultural passion into a more committed spiritual passion. A passion that will allow us to win the lost with the Gospel.
As Southern Baptists we should focus on discipleship, leadership training and theological formation as a way to ensure that our growth is solid and reproducible."
Statistics show that the majority of Hispanic households earn between $40,000 and $100,000 annually and their giving level compares favorably with Caucasians, but the study Diversity in Giving shows that Hispanics rarely received appeals from non-profits; and if they did, they would donate more. Chavez explained, "Many of our Hispanic professionals are willing to give but sometimes their willingness to give is stymied by a lack of stewardship formation and/or lack of real opportunities. Our Cooperative Program is a tremendous opportunity to capitalize stewardship with real opportunities for kingdom work."
But why do we need the Latinos/Hispanics in our Convention of churches more than they need us? Maybe we need their passion and fervor and love for one another, their "amigo" and "familia" mentality. Chavez knowingly and wisely added, "Latinos are moving from a mission field mentality into a mission force. Churches are growing, new churches are being planted, missionaries are being sent, baptisms and conversions are increasing, men are being commissioned to pastoral ministry, young leaders are rising.
"All those are signs of a healthy and dynamic church. Trying to ignore that reality and not bring Hispanics to the table of conversations could become a problem eventually. If all we do is to bring Latinos in for a celebration and not empower them for permanent leadership, we are liable for using an empty rhetoric and not a productive relationship. Let us begin by working together and giving value to those God is using."