---
DULUTH – Between January and February 2020 most people thought the COVID-19 invasion was being overblown in the press. From March through August, Baptist senior adults began hunkering down at home, only daring to leave for dire emergencies. From September through December, we saw the Virus spiraling out of control and impacting every facet of our lives. Now in the second year of the pandemic, COVID-19 continues to invade our safety and solitude. Georgia Baptists pastors have been on the front lines trying to care for their flocks and at last count there were more than 500 pastors and church staff members who have had to battle the villainous virus themselves and some have lost their lives in the process.
David Patrick, Elim Baptist Church, Newnan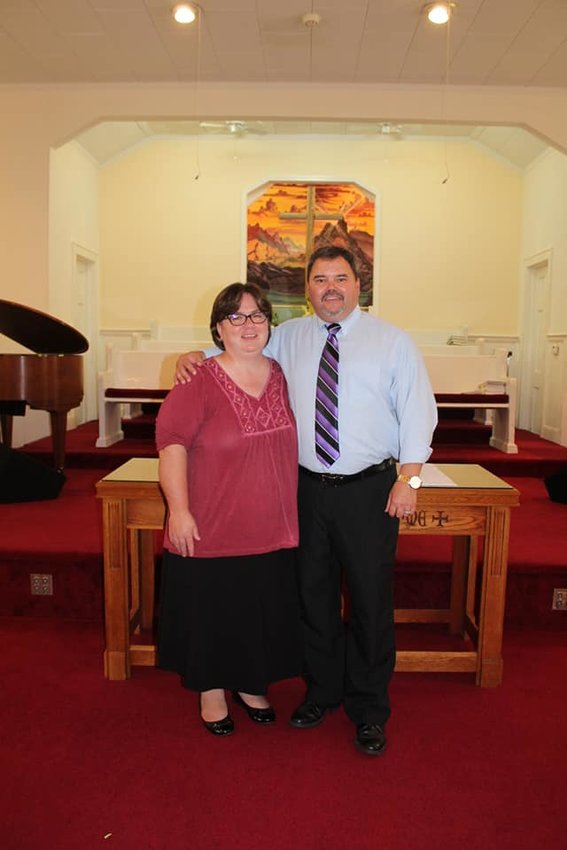 David and Lori Patrick are pictured here at Elim Baptist Church's homecoming in 2018. David, Elim's pastor, passed away the day before Valentine's Day as a result of the current pandemic. He was highly regarded by all who knew him. He was 52-years-old.  SPECIAL/Elim Baptist Church Facebook Page
Wayne Jenkins, Associational Missionary for the Western Baptist Association, reported that one of the pastors in his association lost his life in the battle with COVID-19. David Patrick, (age 52) a former U. S. Marine and senior pastor of Elim Baptist Church near Newnan contracted the virus one month ago and succumbed to its ravaging effects on Saturday, Feb. 13. He is survived by his wife, Lori, and three children. The church and the Newnan community were shocked that the virus took the life of such a faithful servant of God at such an early age.
Jenkins referred to Patrick as an excellent student, as a beloved pastor and a dear friend. He remarked, "David was a student at the Association's Western Baptist Bible Institute and would have received his diploma from New Orleans Baptist Theological Seminary at the end of the current semester after being a student for six years. He will receive his diploma posthumously. We will present it to Lori at the spring meeting.
Wayne and Pam Jenkins, Associational Missionary, West Baptist Association
Jenkins, and his wife, Pam, also contracted the virus. He testified, "I was exposed to the virus on Sunday, Jan. 10, but did not realize it until three days later. By Thursday, Jan. 14 I developed a headache, a fever that peaked at 102 degrees, but was low-grade most of the time. I had chills, loss of appetite and smell, dry cough, aches and loss of energy."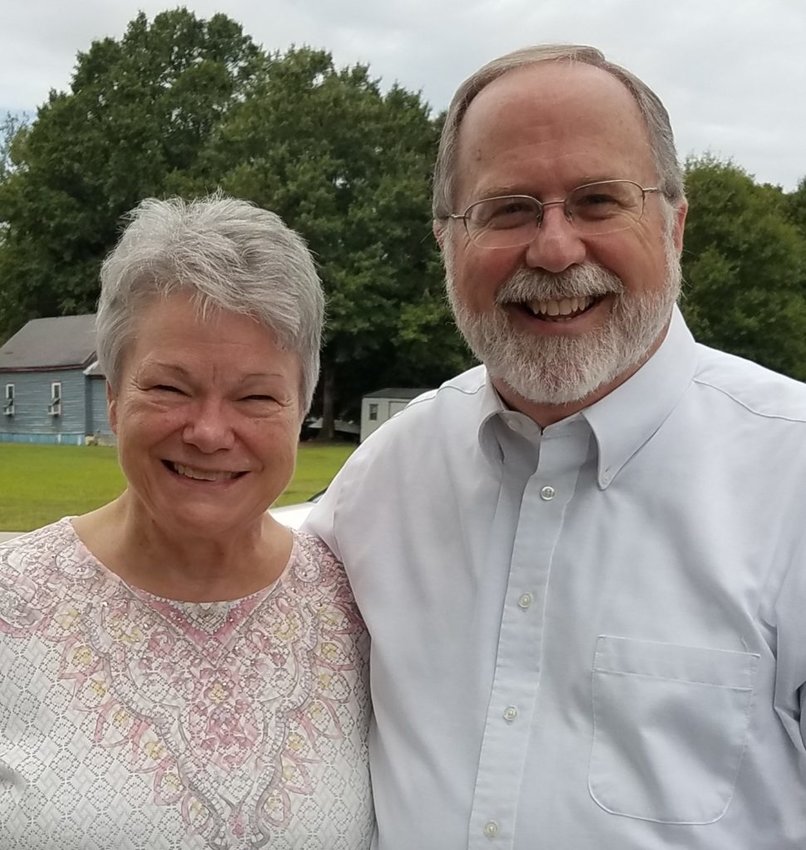 Wayne and Pam Jenkins both contracted the virus and the whole Western Baptist Association was particularly concerned about Pam, because of her recent liver transplant. The Jenkins served as IMB missionaries in Germany, before Wayne became the Associational Missionary for the Western Association. COURTESY/Gerald Harris
Jenkins continued, "I used a 'neti pot' with a saline solution, took antihistamines and Tylenol, ate zinc tablets, drank a lot of hot tea and ate a lot of tangerines. On Monday, January 18, I tested positive with COVID-19. The nurse told me that the test results provided unmistakable evidence that I had been infected with the virus, but I was on the downhill side of it. I was quarantined for a week, but by the following Thursday my fever was gone. My ability to smell and taste returned. I was able to go to work for half a day by Wednesday, January 27. Three weeks later I had about 70 percent of my energy back."
Pam Jenkins also contracted the virus, but the fact that her symptoms were mild was miraculous. She had a liver transplant in June 2018 and was in a high-risk category. Her husband stated, "We were terrified that she would contract the virus and have complications because of her weakened immune system. However, the Lord had other plans. She tested positive on Tuesday, January 19, but only had mild symptoms: headaches and a raspy cough. She obviously caught it from me, but I am so thankful to God that our fears were not realized. She went to Piedmont Hospital in Atlanta on Jan. 25 to receive a "monoclonal antibody infusion (BAM)." The next day she was exhausted and had a bad headache. Now she is fine, but very tired."
Chris Minton, Lizella Baptist Church, Lizella
Chris Minton, pastor of Lizella Baptist Church, contracted COVID-19 just before Christmas. He reported, "I woke up on December 15th and was eating breakfast and noted that my food had zero taste – no flavor. Since I had cooked the breakfast with basically no culinary skills that was not too unusual, but I sensed that something was wrong. I tried to smell one of our aromatic candles and could not smell the fragrance. I realize something was not right. I went immediately and had a rapid test performed; and it came back positive."
Minton continued, "I am glad I was able to get the test that morning, because we had a senior adult Christmas luncheon at the church I was planning to attend. Needless to say, I would have been devastated if I had gone to that luncheon with the virus. My wife and I immediately quarantined for ten days. The only symptoms I experienced were a loss of taste and smell but dealing with the quarantine was more difficult that dealing with the virus."
The Lizella pastor had performed two weddings and attended several Sunday School Christmas parties prior to being tested and concluded that he likely was exposed to the virus from one of those events. He stated, "Other than my wife's parents, our family has managed to avoid COVID-19. However, six of our eleven staff members have tested positive in the last two months, but their cases have been mild with few symptoms."
Mike and Jackie Hardy, Social Circle First Baptist Church, Social Circle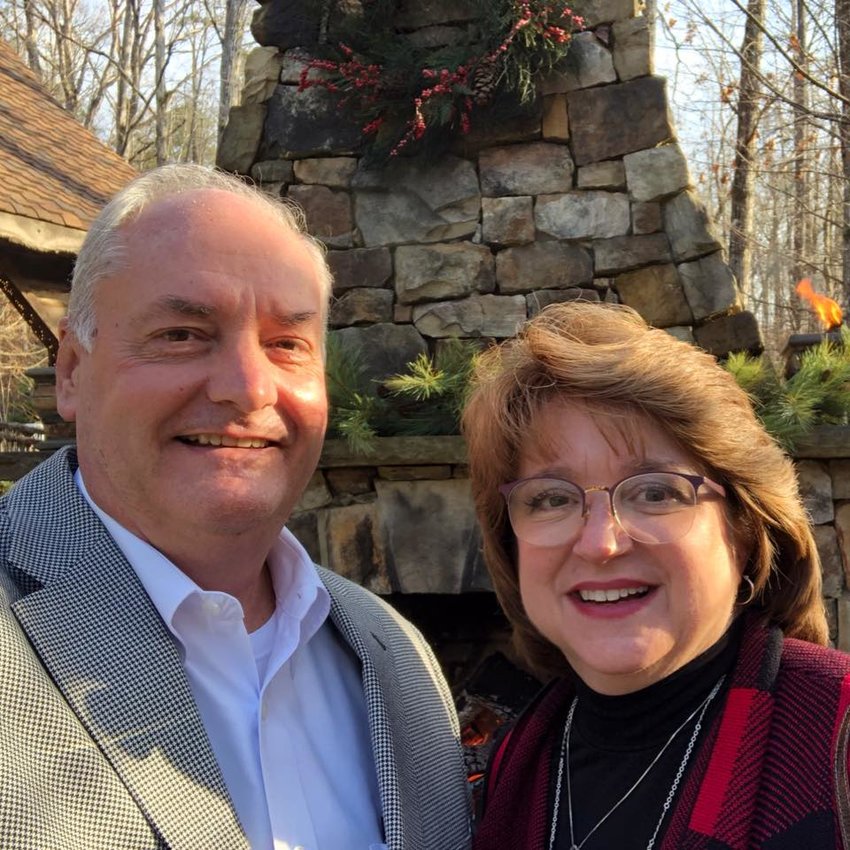 Mike and Jackie Hardy also tested positive for the COVID-19 virus, but their symptoms were relatively mild.  Mike is pastor of First Baptist Church in Social Circle. Jackie was the president of the Georgia WMU from 2013 to 2017. COURTESY/Gerald Harris
Social Circle First Baptist Church Pastor Mike Hardy and his wife Jackie both were diagnosed with the menacing virus in August. While the pastor's symptoms were mild, his wife's situation was slightly more problematic. Jackie had respiratory issues along with the loss of taste and smell, joint aches and fever.  Hardy stated, "The most severe symptom for both of us was extreme fatigue. It lasted several weeks, even after we no longer tested positive.
"We began donating plasma,' Hardy added, "to help those who needed it. We continue to encourage following CDC recommended guidelines for ourselves and others. At church we have done well without having to mandate anything."
Hardy indicated that initially First Baptist saw a 30 percent drop in attendance but noticed a significant jump in online viewership. As the number of COVID cases in the community increased the church suspended the gathering of small groups, which seemed to slow the momentum that had been evident. Since January of this year the numbers have begun to steadily increase, but not yet approaching 50 percent of pre-COVID numbers. However, the church exceeded the 2020 budget by 30 percent.
"As a pastor with 30 years of ministry experience," Hardy observed, "It has been exhausting. Our church staff has felt the tremendous pressure and stress. I liken it to waves, lapping at the seashore. Just when one passes, another one approaches. The stress at times has been overwhelming."
Tim Dowdy, Lead Strategist of Pastor Wellness, Georgia Baptist Mission Board

Tim Dowdy
Tim Dowdy, who serves with the Georgia Baptist Mission Board, contracted COVID-19 at a meeting at the GBMB when one of the individuals in the group had been in the meeting with someone earlier in the week who was unaware he had the virus. Dowdy explained, "Once the gentleman discovered he had the virus he let our staff know. The next week all of us that attended that meeting tested positive."
Dowdy's symptoms included a headache, extreme sinus pressure for about two weeks and fatigue that lasted for approximately three weeks. No family members contracted the virus. As the leader of Georgia Baptist's Pastor Wellness team, Dowdy expressed concern for those in ministry by stating, "Please follow the medical mandates by washing your hands, wearing a mask and social distancing. We need to keep ministering to our people, but we need to be careful at the same time. This is a strange virus and extremely dangerous. I am very grateful for our pastors and churches that have served the Lord faithfully during this difficult season."
Wayne Jenkins exclaimed, "Our Western Baptist Association churches are small in regard to attendance, but I think they are healthier. God might be getting the 'bride' ready for His Son's wedding. Our Lord deserves a scrubbed-clean, happy, holy Bride that loves Him more than this world. It's like we have been in a war, but I do believe the major battles have been fought and the smoke is clearing. In my opinion, we will never go 'back to normal'. We will have to see what the new normal looks like."
---