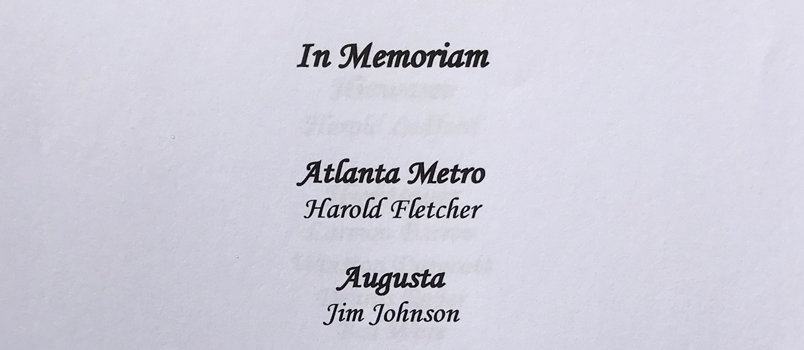 Each year during the annual Convention meeting, the sanctuary lights dim momentarily and the room goes silent. For a minute or two the large screen comes alive with the names of those faithful servants among Georgia Baptist ministers who passed away since the last Convention session.
From Atlanta Metro Baptist Association, winding through Hiawassee in the North through Colquit and Savannah in the South and ending back in the Atlanta area with West Metro, 40 names were brought to remembrance to the messengers in the pews.
State Missionary Marty Youngblood, who serves in Church/Minister Relations with the Georgia Baptist Mission Board, summed up 2017's loss as he reflected on lives given in service to the Kingdom.
"As I think upon those who have gone before us in the work of ministry, I'm reminded of the encouraging words of Charles Stanley concerning ministry. He said, 'We can be tired, weary, and emotionally distraught, but after spending time alone with God, we find that He injects into our bodies energy, power, and strength.'
"The endless work of ministry is never carried out in a vacuum. On the contrary, it is seen by countless others now and into the future. Hebrews 12;1-2 reminds us that, 'Therefore we also, since we are surrounded by so great a cloud of witnesses, let us lay aside every weight, and the sin which so easily ensnares us, and let us run with endurance the race that is set before us, looking unto Jesus, the author and finisher of our faith, who for the joy that was set before Him endured the cross, despising the shame, and has sat down at the right hand of the throne of God.'
"Therefore, we are eternally grateful to all who have run the race of faith under the mantle of ministry and have heard those beautiful words from Jesus, 'Well done, thy good and faithful servant.'"