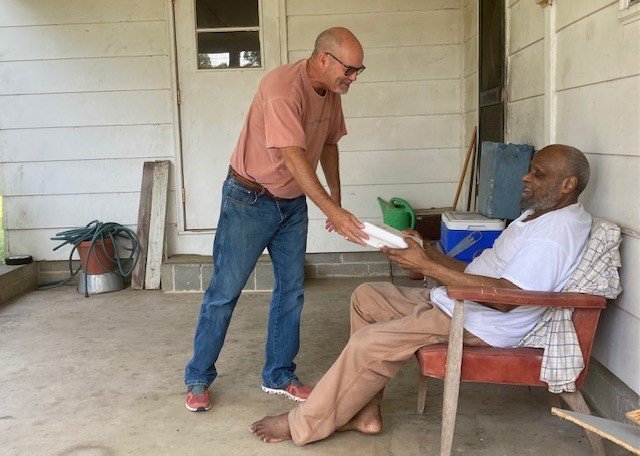 ABOVE, Neil Spradley, left, and Terry Niblett load a cooler filled with meals onto a Dodge County Baptist Association van in Eastman, Ga.

RIGHT, Neil Spradley delivers a meal to Robert Smith.



By Roger Alford

EASTMAN, Ga. – It sounded like a family reunion on the porch of 80-year-old Robert Smith's home last week when a pair of Southern Baptist volunteers showed up with a grilled chicken lunch, complete with mashed potatoes and steamed broccoli.

"The meal is good, but the company is even better," said Smith who lives alone in an aging ranch-style home in Eastman, a southeast Georgia town of 5,000 people.

Terry Niblett and Neil Spradley, members of First Baptist Church in Eastman, know that they're delivering more than nutritious food to elderly residents on their Meals on Wheels route. They're also delivering what many of these homebound senior citizens are especially hungry for: conversation and companionship.

So, they spend some time chatting and laughing with Smith before they continue their delivery route along the shaded streets of Eastman.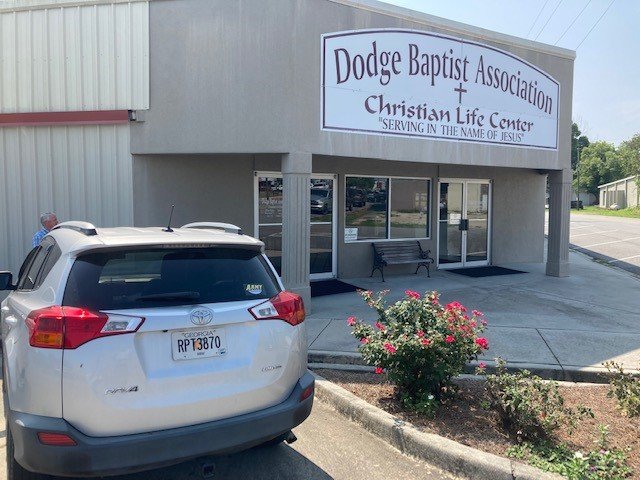 The Dodge County Baptist Association's Christian Life Center is a hub of activity for local churches.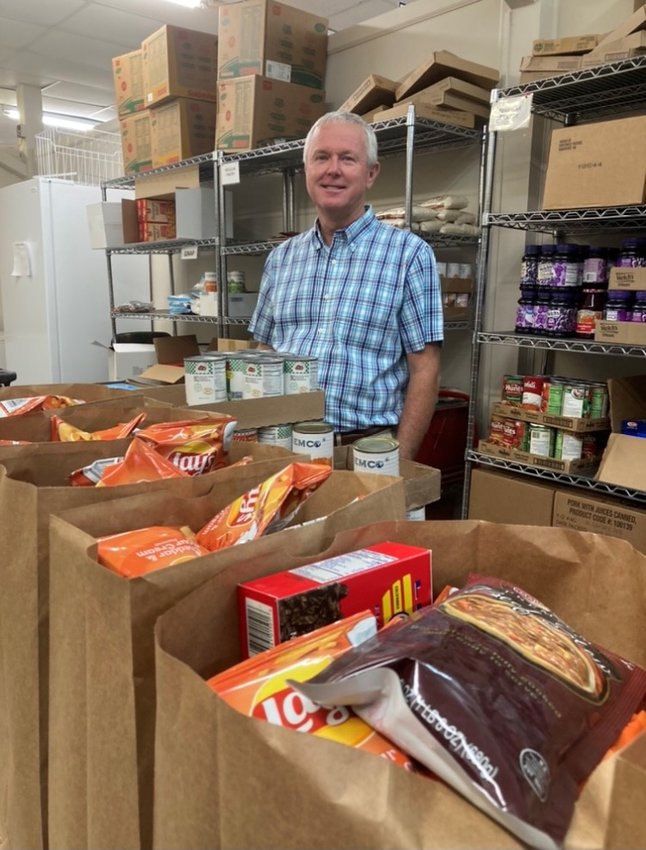 Associational Mission Strategist Mike Grenade oversees several ministries in the Dodge County Baptist Association, including a food pantry.

A forgotten concept in many places, door-to-door visitation is an everyday occurrence for volunteers with the Dodge County Baptist Association's Meals on Wheels ministry. It's what they do, five days a week, 52 weeks per year. It allows them to drop off food, share the gospel, and minister to other needs.

In much of the country, social service organizations have taken on the responsibility of delivering Meals on Wheels. But in Eastman, the Dodge County Baptist Association has been supplying the meals for the past 37 years, following the biblical admonition to care for the elderly.

"You've got people out here who are lonely, who don't have family, and this lets them know someone cares about them," said Mike Grenade, the mission strategist in the Dodge County Baptist Association. "People need a friend. They need someone to talk to. And, the truth is, for many of these people, this ministry is the only thing keeping them out of the nursing home."

The goal, Grenade said, is to help seniors stay in their homes, where they want to be, for as long as possible.

Nationally, some 5,000 independently operated Meals on Wheels programs serves some 220 million meals each year to more than 2.4 million seniors. In each community the mission is the same, to help the elderly remain independent and healthy.

Geneveland Graham, coordinator of the Meals on Wheels program in Eastman, said her volunteers, in delivering the food, also do wellness checks. If one of the clients is sick, they can help arrange medical care.



Graham recalls the morning she knocked on the door of one of her clients to deliver a meal. She could see him inside. But he didn't move.

"We called 911 immediately, but it was too late," Graham said. "He was already gone."

Eastwood's Meals and Wheels ministry is funded by private donors, not the government. The local hospital prepares and packages the meals. The Dodge County Baptist Association provides the vans used for deliveries. Churches provide the volunteers. And church members "adopt clients," paying for their meals.

Volunteers with the Dodge County Baptist Association also operate an emergency food bank that provides bags of nonperishables to needy families. They also operate a Goodwill-like store where people can buy clothing and other necessities at reduced prices.

"This ministry opens up a world that most people in the church wouldn't otherwise see," Grenade said. "It helps people see the needs all around them."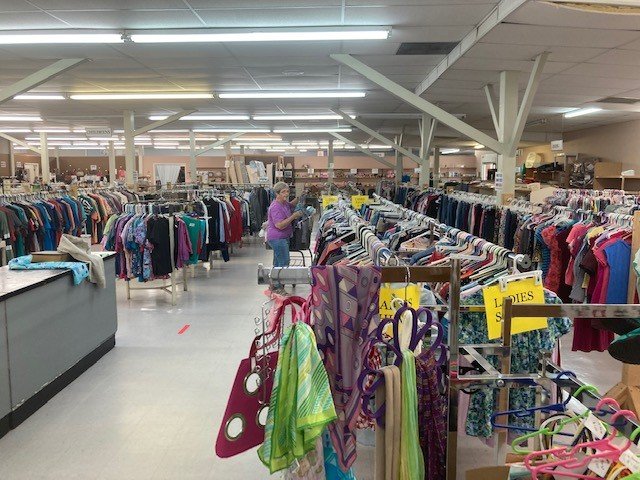 A volunteer from the Dodge County Baptist Association stocks clothing in the organization's thrift store.