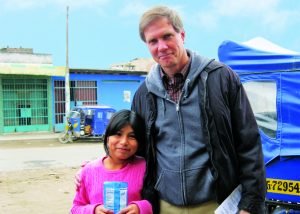 Donald "Skip" Martin, provost and executive vice president at Shorter University, stands with Esmeralda, a member of the church in Peru that is partnered with Martin's home church in Rome, Fellowship Baptist. DONALD MARTIN/Special[/caption]
ROME — There is a proverb of Latin origin that applies to Donald "Skip" Martin, executive vice president/provost of Shorter University. The proverb "still waters run deep" is commonly taken to mean that a placid exterior hides a passionate or subtle nature.
Martin is a quiet, unassuming man who is a scholar, administrator, teacher, missionary, pastor, husband, and father all compressed into one individual. He is a servant leader who has become a great asset to Shorter University and the Rome community.
Donald Dowless, president of Shorter University, made Martin one of his first hires when he came to Rome from Charleston Southern University in Charleston, SC. Dowless, who has a high regard for Martin, explained, "Dr. Skip Martin is a first rate scholar who embodies a deep love for Jesus Christ and people. He has a sacrificial spirit coupled with an intense desire to share the Gospel in each place he has lived, thus striving to fulfill the Lord's Great Commission. Shorter is fortunate to have a servant of this caliber and commitment."
Service, preparing for a calling
Martin is a graduate of Carson-Newman College in Jefferson City, TN, where he earned a B.A. in Religion and German. He has a Master of Divinity from Southeastern Seminary and a Ph.D. in Religion from Baylor University, where his dissertation was on the thoughts of the great Bible expositor and evangelist A.C. Dixon.
Martin met Julie Ann Garner of Houston during his graduate studies at Baylor. Subsequently, they were married and have three daughters: Allison, Ana, and Olivia.
Through the years this humble servant of God worked for the Tennessee Department of Transportation and Chattem Chemicals, Inc., a company that makes a variety of active pharmaceutical ingredients and performance chemicals used in consumer and industrial markets.
Martin explained, "During those years I was feeling a call from God, but I didn't know what form it would take. I guess God was just using each stage of my life as a building block for what He was going to call me to do."
Martin pastored churches in South Carolina and Texas before being appointed by the International Mission Board to serve the Lord in Guatemala. After nine months of studying Spanish as a second language at the Spanish Language Institute in San Jose, Costa Rica, the Chattanooga native moved his family to Guatemala City to begin his missionary service.
Training leaders
Much of Martin's work in Central America involved providing theological education for pastors and church leaders. He commented, "We established three centers for training leaders, all of which were positioned on major bus routes in Guatemala City. It was not feasible for them to quit work and go off to a seminary for three years.
"During those years I was feeling a call from God, but I didn't know what form it would take."
"Most of them marry young and work hard to provide for their families, but they came to one of the learning centers after work and studied at great sacrifice. They were eager to get an education and wanted to be prepared to defend their faith and lead others to Christ."
While the Martins were in Central America Julie used her training and music background to teach in the Baptist Music School in Guatemala City.
Through the years Martin has not only provided theological education for Hispanic church leaders, but has planted four Hispanic churches. He founded three churches while he was at Charleston Southern and established a Bible Institute in Charleston to train Hispanic leaders for ministry.
In November 2012 he saw the need for a Hispanic church in Rome and started a new work as a part of the ministry of Fellowship Baptist Church where he, Julie, and his two younger daughters are members. He volunteers his service as pastor of the church and regards it as a part of his ministry to the Rome community.
Decreases and increases
A study of Floyd County demographics indicates that while the overall population only increased by 5,752, or 6.35%, between 2000 and 2010 the Hispanic population increased by 4,983, or by 80.35%.
Dale Levan, pastor of Fellowship Church, remarked, "Dr. Martin and his family have a heart for the Hispanics of our community. In the brief time since he helped us begin the mission, it has increased in attendance from his family to at times over 45 people.
"He is also training believers from the Hispanic community that will either lead the group or begin other works. Brother Skip is a man of integrity, passion, and tenacity. We are grateful to our Lord for the privilege of working with him, his family, and the Hispanic mission as we seek to reach, win, and disciple the Latin community that has exploded with growth in the west Rome area in the last few years."
"Brother Skip is a man of integrity, passion, and tenacity."
Currently, Martin's church in Rome, Iglesia Evangelica Vida Abundante (Abundant Life Evangelical Church), has seven different nationalities represented in its fellowship: Mexico, Argentina, Columbia, El Salvador, Bolivia, Guatemala, and Chile.
Some of the Shorter students also attend Iglesia Evangelica Vida Abundante. Martin exclaimed, "We have our worship service on Sunday morning. On Saturday evening we have an informal Bible Study and prayer meeting. Last December the church had its first baptismal service at Fellowship Baptist Church. It was an exciting time for us. We are just trying to impact lives for Christ."
Showing care
"Last year the church hosted a medical clinic and some of the nursing students from Shorter provided health screenings," Martin continued. "There were about one hundred people who came to the church to get their blood pressure checked, cholesterol testing, etc. The clinic showed the Hispanic community in Rome that we genuinely cared about them.
"We have our challenges. It is sometimes difficult maintaining the stability we need, because of the transitory nature of the Hispanics in America. But they are so thankful to be able to worship and sing praises to God in their mother tongue."
Martin's goal is to equip leaders who will be able to assume the pastoral responsibilities of Iglesia Evangelica Vida Abundante so that he may be free to train other Spanish-speaking Christian leaders to plant and grow churches.
It is exceedingly heartening to know that one of Georgia Baptists' most prominent educators is intricately involved in a ministry of church planting and whose goal is to equip leaders to serve as pastors, evangelists, and church planters. It is all about multiplication – a very New Testament concept.