HOUSTON — The current World Series has been full of drama, home runs, marathon battles on the diamond, outstanding players, and come-from-behind wins. The Houston Astros and the Los Angeles Dodgers have played in some of the most action-packed and captivating World Series games in recent memory.
If you have watched any of the games played in Minute Maid Park in Houston you may have seen an ad prominently displayed in right field featuring Houston's First Baptist Church.
The church and the team are intricately woven together in several ways. Juan Jesus Alaniz, pastor of Houston's First Baptist Church's Spanish campus, is the chaplain of the Astros. Alaniz's ministry to the Houston team should make Southern Baptists pleased and grateful.
Alaniz leads the team in devotions, Bible studies, and prayer, but he has made himself available to minister to the team and their families through personal conversations, texting, or by phone.
Among the Astros team members are men from Venezuela, Puerto Rico, Cuba, and the Dominican Republic. While Alaniz focuses his attention on the Hispanic players, Kevin Edelbrock, a developmental director with Young Life, is the chaplain to the English-speaking players.
First Baptist Church in Houston has also held fellowship nights at Minute Maid Park. Greg Matte, pastor of FBC Houston, has thrown out the first pitch at the Astros ballgames. Reid Ryan, who is the Astros's club president and son of Hall of Fame pitcher Nolan Ryan, addressed the staff at First Baptist Church at the invitation of Alaniz.
Ryan, his wife Nicole, and their three children are all affiliated with Second Baptist Church in Houston. Within the last year the entire family went to Zambia on a mission trip. Ryan has often expressed his thanks to Alaniz for providing spiritual leadership and praying for the team.
While each World Series team has a collection of outstanding players, there is one baseball player who has been an amazement to the sports world – Jose Altuve. He hustles. He plays hard. He swings like a maniac. He inspires his teammates.
Major League Baseball statistics report Altuve's height at 5' 6", but that may be an exaggeration. He appears to be much shorter, especially in comparison to his much taller teammates, like 6'5" Justin Verlander. However, in his small frame of 165 pounds he packs more dynamite than anyone could ever calculate. He is a hitting machine!
On Sunday, Houston and Los Angeles played in one of the most exciting games in World Series history. It became a home run contest with the Astros finally winning after a five-hour-and-17-minute, extra-inning game by a score of 13-12.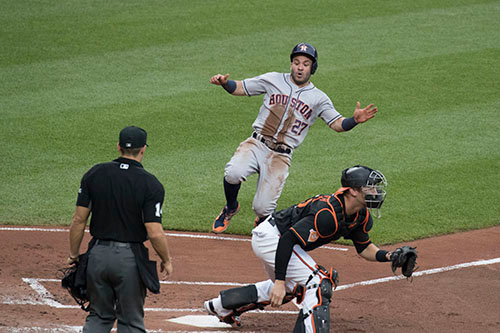 The Astros' Jose Altuve slides into home against the Orioles earlier this year. The play of Altuve has sprung Houston against the Dodgers in the World Series. WIKIPEDIA COMMONS/SPECIAL[/caption]
In that fifth game for the world championship of professional baseball, Altuve got three hits, including a double and a home run. His home run came off the Dodgers premier pitcher, Clayton Kershaw. Altuve also added four RBIs in that game to bring his total postseason runs batted in to 13. His seven home runs leave him one shy of matching the MLB record for a single postseason. His style of play and phenomenal hitting ability has ignited the other Astros and attracted the attention of the nation, perhaps the world.
However, what most may not know is that Jose Altuve professes to be a believer. The Houston Chronicle quoted Altuve as saying, "To achieve success wasn't to get into the major leagues or have the best season in the world. The best success is to live your life the way God wants you to.
"If you can to that, if you can be good with God, then I think you will have success in your life.
"We need to not just ask God, but thank Him for everything like our health, our family. And ask Him to bless our homes and to always be present in our daily lives."
Surely, there are millions of Dodgers fans who have faced tragedy and loss, but with the destruction Houston recently faced from Hurricane Harvey, it is difficult not to wish them well.
With the devastation of Harvey still on his mind, the Chronicle quoted Altuve as saying, "It's been a city that's been going through lots of things this year. And now we are in the World Series. We want to win this World Series for them because the deserve it and because they've been true fans all year long.
"We're more than a team. We have a family. We all get along great and that's important."
The Los Angeles Dodgers may win the World Series, but not if Jose Altuve has his way.