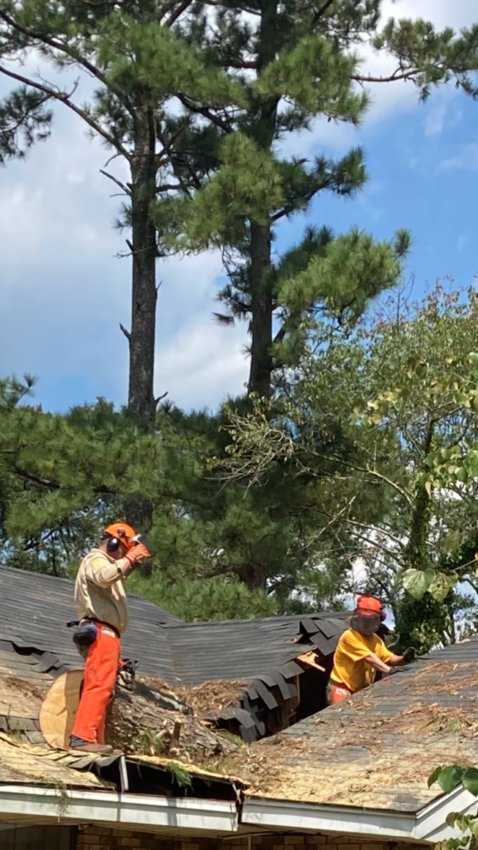 Bobby Passmore, a member of Union Baptist Church in Griffin, Ga., and Michael McGee, a member of Victory Baptist Church in Cedartown, Ga., survey what's left of an 85-foot pine that fell on a home in Kentwood, La.
Michael McGee, a member of Victory Baptist Church in Cedartown, Georgia, saws chunks from a tree that Hurricane Ida toppled onto a Louisiana resident's rooftop.



By ROGER ALFORD
The Christian Index

KENTWOOD, La. – Huge trees that had withstood major hurricanes for more than a century were toppled like bowling pins when Ida stormed ashore in Louisiana, making cleanup especially difficult for Disaster Relief volunteers.

"Many of these trees are massive, and that's slowing us down," said Ricky Thrasher, who heads the Georgia Baptist Mission Board's Disaster Relief ministry. "We're talking 90-foot-tall trees that are 50 inches in diameter. It can take a full day for our crews to remove a single tree."

Thrasher said three additional Georgia crews will be arriving in Louisiana over the next couple of days to relieve those who have been on site since Ida paid an unwelcome visit on August 29 as a Category 4 hurricane with sustained winds of 150 mph. Property damage has been estimated at more than $1 billion.

The death toll from Ida has risen to more than 60, including 13 in Louisiana. The storm weakened as it moved northeast but packed enough rainfall to trigger flash flooding that killed least 50 people on the East Coast.

"We're running into some of the bigger trees I've ever worked on with Disaster Relief," said Chris Fuller, a member of Highland Hills Baptist Church in Macon who spent the last week in Louisiana. "It has been very challenging indeed."

The trunks of the larger trees had to be cut into one-foot crosscuts, called "cookies," to make them manageable for crews to load onto hand trucks to be hauled away.

Georgia has more than 7,000 Disaster Relief volunteers who stand ready to go into disaster areas, leaving behind their own families for the sake of others. Their only pay, Thrasher said, is the good feeling they get from helping their fellow man.

"Some of the finest people in the world serve in Georgia Baptist Disaster Relief," Thrasher said. "These are Christian men and women who get joy from serving the Lord, and their faith is contagious."

Thrasher said Louisiana storm victims have recognized that something's different about the Georgia Baptists and, as a result, 16 have opted to follow Christ themselves over the past week.

Along with the chainsaw brigades, Georgia Baptist Disaster Relief also sent in volunteers to set up mobile laundromats and shower trailers where workers can clean their clothes and themselves. They also have set up a mobile feeding station.

"It has been really hot down there," Thrasher said. "We're trying to keep our folks hydrated. They're making it OK."
___
To support the Georgia Baptist hurricane relief effort, go to: https://gabaptist.org/disasterrelief/ and click on the giving link at the top of the page.