W. Thomas Hammond, Jr., Georgia Baptist executive director, speaks from the stage at the Executive Committee meeting at Central Baptist Church in Warner Robins. EC members unable to attend did so virtually through the screen in the background. SCOTT BARKLEY/Index
---
WARNER ROBINS — The process of rectifying a challenging financial situation for the Georgia Baptist Mission Board begins with an assessment of where things currently stand, state leadership said at today's Executive Committee meeting.
The findings arrived after a study of annual audits conducted by the Georgia Baptist Convention/Georgia Baptist Mission Board from 1999-2019.
David Melber, Georgia Baptists' new chief operating officer, informed GBMB staff of changes to come Monday, Sept. 14. Using a term from his background in construction, he compared the process to the renovation of a home.
"There's a place we want the home to get to," he said, "but there's going to be an in-between time we have to get through."
That "in-between" will include a present-day reality of limited cash and liquid assets plus no longer covering financial losses for related parties such as colleges and camps.
Georgia Baptist Executive Director W. Thomas Hammond, Jr., and others pointed to a longstanding practice of consistent cash overspend for nonbudgeted items. Those losses have largely come through supporting areas such as camps, colleges, and The Christian Index. Norman Park Conference Center noted $12.35 million in losses from 1999-2015 while the audits brought Toccoa Conference Center losses from 2000-2019 to $10.87 million.
Melber repeated throughout his presentation that no there was nothing malicious or nefarious about the spending habits. In fact, he consistently characterized the transactions as coming from "a heart of generosity" or "benevolence."
But the Mission Board currently faces a financial reality. "We no longer have the ability to underwrite related party losses," he said.
Losses at Pinebloom, decreases in funding
Around the turn of the century the journalism industry was well into a tectonic shift of its own thanks to the growing popularity of the internet for receiving news. A continual drop in subscriptions since then unfortunately paralleled an increase in postage and printing costs. That joined the $3.6 million in estimated losses connected to Pinebloom, a Decatur antebellum mansion acquired by the Convention in 2000 and used as the Index offices until 2003.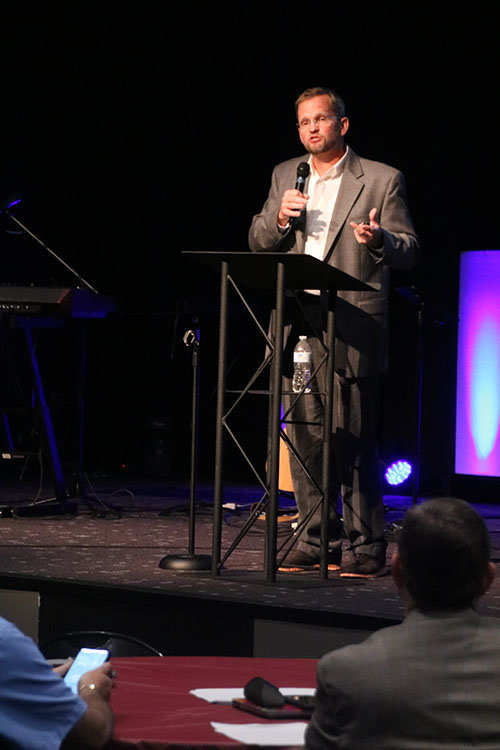 Georgia Baptist Chief Operations Officer David Melber delivers the report on Toccoa Baptist Conference Center. SCOTT BARKLEY/Index
In addition, the audits reported a 31 percent decrease in GBMB revenue that included $1.21 million drop in Cooperative Program giving to the state.
During that time, the GBMB also decreased its unrestricted investments held at the Georgia Baptist Foundation by 96 percent.
Those factors and more have brought the Georgia Baptist Mission Board to a current reality of a 100 percent decrease in cash and cash equivalent – "cash poor" in layman's terms – and a place of painful, though necessary, belt-tightening.
Addressing issues
Georgia Baptist Executive Director W. Thomas Hammond, Jr., pointed to immediate past and future steps to bring the Mission Board more in line with its budget.
"Through downsizing and adjusting Georgia Baptist staff levels, we've worked to match our future strategies for reaching Georgia and the world with the gospel," he told The Index. "Other steps taken to that end came on April 1, when we suspended employer retirement contributions for all staff and initiated staff pay reductions."
Other key actions proposed to Executive Committee members were:
A complete overhaul of financial procedures and internal reporting
Toccoa Baptist Conference Center operations suspended as of Sept. 30 and staff reduction to match attendance trends.
A decrease in retiree life and dental coverage
A decrease in GBMB employee retirement benefits
Adjustments in GBMB employee ongoing benefits.
Melber proposed that assets not aligned with the current Georgia Baptist Mission Board strategy be placed for sale. Those properties are Pinebloom, 340 vacant acres in Waycross, a house in Norman Park, and the Missions and Ministry Center in Duluth. An ongoing analysis is determining an alternate revenue potential for BCM properties while strengthening those ministries.
"In these actions … we're asking for your support as we seek to steward the best we can what the Lord has entrusted to us as Georgia Baptists," Melber reported.
Budget approved
Executive Committee members approved a 2021 Cooperative Program budget of $37,835,000 presented by Hammond. That figure represents a six percent decrease from last year's budget, the largest drop since 2012, which was also at six percent. It's not the largest in recent memory, though, as the Great Recession led to lowering the budget in 2009 (5.16 percent) and 2010 (8.2 percent).
Of the 2021 budget, 60 percent will fund Georgia Baptist entities and ministries while 40 percent – 15,134,000 – will be forwarded to the Southern Baptist Convention Executive Committee. Messengers will vote on approving the budget at the annual meeting to be held Nov. 9 at Ingleside Baptist Church in Macon.
EC members also heard reports from Mission Board leaders on various areas of ministry.
Beth Ann Williams, lead strategist for Georgia Baptist Women, spoke of the pivot that took place in Mission Georgia due to needs created by COVID-19. In particular, she talked about Georgia Baptist response to the need for masks in the spring.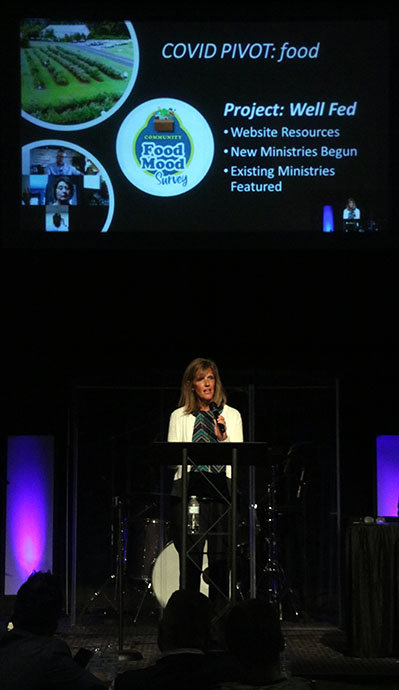 Beth Ann Williams, lead strategist for Georgia Baptist Women, presents her report to Executive Committee members. SCOTT BARKLEY/Index
The first wave of masks came from churches and individuals making them. A second wave came through Mission Georgia itself.
"We were able to use some of our Mission Georgia funds to purchase masks for four hospitals in our state," said Williams, adding that the information came through a discussion with Governor Brian Kemp's office. A third wave of 125,000 masks is currently being delivered through Georgia Baptist churches and associations to schools through a grant and Disaster Relief donation.
Staying in personal contact with pastors throughout the state has been of upmost importance during this time, said Tim Dowdy, lead strategist for Pastor Wellness.
"We're for the pastor. We're for him and his family. We're trying to do everything we can to encourage them," he stated.
An example of that, he noted, was a retreat for pastors and their wives to Jekyll Island Oct. 16-18. "We're looking forward to that time together," he added.
Scott Sullivan, lead strategist for Discipleship, gave a report on the recent Spark Conference.
Registrants spanned 45 states and 18 countries and territories, he shared. On the day the conference premiered, Aug. 28, there were 1,717 unique viewers. To date, that number has jumped to 5,159 unique viewers.
By comparison, he said, an average of about 1,100 people attended Go Georgia, Spark's predecessor as the annual training event for Georgia Baptists.
Levi Skipper, lead strategist for Church Strengthening, spoke on a tool for assisting churches through a three-step process of an assessment, appointment, and application.
"We create an assessment online for a church to take. It's a very quick survey of your church that will generate opportunities for growth in your church. We all want to get better, and this is a great opportunity for you to improve."
From that point a consultant in Church Strengthening will contact the church to discuss strategies to implement "within the context of your church."
From there, the church moves into applying those findings. That step takes into consideration a church's unique context, he said.
John Courtney, lead specialist for Research and Development, pointed out the myriad of resources added in the days after the COVID-19 shutdown took place. And, he added, those resources haven't just been accessed by Georgia Baptists.
"We've noticed that so many people from outside the state have visited our website. Those include partner states as well as other countries."
Those resources included requests by Gov. Kemp, who was in touch with Hammond during the shutdown, in communicating with Georgia Baptists. Courtney pointed to that as just one example of the impact left over the last several months.
"God used the state of Georgia and the Mission Board to speak all across the world," he said.
This post was updated at 7:53 p.m. Sept. 16 to reflect a clarification regarding investments through the Georgia Baptist Foundation.
---