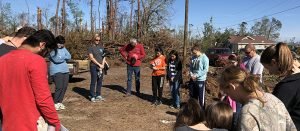 The combination of prayer, compassion and hard work resulted in the people of First Baptist Kingsland being a blessing to the people of Bainbridge and Panama City. JESSE BRYAN/Special[/caption]
By Gerald Harris
KINGSLAND – First Baptist Church of Kingsland, like many other Georgia Baptist Churches, responded with love and service to those impacted by the devastation wrought by Hurricane Michael.
When the Category 3 hurricane hit Bainbridge with estimated winds of 111 to 129 miles per hour almost 100 percent of the power in the city was lost. Downed trees and power lines were everywhere. Scores of homes and businesses were suddenly submerged in darkness.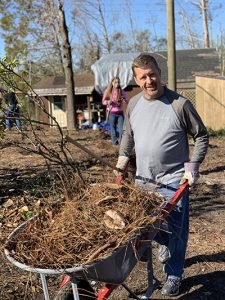 Kevin Connell is part of a restoration project after Hurricane Michael's cut a swath of destruction across Florida and Georgia. JESSE BRYAN/Special[/caption]
Panama City was more seriously shattered with 155-mph winds that ripped and twisted a wide path through the Florida panhandle. Life in the coastal and inland communities around Panama City was turned upside down with buildings flattened, roads damaged, power lines, running water, reliable cell service and access to the Internet all disrupted.
First Baptist Church Kingsland rushed to the rescue, because many of the people in the church remembered the chaos caused by Tropical Storm Irma in September 2017 when the squall brought nearly 10 inches of rain and wind gusts of up to 77 mph to Georgia's southern coastal area.
Kevin Connell, associate pastor of evangelism and assimilation, at First Baptist, explained, "After Hurricane Irma hit here last year, we set up a training center with Georgia Baptist Disaster Relief and had sixteen of our people trained and registered to be sent out to wherever/whatever. We were ready to respond this year during hurricane season. We have had several of our people respond to various requests from Stuart Lang (who provides leadership in the area of community missions and disaster response for the Georgia Baptist Mission Board).
"We believe that God is at work all around us and that He invites us to join Him in His work. Disaster relief is one of the ways we get to join Him in His work of recovery and of sharing hope in dark and hopeless times."
Connell continued, "We had at least two different teams to go do kitchen work in Bainbridge and we had another two teams to go and clean up yard debris."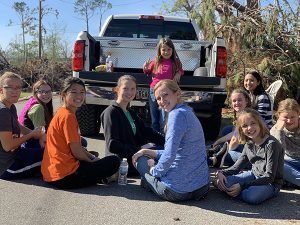 Everyone needs a break from a hard day's work. The common goal of this group of working students created great fellowship. JESSE BRYAN/Special[/caption]
Jerry Roney, a member of First Baptist Kingsland, went to Bainbridge and related, "One afternoon after we got through feeding the noon meal, we took cookies and goodies to people in the neighborhood where we were working and got to talk to folks. We let them share their storm related problems, invited them to Morningside Baptist Church, and prayed with them."
Kristen Fitzpatrick, a single mom from First Baptist in Kingsland traveled to Bainbridge to offer her help in the wake of Hurricane Michael. She reported, "As we pulled into the parking lot of First Baptist Church it was impossible to miss the damage done by the storm. The church was to become our meeting/sleeping/eating headquarters. But there were tiles missing from the roof, bent awnings, and debris covering the otherwise meticulously kept property. Although it was dark, we could see that the houses and surrounding businesses were missing sections of their buildings and roofs.
"Our contact, Gene Dunlap, introduced us to our new living quarters, and gave us Dairy Queen hamburgers and french fries. He informed us that although the power had been restored in the main part of the town the previous day, most of the town was still without electricity because of the damage of the storm. Millions of dollars were lost because homes, schools, restaurants, and stores had to throw away food that had spoiled. Insurance companies were predicting that the damages were ringing up bills in the billions of dollars."
Kristen continued, "Mr. Dunlap and his son took two of the boys to his rental property to fill the generators with gasoline for his tenants. He discovered that one of his cabins had been completely ruined by the storm. He also indicated that there was an odor from the dead fish floating in the creek near his rental property.
"Early the next morning, we were treated to a breakfast in the church kitchen prepared by Lewis and Clarene Jones. This amazing couple, married for 60 years, became our caretakers for the remainder of our visit.
"That morning we decided to go to the home of an elderly widow – Frances. Although Frances was not at home, her niece stopped by to tell us that her aunt was suffering from depression because of the chaotic condition of her large lot, her physical limitations that prohibited her from being able to remedy the situation, and her inability to pay someone to do the necessary restorations.
"After one and a half days of hard work, Frances' lot was almost completely cleared. Her gratitude was overwhelming. What a blessing to know that God had used us to provide her a home that had been returned to order in a town filled with chaos. It was rewarding to see the change in her countenance when her hope was restored.
"We must continue to pray for the people there, because the farmers have lost their cotton crops, peanut and corn crops, chicken houses, pecan orchards, and timberland."
Subsequent to the work provided by the people of First Baptist Church, Pastor Brian Parker received a beautiful "Thank you" card from the daughter of Frances that said, "At one point my mom had asked why they would come here to do such back-breaking work. She was simply told, 'Because Bainbridge needs help.' What a touching and fitting response from true followers of Christ."
Kevin Connell, his 11-year-old daughter, Emily, and 15-year-old son, Daniel, traveled to Florida with a student group from First Baptist Kingsland to assist the folks at First Baptist Church Panama City. Connell remarked, "When we got to the church there was a house across the street with the entire side of the building ripped off. You could see inside the bedroom and the baby crib was there in plain view.
"I had the opportunity," Kevin testified, "to share the gospel at three houses in Panama City. In the last house we visited we encountered a young man who was definitely not a believer but wanted to know why we would come all the way from South Georgia to help restore the area. I explained that we had been through Irma the year before and had experienced some tough times through that storm and we understood what they were going through. I explained what a difference Christ had made in all of our lives and that He could make a difference in his life as well.
"I used passages in Genesis to explain why there are hurricanes/tornadoes/natural disasters and told him that God had made a way for us to have peace and eternal life in spite of our sins. He was overwhelmed with the whole experience. He did not pray to receive Christ that day, but I know that a seed was planted that the Holy Spirit will water and grow in his life."
We can be thankful for First Baptist Kingsland and other churches that have responded and continue to respond to those people impacted by natural disasters. Selfless service represents Christianity at its best, and all those who serve must remember that even "a cup of cold water given in Jesus name will not go unrewarded."