Heritage Baptist Church in Calhoun, Ga., started a cross-making ministry that has allowed church members to share the gospel with the surrounding community. About 168 people were baptized by the church during 2020. COURTESY/Shane Parrott
---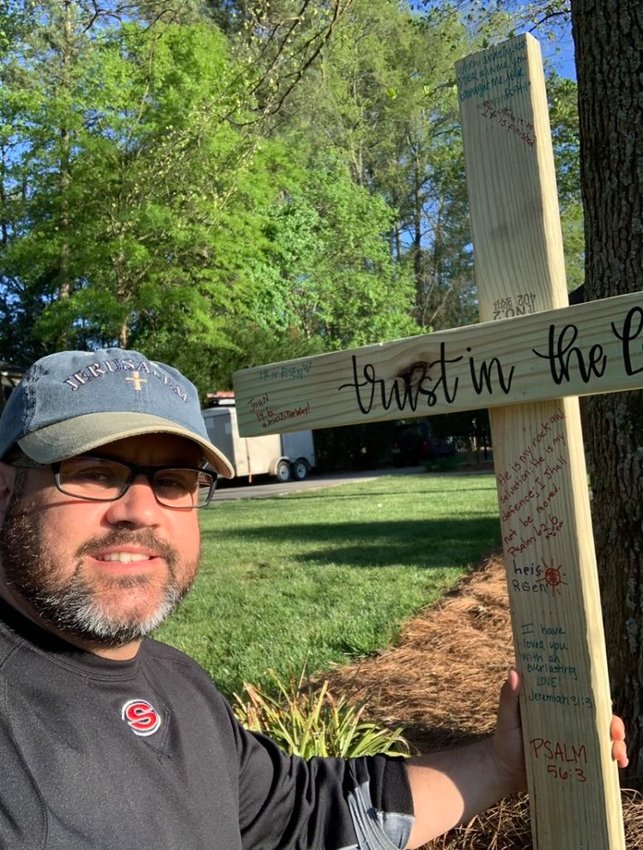 COURTESY/Shane Parrott
CALHOUN – As the Research Consultant for the mission board, I see all of the statistics from our Georgia Baptist churches' annual reports. We thought we might see disheartening numbers after a pandemic year, and many reports came in that confirmed my concerns. The bad news of the annual reports weighed heavy on those of us processing the information and baptisms were a leading concern. But, I was delighted to see that a small number of churches saw God move in a mighty way. Pastor Shane Parrott at Heritage Baptist in Calhoun saw it. He shared how God led a lay person in his church to begin a Cross Making Ministry.
"I had a member who had some scrap wood at his house and made 10 crosses and just wanted to give them out," Parrott said. "I told him to put them in front of the church, and I'd let people know they were there. I put it on our Facebook page and within 30 minutes they were gone. So, we built approximately 20 more. Same results. In a matter of minutes, they were gone. It was obvious people were looking for something."
Heritage Church has seen God move before but not like this. Shane shared, "We got together and ordered $400 worth of lumber. We met at the church and built crosses, put it on Facebook, and people came. This went on for weeks. We would buy the lumber, build crosses, and people came to get them. Local business owners would come and ask to pay for the lumber, so the crosses cost us nothing! People would give donations to build more and more. Ultimately, we built and gave away over 2,700 crosses."
Imagine a drive through Calhoun, Ga. where thousands of six-foot tall crosses decorate yards, parking lots, and windows, essentially flooding the community. It is likely that half the families in town had a cross.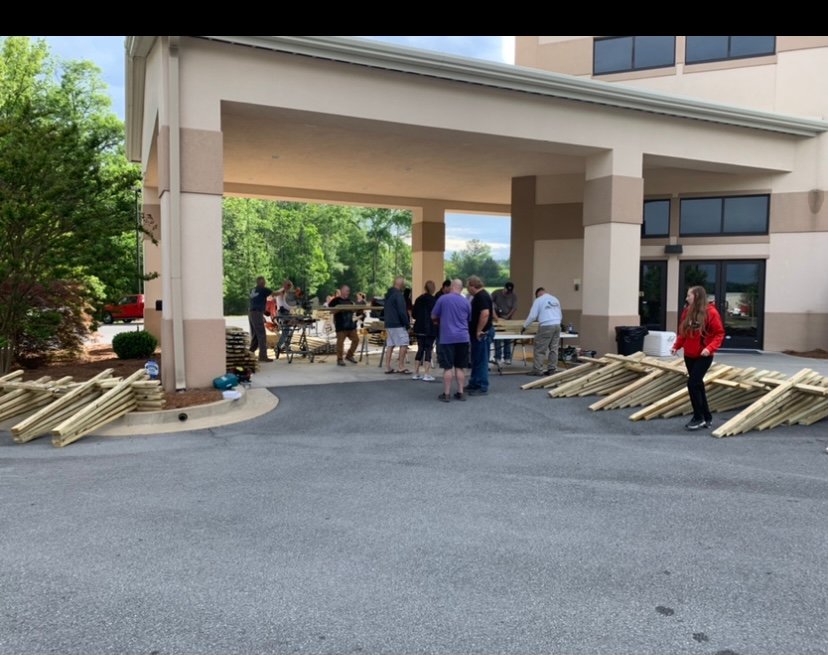 COURTESY/Shane Parrott
Shane went on to describe the experience, "We had people coming to the church every day of the week to pick up a cross. We saw people being saved daily, baptized daily. We wore the baptistry out and had to replace the pump!" Every person that came to the church to pick up a cross, received the gospel, and many prayed to receive Christ.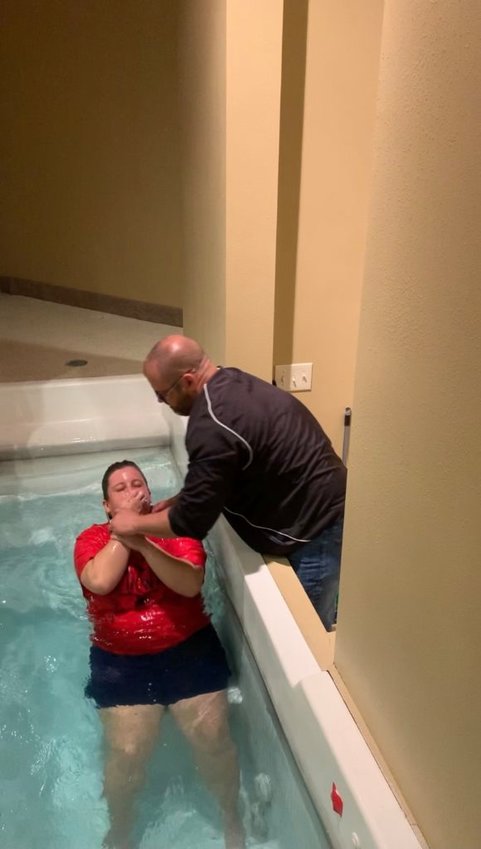 COURTESY/Shane Parrott
The church has seen 168 people saved and baptized during the pandemic so far. For reference, the church ranks as number four for baptisms in the state behind Cascade Hills in Columbus, First Woodstock, and Bethlehem.
Heritage's pre-COVID worship gatherings averaged around 650 each Sunday, meaning that for every four in attendance on Sunday, the church saw one person baptized. I call this number baptism ratio. To put it into perspective, if every Georgia Baptist church had a baptism ratio of 4:1, we would see over 115,000 people baptized in a year!
The average baptism ratio for a Georgia Baptist church is 54:1. So, to say Heritage Church is seeing God move in an incredible way is not an understatement!
This past year will most likely prove to be the worst year for churches in recent history in almost every regard. Even before the pandemic shut everything down, we were experiencing historic lows in evangelism, disciple making, and outreach. Early reports show pre-pandemic worship attendance down 12 percent and baptisms down 38 percent. These reports are following two consecutive down years where baptism totals were lower than we have seen in 100 years.
Pastors around the state have acknowledged their exhaustion, frustration, and depression. Many felt the temptation to just shut things down and wait out the crisis. But several had spiritually shut down years before 2020. It was easy to blame our church challenges on 2020, but we have been trending down for almost a decade.
I personally believe that God allowed us to experience 2020 so we could all have a "do-over." The year forced us to de-institutionalize the church for more than a year. We were forced to weigh every program and practice to see if they really mattered. We were forced to rearrange priorities, learn new survival skills, and find the strength to continue when we were exhausted, frustrated, depressed, and overwhelmed.
As I reflected on Shane's testimony of the last year, I was reminded of Jesus' response to the disciples after He calmed the storm, "Where is your faith?" (Luke 8:25).
In the middle of 2020, Shane shared, "God has been so good to us! Our congregation has grown to the point we are nearly out of room. We purchased 12 more acres which adjoins us for parking because we are out of parking, we purchased what was an old building next to us and are currently turning it into a 17,000 square foot educational facility." God poured out His blessings on this small town halfway between Chattanooga and Atlanta.
When the folks of Heritage and the people of Calhoun think about 2020, they will remember how God turned the what was meant for evil into good.
---