Pastor Jeremy Cox leads an outdoor service where several were baptized. DeBerry Baptist baptized 22 people during 2020, which is about 31 percent of the average attendance on a given Sunday before COVID-19. COURTESY/Jeremy Cox
---
As the annual reports were coming in, I noticed a small number of churches that seemed to not miss a beat. Some even thrived amid the crazy year. I became curious and sought to see if I could understand what was going on in these churches. One of the three things evident was the church's emphasis on disciple making – real disciple making.
One of the churches that stood out is in the county between Fitzgerald and Broxton. DeBerry Baptist ran about 70 in services before COVID-19, but the church saw 22 people saved and baptized in 2020. That is a 3:1 baptism ratio. Pastor Jeremy Cox at DeBerry Baptist shared their process, and said, "About five years ago, another local pastor and I were discipled by a nearby pastor through the Bonhoeffer Project. I took the principles I learned and brought them back to my church." Cox started "316 Groups" in his church and found a few people ready to grow.
In 2020, year to year comparisons revealed baptisms ratios doubled. Sounds like it should be good, but it is not. Baptism ratio is a number we developed to understand how a church is doing. I look at the average worship attendance and divide it by the number of baptisms in a year. One might say that this ratio tells how many people it takes to reach a single person in a year. A church that has a lower baptism ratio, is doing a better job of reaching people than the church that has a high ratio.
In Georgia, our baptism ratios have shown that we are becoming less effective in reaching people. In 2000, our state baptism ratio was 14.04. In 2010, it was 18.13.  This meant in the 10 years between 2000 and 2010, we had become 29 percent less effective in reaching people. In 2019, our ratio was 25.70. So, in the years between 2000 and 2019, we had become 83 percent less effective. Now, as 2020 reports are being counted, our baptism ratio has ballooned to 51.82; double what it was last year and 269 percent worse than 2000.
You might be saying to yourself, "Well we had 2020 …" Yes, 2020 was bad and all, but we were seeing historic lows before 2020 hit. We cannot ignore this. In 2018, we saw baptism totals reach a low unseen in 100 years. If we accept 2020 as an excuse for these terrible numbers, then we must admit that we have grown so dependent upon members gathering to do church. The year 2020 revealed this; when we could no longer gather, we did not know how to function. We tried to convince ourselves that our online views, hits, and clicks meant that people were still having church. But not really. The Georgia Baptist annual data report will tell the story of historically low baptisms and discipleship totals. Many stopped reaching, teaching, and ministering. But why? God did not stop working, Christians did not stop being Christians, lost people did not stop needing Jesus. Why did much of the church stop being the church? Is our theology about the church so dependent upon a place where we gather, a building, our organizations, our institutions? If that is so, we are in big trouble.
Cox explained the details of what he thought made the difference at DeBerry. It connects back to the intentional small groups he created. He shared about one small group in particular.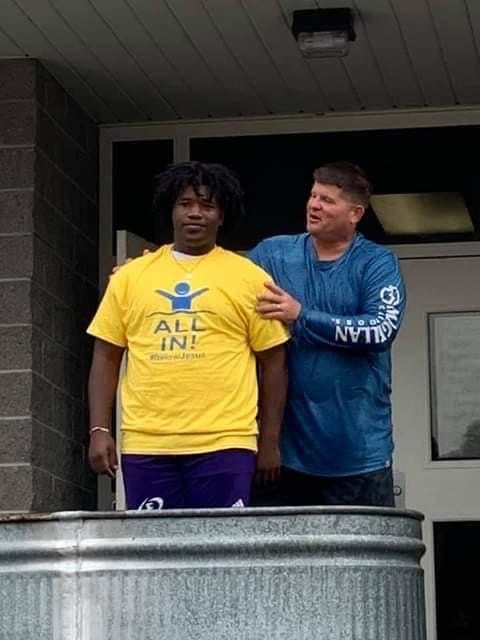 DeBerry Baptist created "316 Groups" that multiplied during the pandemic. Pastor Jeremy Cox points out the process took work. Cox said the groups were worth the effort to see church members not only joining groups, but leading them, as well as seeing resulting baptisms. COURTESY/Jeremy Cox
"I met Bobby about five years ago. When he and his wife moved to the area, they looked us up. They heard the gospel, got saved and baptized. He and I, along with two other guys, met and went through the book of Mark. It took us several weeks, but Bobby and the guys learned what being a disciple of Christ meant."
As I listened to Cox share, I understood that Cox and the people of his church went to a level deeper. Having a good crowd on campus became less important than seeing those that were there develop a meaningful relationship with Jesus.
"They all saw the costs. They saw it wasn't something that was going to be easy. Bobby and the other guys committed to keep going. It took us the next year and a half to work through the next book." Cox continued, "We went from just meeting and talking, to doing projects. It stretched us. We looked for ways to challenge our walk, and we grew deeper. I started seeing the guys apply what they were learning. Now, one of those guys is leading his own group. I check in on him and see how things are going. Bobby is leading our adult Sunday school class and sharing time with me on Wednesday nights. He is looking to start his 316 group soon." Pastor Jeremy described how the culture and language of the church has been transformed. "We are anticipating a huge harvest from this in about five years!"
It is not hard to see the possibilities. Cox was in a group of three that has multiplied into three groups of three, which multiplied into eight groups of three. You can see how real disciple making can impact an entire community.
Developing a disciple-making culture will be game changing for most of our churches. Before a pastor can cultivate a culture of discipleship, he must clear up any ambiguity with the term. Consider what disciples making is not. It's not a class, a seminar, a degree you earn, a program, or a 12-week Bible study. It's not a 40-day home group, a quick process, or a quick fix. It's not reserved for super Christians, and it is not an option! Based on Matthew 28:19-20, discipleship is intentionally equipping believers with the Word of God through accountable relationships empowered by the Holy Spirit to replicate faithful followers of Christ.
When people become disciples, they learn what Jesus said and live out what Jesus did. Did you catch the five components of a discipling relationship? A disciple is: intentional about equipping others for the work of ministry; studying/obeying the Word of God; accountable to other believers; empowered by the Holy Spirit; and reproducing what he was taught with others.[1] Determine that a top priority in your church will be to create a culture of disciple making and no matter if a bad year turns into two or three, your church can thrive.
---
[1] Gallaty, R. (2014) Creating a discipleship culture in the local church. Leadership, 6(17) retrieved from http://www.lifeway.com/ leadership/2014/06/17/creating-a-discipleship-culture-in-the-local- church/.
---