Last Sunday I drove to rural Floyd County to join Pastor Richard McGinnis and The Refuge Church for worship. Normally I communicate with the pastor ahead of time as to my visit, just in case he's not preaching that Sunday. I didn't do that this time, though, finding The Refuge on Floyd County Baptist Association's church list page.
Richard had a great message and afterwards I had lunch with him, his wife Kelly, and children. I learned that not only were we all from the same area of northeast Alabama, but Richard, Kelly, and I all attended Jacksonville State University (Go Gamecocks!).
I also learned that The Refuge's story is very similar to many of our churches. A few years ago when Richard arrived it was known as Wax Missionary Baptist Church. At that time things at the church, unfortunately, had gotten a little "stale" and the people were wanting to reenergize their efforts to reach the community. They tried several things, but nothing seemed to work.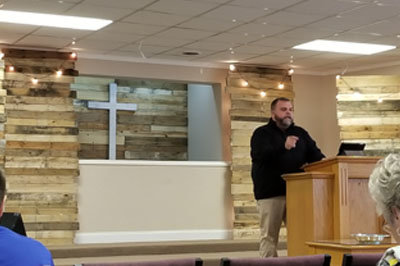 Pastor Richard McGinnis preaches at The Refuge Church in Silver Creek in Floyd County Sunday, Feb. 24. SCOTT BARKLEY/Index
Richard suggested and led in what was basically a "restart." In essence, the church needed a new vision for sharing the Gospel. They also needed a new name. Hence, The Refuge Church arrived. The church's brick exterior remains the same, but the sanctuary reflects a new energy with wood paneling and lights across the back of the stage. Two screens at each side of the worship area give announcements and lyrics during worship.
McGinnis told me they've noticed a difference, as more families have visited with a few joining. That said, they're continuing to work and see how they can better serve and reach the community.
In visiting our Georgia Baptist churches I've learned that while no two are identical, many share common goals as well as challenges. In the case of The Refuge, I instantly recognized as I stepped into the sanctuary that they're part of a movement among churches that, I believe, will only continue to grow.
Before becoming The Refuge in 2017 it had become tough for the church to get visitors through the doors. An aging congregation with a desire to reach young families had taken on a greater urgency. Nevertheless, the church felt stuck in its efforts.
Sound familiar?
Like The Refuge, churches across the state are becoming more open to the concept of a restart, Larry Wynn of the Georgia Baptist Church Revitalization and Evangelism told me.
"Baby Boomers are the ones holding a lot of our churches together," he said. "As they age, pass away, start traveling, or do other things that take them away from the church we see an exodus of people but no new people coming in to replace them.
"It's a conversation I'm hearing more. Seven years ago, I might have heard of one church a month doing it. Now, I'm hearing about it on a monthly basis of churches either doing it or thinking about it."
The hurdle many churches need to make, Wynn said, concerns the fear that by embracing a new name you are discarding the old one. There's a feeling that everything the church did under the former identity will be forgotten.
That's not the case, he insisted.
"Churches are considering this because they're seeing it as a way to have a future and thrive. They're becoming more willing to step out and sacrifice in order for the message of Christ to be continued to be spread in that community, even if it doesn't look the way they did it in the past. We've had examples where the church under the new name – alongside a sponsoring church that provided resources in the restart – found a way to honor its past."
No two churches are identical, but I believe they share the identical goal of being a light in their community and beyond for the Gospel (And if not, that's a different editorial.). Some things, such as preaching salvation through a relationship with Christ, are non-negotiable, of course. Finding the best ways to communicate that, though, should always be up for discussion.