Bill Townes addresses the SBC Executive Committee at the group's February 2020 meeting. BP file photo
---
By Jonathan Howe
NASHVILLE — William "Bill" Townes, CFO of the SBC Executive Committee, announced his retirement from the post effective December 31, 2020. Townes and his wife DeAnna will relocate to Georgia to assist with care for their special needs grandson who faces significant life challenges due to his genetic conditions.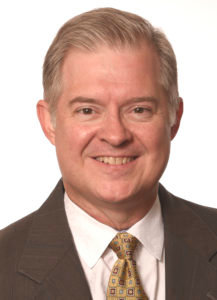 Bill Townes
CFO Retire
"I have had the honor of serving Southern Baptists for nearly 30 years both in my local church and denominationally, including the Georgia Baptist Mission Board, the International Mission Board and the North American Mission Board, before coming to work with the SBC Executive Committee nearly a decade ago," Townes said in his resignation letter. "During that time, I have had the privilege to stand on the shoulders of faithful servants who came before me and work alongside dedicated men and women who love the Lord and love serving Southern Baptists."
In his role as CFO, Townes' duties included oversight of the financial operations of the Executive Committee and the organization of the SBC annual meeting.
In Georgia
Townes served from 1992-2006 with the Georgia Baptist Convention (Georgia Baptist Mission Board), first as director of Accounting and Auditing Services before transitioning to chief financial officer. He would later become director for Georgia Baptist Conference Center-Norman Park. From 2007-2010 Townes worked at the North American Mission Board in Alpharetta as national finance coordinator and then as chief development officer. During his time in the Peach State he also served as an adjunct business professor at Brewton-Parker College.
Townes worked in several Georgia Baptist churches, primarily in children's ministry and/or the church's finances. Those congregations include: Lebanon Baptist in Roswell, Berean Baptist in Lilburn, Centerhill Baptist in Loganville, and First Baptist Church in Cumming. He was interim pastor at Oakdale Baptist Church and Omega Baptist Church.
During his time with the Executive Committee
"The loss of Bill Townes on our team is challenging for everyone here and also for the SBC," said Ronnie Floyd, Executive Committee president and CEO. "He is a trusted, proven leader God used in so many ways — always doing his job with excellence, integrity and the highest competency. I will miss working with him as he has become a dear friend and partner in ministry to me. Please pray for Bill as he transitions to giving his focus on his calling to his family, but also pray for the Executive Committee as we seek the Lord for who God is preparing to assist us with this great need in our Convention."
Townes joined the Executive Committee in December 2010 and was named vice president for convention finance in February 2011. During his time with the Executive Committee, Townes has been the lead innovator for the SBC Annual Meeting. He led the expansion of the exhibitor policy resulting in hundreds of thousands of dollars in savings for the Executive Committee. He launched an app for the event, negotiated new contracts with host cities, and oversaw the development of updated technology used at the event.
He brought that same innovation to the workplace with new travel management, human resources, and expense reporting systems, which came online in the past year. Townes also provided counsel to several SBC entities and state CFOs throughout the COVID-19 global pandemic and the related time of financial uncertainty.
Born in the Central African Republic to missionary parents, Townes is a licensed Certified Public Accountant and an ordained Baptist minister.
---

Jonathan Howe is vice president for Communications at the SBC Executive Committee. Index editor Scott Barkley contributed to this report.