Georgia Baptist Mission Board Executive Director W. Thomas Hammond, Jr. shares updates about the mission board's financial status, Baptist Collegiate Ministries, and the potential new operating location for administrative staff of the GBMB. COURTESY/Mark Strange
---
MCDONOUGH – The Georgia Baptist Convention Executive Committee met Tuesday, March 16, at Eagle's Landing First Baptist Church in McDonough, Ga.
Chairman Tommy Fountain, Sr. opened the meeting by welcoming the Executive Committee members attending online and in person.
Devotion
GBC 2nd Vice President Alex Cosio, pastor of Nuevo Horizonte Baptist Church in Woodstock, shared a devotion on Leading through Suffering. He cited statistics about pastors – 39 percent of pastors interviewed said they were suffering from anxiety. About 68 percent said they'd felt overwhelmed this past year. Even more feel alone during this time.
Cosio spoke out of 1 Peter 5, where Peter addresses anxiety in difficult times.
"The first thing a godly leader must do in a time of suffering is to lead by example," Cosio said. Cosio emphasized the Church is not under the authority of any man, but it is led by God.
Cosio asked the members whether they are leading by example by living out what they preach on Sundays. We are called, he said, to lead and to care for those who are suffering.
The second point is to practice biblical submission. "Submission is not a word that is popular these days," Cosio said. "God established submission and he expects us to submit to His authority. You cannot be an authority unless you are under His authority."
Cosio said now is a time when we can be very discouraged, and that discouragement can lead to anxiety. He referenced 1 Peter 5:7, "Cast all your anxieties on Him, because He cares for you."
"Pride makes us to depend on ourselves when we are weak," Cosio said. "Humility allows us to depend on God."
Brewton-Parker College Report
Dr. Steve Echols, president of Brewton-Parker College, reported on the importance of biblical integrity at the three Georgia Baptist schools.
"At BPC, every person who teaches on the faculty, works with students, and is on staff affirms the Baptist Faith and Message," Echols said.
He said the college would continue to remain faithful to the mission.
"We want to see lives transformed," Echols said. "We have seen 300 saved in the past six years during my time as president. During the pandemic, when we focused on small groups, we've seen over 20 saved."
Echols said the college will finish the year at least 8 percent in black and enrollment is up from past years.
Georgia Baptist Foundation
Dr. Jonathan Gray, president of the Georgia Baptist Foundation, said the foundation distributed $13,677,000 to kingdom ministries. The foundation is currently managing $482,000,000 in assets.
Gray announced the creation of the Christian Timber Reserve that would allow Georgia Baptists to charitably donate timber to Baptist and other Christian causes. Gray said Georgia has over 24 million acres of timberland. Almost 60 percent is privately owned, and many Georgia Baptists are not aware they can donate timber.
"Christian Timber Reserve is committed to managing God's creation utilizing the best forest management practices in the industry," according to the Christian Timber website. "We believe in being great stewards of God's creation." The website is christiantimber.org.
Public Affairs
Mike Griffin, Public Affairs Representative for the Georgia Baptist Mission Board, gave a report on the 2021 legislative session.
"We are facing one of the biggest moral crises in the history of America," Griffin said. "I've seen it for 14 years. It is happening as I stand here and speak." Griffin emphasized that politics is a direct result of culture. Culture, Griffin said, has to be a result of the Church's influence.
"It is a bad day when the Church starts to be downwind from culture," Griffin said.
Griffin said we have a responsibility to act and to be involved.
"The first three words of our Constitution are, 'We the people,'" Griffin said. "I believe the first three words of God's constitution are, 'If my people.'"
Griffin provided several fact sheets, which can be found here.
Message from the GBC President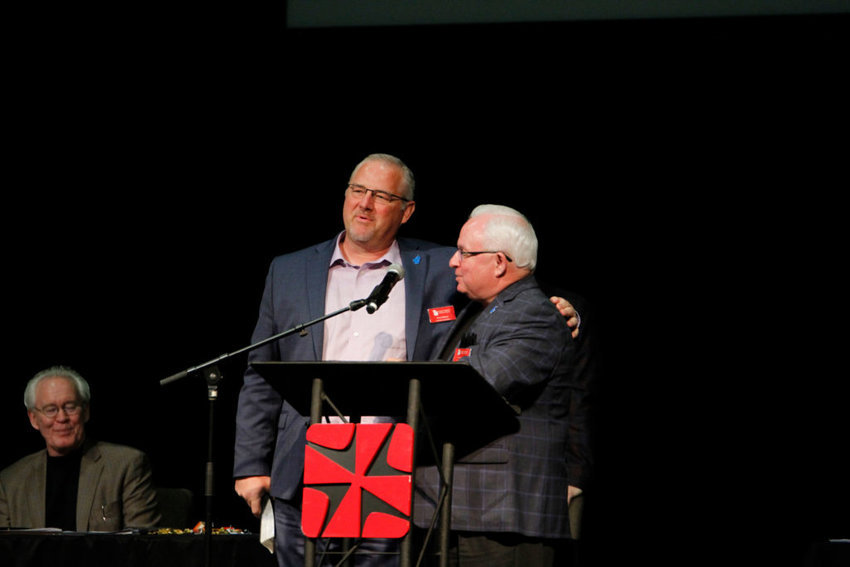 GBC President Kevin Williams shares his experience with COVID-19 with Executive Committee Chair Tommy Fountain, Sr. Williams and Fountain endured the virus at the same time in late 2020. COURTESY/Mark Strange
GBC President Kevin Williams, pastor of First Baptist Church Villa Rica, thanked the committee members for their encouragement
He challenged the pastors to ensure that we are not allowing our culture to direct their pulpits.
"The pulpit has to thunder," Williams said. "The pulpit has to share the Truth of God and stop worrying about what the culture tells it to do."
Williams said the talk from the pulpit has to translate to action. He said churches have to engage the people with the Truth, then push them into the field to do the work.
Georgia Baptist Mission Board
Executive Director W. Thomas Hammond, Jr. gave an update on seven directives made during the May 2020 executive committee meeting.
Send Cooperative Program funds out 7-10 days after we close the books on the previous month. This has been the case since November 2020.
End the practice of counting designated funds toward our cash on hand. This was ended at the close of 2020.
The GBMB is in the process of developing healthy reserves.
Building margins into the GBMB budget for institutional flexibility is in process.
The GBMB is also continuing to create alternate revenue streams.
Increase program dollars to send more money to the field. The percentage going to the field has increased by 83 percent.
Get down to an employee cost that is 60 percent of the budget. In 2018, employee costs were 83 percent, now down to 64 percent.
David Melber, Chief Operating Officer for the mission board, provided the Cooperative Program overview and emphasized that the mission board is in a healthier place financially than it was last year.
Announcements and Staff Changes
Tim Dowdy, Pastor Wellness lead strategist, introduced a new staff members Andy Childs, catalyst in the Northern Regions, and Wendy Milligan, Wellness consultant. He also shared about the upcoming Pastors and Wives Retreat in April and the Pastors Wives' gatherings for food and fellowship during the year.
Levi Skipper, Church Strengthening lead strategist, urged attendees to take the Church Assessment Tool if they have not already. He also introduced Chris Trent, the new Next Gen catalyst, and JJ Washington, the new Evangelism catalyst. Skipper said he is currently in the process of interviewing candidates for the open Worship and Music catalyst position.
There are three new Latino Church consultants, which are part of the Church Strengthening team: Daniel Santander (Northern regions), David Cardoza (Central regions), and Ovidio Cabrera (Southern regions).
Skipper also introduced the Georgia Baptist Church Planting Network, which is a collaborative effort between the mission board and Associational Mission Strategists to strategically plant Georgia Baptist churches. For more, read this Index article released last week.
Beth Ann Williams, Georgia Baptist Women lead strategist, gave a report on Mission Georgia. There are several upcoming events such as the Mission Georgia Roundtables, One Day Fun Day events, and Summer Serve, all of which have information available on missiongeorgia.org. She said the offering from last year has allowed Mission Georgia to come alongside 12 ministries and families as they pursue gospel-centered care in the community.
Property Updates and Future of Baptist Collegiate Ministries
Melber announced that the Waycross property sold on February 3 to Baptist Village, Pine Bloom in Atlanta is under contract and will close by March 31, 2021, and there are offers for the Missions & Ministry Center in Duluth.
Hammond said the administrative staff of the mission board would continue needing office space, so there was a proposal to move forward with the option of purchasing a new building.
The committee voted to give permission for the GBMB to investigate options for purchasing the property.
Hammond confirmed the mission board's commitment to Baptist Collegiate Ministries around the state. There are currently over 40, but Hammond said the hope is to expand into more universities and colleges to bring the number over 90. He also introduced the idea of relaunching and redeveloping BCM properties. Nearly 30 percent of the mission board's building and grounds expenses are dedicated to upkeep for the BCMs around the state.
The Executive Committee voted to continue pursuing the idea.