SAVANNAH --- Because of the leadership of President Stephen Fountain, the 2016 Preaching Conference had a more youthful look than most conferences in the past, but there was also something refreshing and encouraging about it. Shelly Johnson, a remarkably gifted young woman, provided the music for the conference. Shelly grew up in Eastside Baptist Church in Marietta and is one of the finest young talents in Christian music today.
The first preacher was Rob Wilton, pastor of Vintage Baptist Church in New Orleans and son of Don Wilton, pastor of First Baptist Church in Spartanburg, SC. He began his remarks by describing himself as a Cajun (New Orleans born), African-American (family from South Africa), redneck (lived in South Carolina).
Wilton embraced the theme of the conference and spoke of some of the challenges he has faced as a church planter in New Orleans. He admitted, "I don't recommend planting a church in New Orleans. I am tired of being a gladiator. I need a refuge and I have discovered that refuge in Jesus."
'Jesus is enough'
Wilton took for his text Psalm 23 and declared, "Jesus is our shepherd and he is prepared to supply our every need. If you haven't yet discovered it, you will find that Jesus is enough."
The young pastor/preacher highlighted three things from his chosen text" (1) His refuge is our rest; (2) His rest is our provision; and (3) His refuge is our security.
Speaking of Christ as our rest, Wilton stated, "True rest is not found in the absence of problems, but in the person of Jesus. However, true rest is also found in the people of Jesus, because the church is not meant to be a country club, but a hospital where people can rally around those in need to offer help and solace. Furthermore, true rest may be found in the path of Jesus.
"The safest place of refuge is to be on the path of Jesus. The Psalmist said, "He leads me beside the still waters ... and he leadeth me in the paths of righteousness for his names sake."
His refuge, our provision
Wilton also declared that His refuge is our provision. He said, "The Psalmist tells us that our shepherd prepared a table before us and that our cup overflows. Therefore, I am not longer a sheep in the flock, but a guest in a bakery."
The New Orleans church planter concluded his message by emphasizing that His refuge is our security, stressing that the Psalmist said, "Surely goodness and mercy shall follow me all the days of my life and I shall dwell in the house of the Lord forever."
Wilton said, "We can get so focused on the blessings of heaven that we forget about the blessings here on this earth. Jesus has invited us into His refuge both now and forever."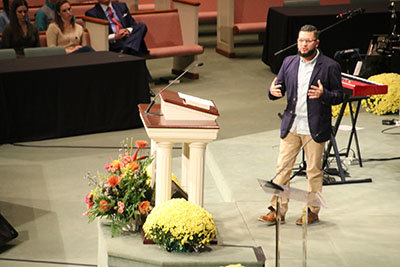 "God strengthens those who seek His forgiveness and surrender to Him," said D.A. Horton, pastor of Reach Fellowship in North Long Beach, CA. SCOTT BARKLEY/Index[/caption]
'Discipline for a loving God'
D.A. Horton, pastor of Beach Fellowship Church, North Long Beach, CA, was the next preacher on the conference program and brought a powerful message from the book of Habakkuk – a message also in keeping with the theme. Horton declared that faith is the restoration of a broken relationship by repentance and humble trust in God. Faith, to Habakkuk, is even more than humble trust – it is faithfulness, the steadfast obedience to God, which marks the life of faith.
Horton also spoke of the historical nature of the book of Habakkuk, sharing that God raised up the Babylonians to judge Judah. He stated, "God is going to bring judgment and nothing can stop it. This is discipline from a loving God. We can't be so naïve that we think that we are exempt from judgment and suffering. We must take our lying, our disobedience, our deceitfulness, and dishonesty to Him and ask for forgiveness.
Bible-belt Christianity, sans Jesus
"God strengthens those who seek His forgiveness and surrender to Him," proclaimed Horton. "I was at an LA Dodgers game and needed to charge my phone. I went to one of the charging stations in the stadium, but didn't get much help. My phone went from a 2 percent charge to a 4 percent charge. I didn't even get enough of a charge to use my GPS on my phone to find my way home.
"But when I got home I plugged my phone into the electrical outlet and it was quickly fully charged. We must stop plugging into the limited sources of power and plug into God's power.
"We need the power of the Holy Spirit to reach the lost around us, because there are millions of Georgians who have Bible-belt Christianity, but they don't know Jesus."
Clay pots containing a treasure
Dr. Anthony George, senior associate pastor at First Baptist Atlanta, brought the concluding message and explained that he was substituting for Dr. Charles Stanley, who had originally been invited to speak at the conference. George said, "I am accustomed to preaching when people are expecting to hear Dr. Stanley. When I was pastor at Aloma Baptist Church in Winter Park, FL I was accustomed to apologizing to my congregation when I had to be away for a Sunday; but now I find myself apologizing for substituting for Dr. Stanley to those who come to First Baptist Church expecting to hear him preach."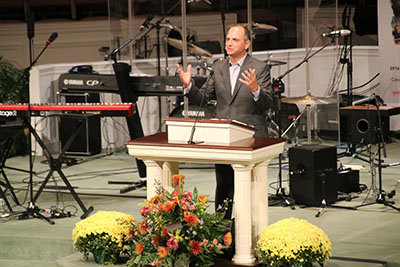 "Brokenness is painful, but it produces greater usefulness," testified Anthony George, senior associate pastor of First Baptist Church in Atlanta, to those at the Georgia Baptist Preaching Conference. SCOTT BARKLEY/Index[/caption]
George selected II Corinthians 4:7-15 as his text and began to give ample reasons why those who serve God cannot quit. He declared, "We are clay pots, but as vessels of the Lord we have deposited within us a perfectly designed treasure. Nothing can be attributed to the clay pot, but the treasure in the pot is of inestimable worth, so that God may get all the glory."
Why we're best admired from a distance
"Every pastor has some besetting sin," exclaimed George. "There is some weakness, some flaw, some personality disorder, some sin, some problem within all of us. I am best admired from a distance.
"Go through Hebrews 11 and you will find the heroes of our faith with defects in their character. And of course, there was James and John who sought the favored place with the Lord. Thomas was beleaguered with doubt. Peter was the one who denied the Lord. Paul was a blasphemer as a lost man, but even as a saved man he admitted that he often failed to do what he should do and frequently did what he should never have done. Consequently he cried out, 'Oh, wretched man that I am!'
When pots get broken
"So we are prone to ask, 'How can God use me?' However, it is only by God's grace that he can use any of us. The Bible says, 'not many wise men after the flesh, not many mighty, not many noble are called, but God has chosen the foolish things of the world to confound the wise; and God hath chosen the weak things of the world to confound the things which are mighty …'. God uses clay pots. God called you and he knew what you were made of before He called you."
George continued, "Because we are clay pots we get broken – broken over our own foolishness, over the prosperity of the wicked, over criticism, over the perception that no one appreciates us, over loneliness, over the feeling of being inadequate, over getting stuck in the food chain (not being able to advance in the ministry), etc., but the blows of death and the brokenness we feel ultimately brings Christ out from our lives and we begin to manifest Him in new and redemptive ways.
"When we ask God to use us, we are asking God to break us and crack us. So, in reality brokenness is a friend, an ally, and the tool God uses to take us from the outer courts of the temple to the Holy of Holies. Brokenness is painful, but it produces greater usefulness."
There is so much more that could be said about each of these sermons, but they were inspiring and encouraging and were marvelously true to the theme "Beautifully Broken".
Before the Preaching Conference closed the conference president announced that Tom Rush, staff evangelist at Liberty Baptist Church in Canon, will be the president for the 2017 Preaching Conference.