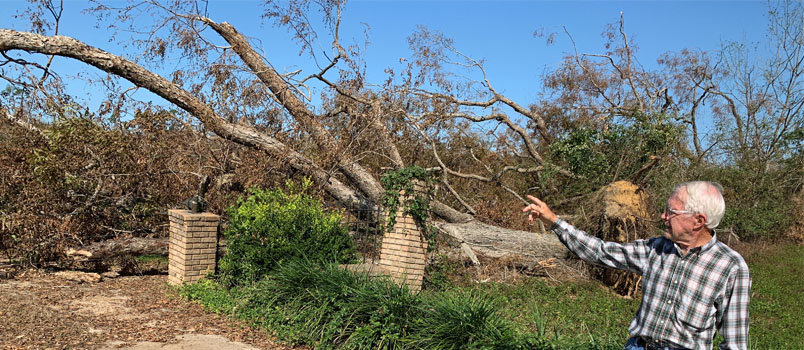 Jackie Frith surveys some of the 600 century-old pecan trees he lost overnight in the eye of Hurricane Michael last fall. Frith's story was one of several chronicled by former Index Managing Editor Joe Westbury, who earned a second-place finish in the Series category at the recent Wilmer C. Fields Awards Competition. JOE WESTBURY/Index
RIVERSIDE, CA — Georgia Baptists placed in six categories spanning various disciplines at the 55th annual Wilmer C. Fields Awards Competition, held April 12 at The Mission Inn Hotel & Spa in Riverside, California.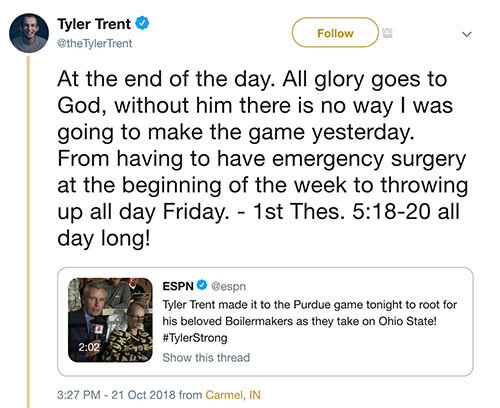 A column about Tyler Trent, a University of Purdue student battling cancer, brought Index Editor Scott Barkley to 1st place in the Editorial/Opinion category for the second straight year.
Scott Barkley, editor of The Christian Index, placed 1st in the Editorial/Opinion category for the second year in a row with "Tyler Trent and the megaphone no one wants, but the world needs." Written last fall, the column focused on the faith of Trent, a University of Purdue student, during his fight with bone cancer.
"Inspiring, sharable, and fun to read!" said judges. "Fantastic article!"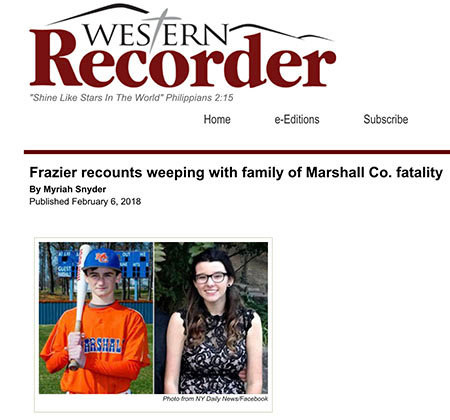 Index Content Editor Myriah Snyder's story about a pastor ministering in his church after a school shooting brought a 3rd-place finish. WESTERN RECORDER/Special
Former Index managing editor Joe Westbury's collection of articles cumulatively titled "Surviving Hurricane Michael" finished second in the Series/Package category. "A great deal of work went into these stories, which are masterfully written and meticulously researched," wrote one judge. "You did the farmers in your state proud!"
Myriah Snyder, Index content editor, received 3rd place in the Single Article-less than 750 words category, with "Benton pastor recounts weeping with family of Marshall Co. fatality." The story was written during Snyder's previous employment with The Western Recorder, the state news publication for Kentucky Baptists. In it she chronicles Pastor Charles Frazier's attempts to minister to a family in his church whose son was killed during a school shooting. Frazier was serving as the Kentucky Baptist Convention president at the time.
"Touching and graciously written in a way that's respectful to those who are grieving," a judge stated.
'Brilliant, extremely creative'
Georgia Baptist Communications Specialist Linda Wilkins received two awards at the competition. Strongest accolades went toward Wilkins' work in revamping the Georgia Baptist Mission Board app.
"Your choice to move from an icon-only home page to tiled images is a good one. The tiles give the user a window into the area they'll be going. It's difficult to take information from different sources and formats and put them into a single unified environment," said one judge. "I commend your effort to do this! I know that Georgia Baptists will appreciate this app."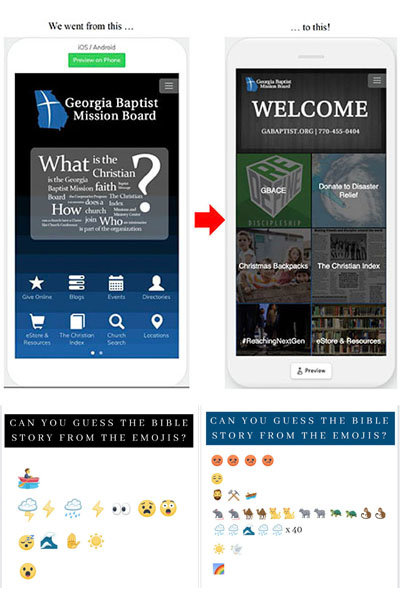 Communications Specialist Linda Wilkins earned high praise for her work in redesigning the Georgia Baptist Mission Board app, top, and social media post for World Emoji Day.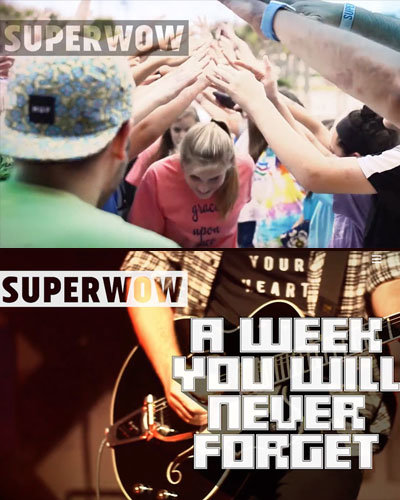 Barry Dollar's promotional work for SuperWow, the summer camp sponsored by Georgia Baptist Mission Board Student Groups and Faith Development, brought comments such as ""Fun design – nice landing pages for each camp with appropriate information" from judges.
"Much cleaner homepage," followed another comment. "Information is easily accessible."
"This is a step forward from the prior app," stated another. "I hope this app continues to iterate and improve to better meet the needs of the users."
Wilkins' finished third in Social Media-Single Post for a post on World Emoji Day. Through it, Wilkins told various Bible stories exclusively through the use of emojis, inviting comments on guessing the passage.
One judge commented, "I thought this was brilliant and extremely creative! I loved this entry and literally laughed out loud when I saw it."
Communications specialist Barry Dollar also earned a 3rd place in Website, event, or promotion site-Adapted template with his promotion of the youth camp SuperWow.
"Fun design – nice landing pages for each camp with appropriate information. Well organized – good color scheme – properly aligned and spaced design elements," said judges.