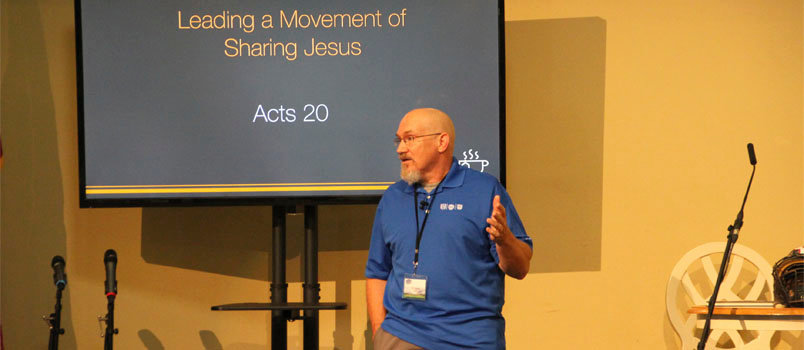 "It's not an accident that you find yourself living at this unique time in history," Southeastern Seminary professor Alvin Reid told the group of Georgia Baptist state missionaries last week. Reid extolled attendees to mark the responsibilty, and opportunity, for sharing the Gospel in current days. The annual retreat was held April 17-19 at the Georgia Baptist Mission Board Conference Center in Toccoa. MARK STRANGE/Communications[/caption]
TOCCOA – Earlier this week the Georgia Baptist Mission Board staffers traveled to north Georgia to the Georgia Baptist Conference Center in Toccoa for a few days of fellowship, motivation, and spiritual renewal.
Among Tuesday's keynote speakers was Alvin Reid, professor of evangelism and student ministry at Southeastern Baptist Theological Seminary in Wake Forest, NC, where he holds the Bailey Smith Chari of Evangelism.
Reid's passion is all about reaching the unredeemed, particularly young adults and students. He explains, "We were made in the image of God to glorify God and to fulfill the mission of God. It's not an accident that you find yourself living at this unique time in history. Once a person is changed by the Gospel of Jesus Christ, life is a mission trip.
"In 1900, 82 percent of Christians lived in the United States and Europe. Now, only 30 percent of Christians live in this country. We must realize that in God's economy one soul is worth more than the gross national product of all the nations of the world.
"In addition, we have more teenagers than ever," Reid declared. "We also have more churches and more Southern Baptists and 100 million more people. If you want to reach more people for Christ – try, just try!"
Don't be just another activity
Larry Wynn, GBMB vice president of Church Revitalization and Evangelism, preached on Tuesday evening and used Romans 9:1-3 as his text and spoke of the Apostle Paul's burden for his kinsmen.
Wynn stated, "A church and a denomination should be strategic in what we do. A strategy that is not accompanied by a burden will just become another church activity."
The former Hebron pastor exclaimed, "It is my prayer that in every church in Georgia there will be such a burden that no one or nothing will be able to keep us from sharing the Gospel."
Wynn spoke of laymen who had blessed him and assisted him in acquiring a burden for the lost. He admitted, "As our church grew I found myself witnessing less and doing church work more; and the more I submerged myself in the church the fewer lost people I knew. In fact, the longer a person is saved, the fewer unsaved people he knows.
'Focus on 5 things'
"God will give us a burden if we will focus on five things," Wynn emphasized. "First, if you read the Scriptures, God will give you a burden. The Bible urges us to tell the story of God's redeeming love. I get motivated, burdened when I study God's Word.
"Second, I get a burden when I read about my Savior's ministry. Read John 4 and recount the story of Jesus meeting the woman at the well at Sychar of Samaria. It is an inspiring story that will challenge you to become a compassionate witness.
"Third," Wynn stated, "we should have a burden because of the brevity of life. We will not have a long time to share our faith and people are dying without Christ every day. We must tell the good news of salvation now, while we have the opportunity to do so.
"Fourth, I am motivated by the reality of eternity. There is a heaven and a hell and everyone is going to end up in one of those two destinies; and they will reside there forever. That is a sobering thought.
"Fifth" concluded Wynn, "I am burdened by the cross of Christ and the empty tomb. When I think of what Christ has done for me I am motivated. The love of Christ compels me."
Wynn concluded by quoting William Booth, the founder of the Salvation Army, who said, "I consider that the chief dangers which confront the coming century will be religion without the Holy Ghost, Christianity without Christ, forgiveness without repentance, salvation without regeneration, politics without God, and Heaven without Hell."