Evelyn and Bob Bagley shake hands with well-wishers at Salem Baptist Church upon the occasion of his retirement after 32 years as an Associational Missions Strategist. GERALD HARRIS/Special
---
CHATSWORTH – Bob Bagley, one of Georgia Baptists' most beloved and respected ministers passed away Tuesday, January 19, 2021, at AdventHealth Murray, formerly Murray Medical Center, in Chatsworth.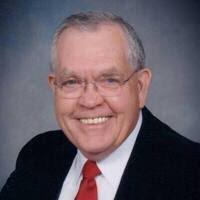 Bob Bagley, according to his pastor Danny Cochran, was created to be an Associational Missionary.
A native of Atlanta, Bagley, grew up in a minister's home and was a third-generation preacher. He graduated from Chamblee High School in 1957 and worked for a trucking business in Atlanta and Memphis, TN. In Memphis he joined Trinity Baptist Church where he sensed God's call into the ministry. At age 26 he returned to Georgia and enrolled at Shorter University to prepare for God's call into the ministry.
He continued his education at Southwestern Seminary in Fort Worth, TX and received his Doctor of Ministry from Tennessee Temple University and Covington Seminary. He pastored churches in Indianola, MS, Rome, Mableton, and Dalton, GA where he served as pastor of Dug Gap Baptist Church for six years.
In 1986 Bagley became the Associational Missionary in the North Georgia and Murray County Associations where he remained for 32 years until his retirement in 2018. He served as first vice president of the Georgia Baptist Convention, was president of Georgia Baptist Associational Missionaries and a trustee of Shorter University. He was also named Associational Missionary (Strategist) of the Year in 2004 for his incredible work with Hispanics.
Dr. Don Dowless, president of Shorter University, who was elated that Bagley had been elected at the November 2020 GBC to another term as a trustee of his alma Mater, commented, "Dr. Bob Bagley embodied the love of Jesus Christ and shared that love with countless church members and others to whom he ministered. He had a kind and gracious spirit and never failed to tell me that he loved me when we had conversation. Even though he was struggling physically, he still wanted to be a part of Shorter University and Georgia Baptists, and he and Evelyn gave generously to Shorter and the Georgia Baptist Mission Board in so many ways.
Dowless continued, "His Christlike work remains with us, and Heaven is now richer because another child of the King has gone home. The Bible tells us that three things remain: faith, hope, and love, and that love is the greatest of these. If that Scripture was ever fulfilled in a person, it was our friend and brother Dr. Bob Bagley."
Darey Kittle, pastor of Salem Baptist Church in Dalton and also successor to Bagley as the Associational Mission Strategist, commented, "Bob Bagley was a great leader, pastor and missionary, but the word that describes him best is friend. Everyone that knew him felt as if they were friends. Bob invested much in my life. He gave me a heart and love for pastors. I am going to miss his love, leadership, wisdom and friendship as I try to fill the role of Associational Mission Strategist. My wife Melody was the Associational secretary for 15 years with Brother Bob. She was honored to serve with such a man of God."
At the memorial service Danny Cochran, pastor of Holly Creek Baptist Church where the Bagleys were members, acknowledged that Bob and Evelyn Bagley had been married for 63 years. He said, "You were married as teenagers and to all those vows to love each other for better and for worse, in sickness and in health and for richer and poorer, you said, 'I do!' Now you can say, 'I did!'"
Cochran said, "The last trip Bob and I had was to a Shorter trustee meeting. On the way back he directed me down a road that I had not planned to travel. Shortly we came to a Dairy Queen. He never passed a Dairy Queen without stopping and getting some of their ice cream.
"But he was created to be an associational missionary. He loved pastors and there is no telling how many pastors he mentored and gave a second chance. He was like Barnabas in the Book of Acts. Barnabas was generous, supportive, called and forgiving and Bob Bagley had those qualities about him."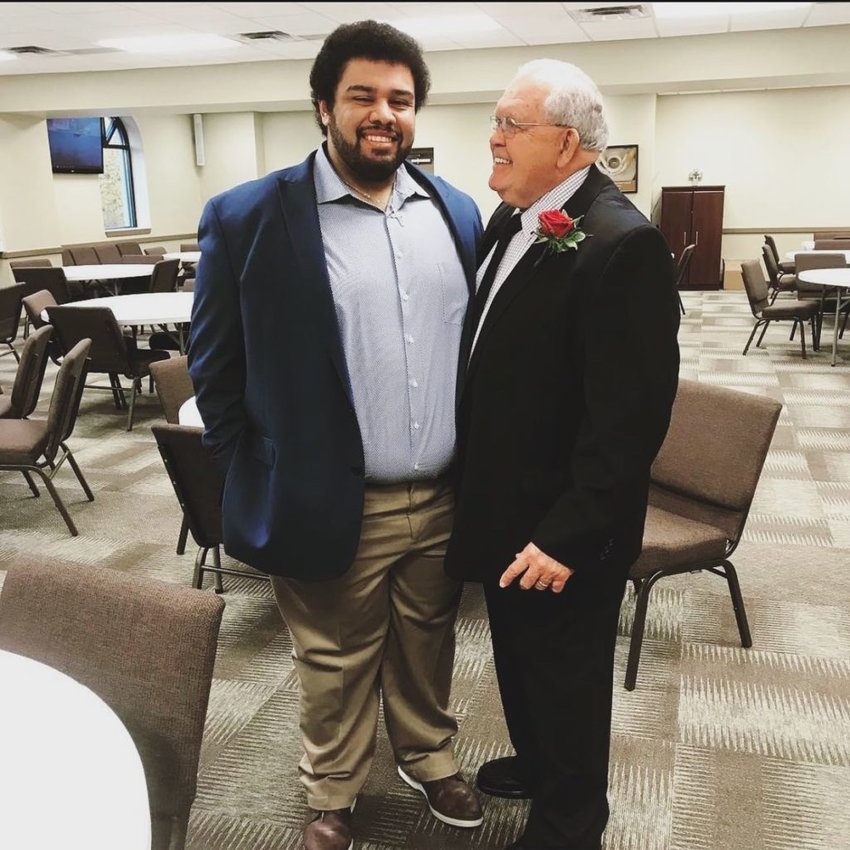 Collin Calhoun, Bob Bagley's grandson, often referred to him as his hero.
Collin Calhoun, Bagley's grandson, was with his grandfather when he suddenly fell ill and stated, "My grandpa was my hero. It was my greatest honor being able to watch him live a life completely fulfilling the call that our God placed on him."
He was preceded in death by his parents, Charlie and Katie Cobb Bagley; brother, Charles Bagley; daughter, Lisa Bagley Malcom.
Survivors include wife of 63 years, Evelyn Williams Bagley of Chatsworth; daughters, Susan Bagley of Chatsworth and Tricia and Terry Jennings of Dalton; sister and brother-in-law, Brenda and Denny Key of Gainesville, GA; sister-in-law, Shirley Vort of Dalton; grandchildren, Joanna Malcom, Laurie Malcom, Robert and Krista Malcom, Collin Calhoun, LCpl Matt Jennings, and Will Jennings; great-grandchild, Abby Malcom.
Memorial services were held at Holly Creek Baptist Church in Chatsworth on Saturday, January 23rd. In lieu of flowers, the family requests that memorial contributions be made to the Georgia Baptist Children's Home; P. O. Box 329, Palmetto, GA 30268.
---