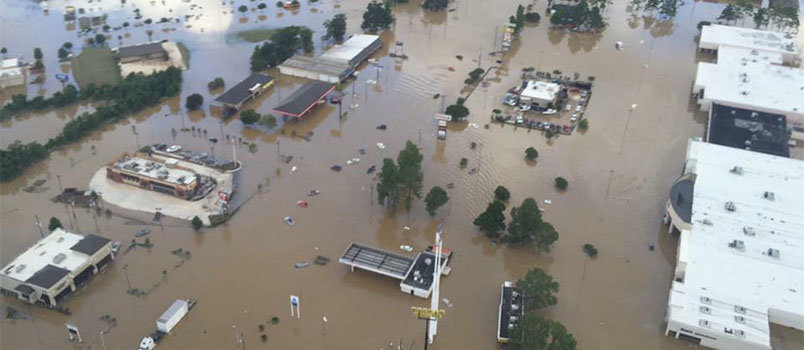 Buckets of Care will soon be arriving to communities such as the city of Denham Springs, among the hardest-hit in flooding across south Louisiana. Photo courtesy of Governor's Office of Homeland Security and Emergency Preparedness[/caption]
DULUTH — Georgia Baptists are responding to nonstop rains in Louisiana from what has been described as "an inland Tropical Depression" – leaving seven dead and as many as 15,000 homes and businesses flooded – through collecting Buckets of Care.
Early-action response through shipping needed items in buckets has proven useful in Southern Baptist Disaster Relief. At least 132,000 "Buckets of Hope" made their way to Haiti after a horrific earthquake in 2010. Two years later Georgia Baptists joined with others in collecting Buckets of Care for those in the Northeast ravaged by Hurricane Sandy.
Two sets of instructions
In an email to state Disaster Relief leaders, Stuart Lang, director for Georgia Baptist Disaster Relief, sent out two documents related to the effort. One outlined materials needed (previously used for South Carolina flood relief) for each five-gallon bucket. The other contained instructions, to be printed out and placed in each bucket, on how to safely and properly "mud out" a home. Including a Bible or tract in each bucket is perfectly acceptable, added Lang.
"Relief efforts cannot truly begin until after the waters recede," Lang noted in the email. "But, this will give our wonderful Georgia Baptists a tangible and viable way to minister to hundreds of families that are in great need."
Buckets can be delivered to the Rehoboth Baptist Association office at 744 Lake Joy Rd. in Warner Robins by Sept. 1. From there, a truck from the North American Mission Board will continue delivery to Louisiana.
Flooding misses New Orleans Seminary 
New Orleans Seminary did not bear the brunt of heavy rains. However, students and staff will help in what's to come, especially considering a similar experience from not too long ago.
"We're deeply concerned about our neighbors in Baton Rouge and the surrounding parishes," Gary Meyers, seminary director of public relations, wrote in an email to The Index. "They stood by us in the aftermath of Hurricane Katrina and we are committed to helping them recover and rebuild.
"Our hearts and prayers are with those ... facing such devastating losses. We expect many from our seminary family to mobilize for relief after the waters recede."
Meanwhile, Meyers added, donations can be made through the Louisiana Baptist Convention and New Orleans Baptist Association.