Georgia Baptists joined others on social media over the weekend commenting on violence in Charlottesville, VA as those gathered for a rally in support of white nationalism and the alt-right clashed repeatedly with counter-protesters.
In addition to continual skirmishes between the two groups due to little police interaction, 32-year-old Heather D. Heyer died Saturday, Aug. 12 when 20-year-old James Alex Fields, Jr., of Ohio, drove his Dodge Challenger into a group of protesters. The attack also injured 19. Two more deaths occurred later in the day when Virginia State Patrol troopers Lt. H. Jay Cullen, 48, and Trooper Berke M.M. Bates, who would have turned 41 the next day, perished after their helicopter monitoring the unrest crashed in a wooded area.
Many Georgia Baptists joined those in the Southern Baptist Convention and around the country condemning the violence and racism espoused by the alt-right. Less than an hour before the attack that killed Heyer, Abilene Baptist Church, Martinez Pastor Brad Whitt posted:

In a passionate message on Facebook, Pastor Jean Ward of East Atlanta Church and president of the Georgia Baptist African American Fellowship, urged pastors to not allow a scent of the alt-right and racism in their churches. "You may ... teach a gospel of Jesus, of love. You want to teach a gospel of righteousness, but how can you teach that when you're not living that?" he asked. "How can you firmly stand strong on of the Bible when you're sitting back and allowing racial degradation to take place not just in our country but in your own church? In your own city?
"If you don't deal with it, if you don't announce it, if you don't address it, then you're being part of the problem."
Ward's full video can be seen below.
Former Georgia Baptist pastor and current U.S. Congressman Jody Hice made his position clear.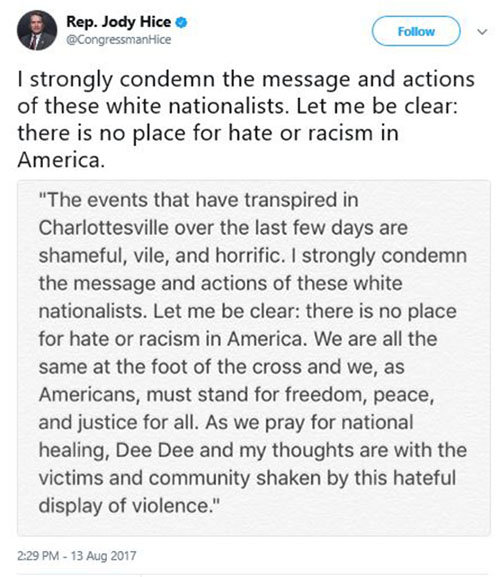 Later that evening Pastor Mike Stone of Emmanuel Baptist Church in Blackshear, stated: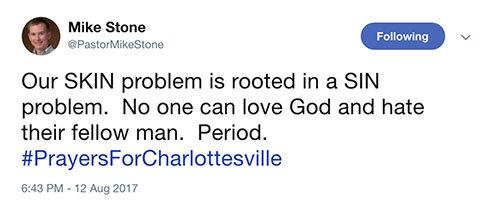 Later that evening, Pastor Al O'Quinn of Bethany Baptist Church in McDonough, and Jim Perdue, pastor of Second Baptist Church in Warner Robins, tweeted within minutes of each other.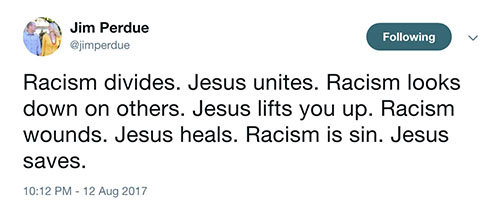 Just after midnight Ken Alford, pastor of Crossroads Baptist Church in Valdosta and a member of the Resolutions Committee that passed a resolution against the alt-right at the SBC meeting, pointed back to that moment: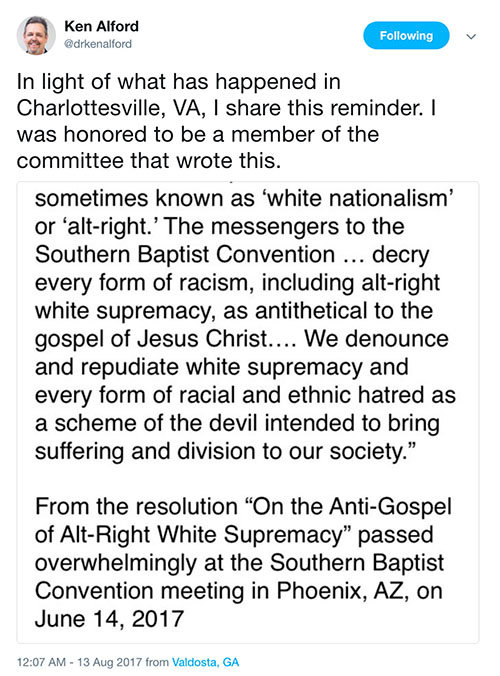 Sunday morning
Hours before stepping behind the pulpit at Butler Street Baptist Church in Atlanta, Pastor Gabriel Stovall posted to Facebook on how the prior days' events had affected him as an African American. It was among several posts Stovall made over the weekend regarding Charlottesville.
Acknowledging the helpful words of white Christians and pastors speaking to the events in Charlottesville, he encouraged a process that doesn't end there.
"Yes, let's preach," wrote Stovall, who also serves in Georgia Baptist Intercultural Church Planting Ministries. "But let us also seek for more. Let's push our people to seek for more than just 'a word' on the situation. We need more than 'a word.' We need more than a scripture. We need more than a proclamation. We need more than exegetical and homiletical prowess.
"Yes, let's preach. But at the end, may we then be guilty of asking: 'God, what's next? God, what's more?' The sin of systemic racism cannot be merely preached or prayed away....or even preached at or prayed about alone. There must be a greater movement....a more poignant revolution than that which can be delivered by voice into the microphone."
Monday prayer
Charlottesville became a topic of conversation today at the WIN Georgia pastors luncheon held at First Baptist Church in Alpharetta.
"In Ephesians 2 God's Word tells us that Jesus Christ is our peace and He has broken down the wall of hostility between us and God as well as between us humans," said Troy Bush, pastor of Rehoboth Baptist Church in Tucker, which allows a dozen congregations ranging from Ethiopian to Burmese to several African nationalities to use its facilities.
"While we have the gospel and we are moved by the sinful brokenness that has occurred in Charlottesville, and we need to pray for the peace of Christ in our nation, we need for the peace to begin among ourselves first. We ned to abandon the use of the word 'I' in our prayers and substitute the word 'we' if we're to see genuine healing."