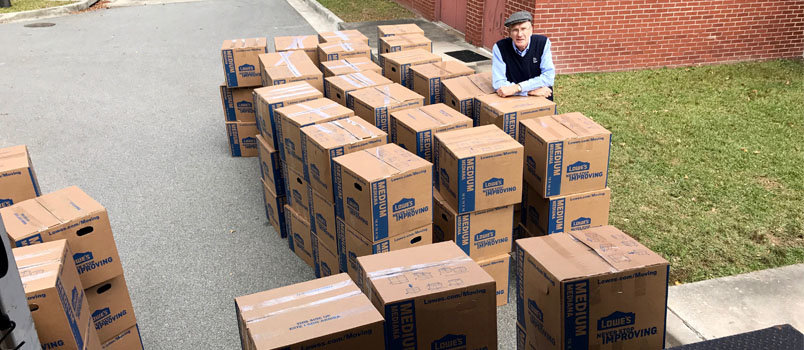 NAMB Missionary Bill Barker, who oversees the Appalachian Regional Ministries and the annual backpacks collection, poses with some of the nearly 34,000 backpacks Georgia Baptists the annual meeting in Savannah last month. JOE WESTBURY/Index[/caption]
BELL COUNTY, KY — The backpacks make a difference, says Ryan Martin, in an area where any step in the right direction is a big one.
A bi-vocational pastor in Hancock County, TN, Martin volunteers at area schools. That time builds credibility with school administrators. Also, it opens Martins' eyes to challenges children face today.
"Because of the the coal industry and loss of jobs, in addition to the drug situation, these children wouldn't have backpacks otherwise," he said.
Since 2012, Georgia Baptists have sent 124,969 backpacks filled with food, school supplies, hygiene items, toys, and Bibles to Appalachia. That number reached a crescendo in 2016, with 33,831 backpacks from Georgia Baptists making their way to the region.
Over time other states became involved, bringing the total number to 157,031 backpacks delivered. Georgia Baptists contributed 65 percent of the total, beginning in 2012 when then-GBC president John Waters issued the challenge to be met at that year's annual meeting. By the end of the year 5,473 backpacks had been donated. That figure rocketed in 2013 and has continued to climb steadily each year.
Food over toys
A teacher at Page School Center in Pineville, KY videoed students' reaction on receiving their backpacks and sent it to Martin. An observation she passed along didn't surprise him.
"She said a lot of the kids put the toys to the side and went straight for the food," he stated.
A native of the area, Martin's family farm is only five miles from Alanthus Baptist Church in Hancock County, TN, where he's pastor. As such, he's witnessed struggles connected to a struggling economy and breakdown of the family.
"It's tough. There are some pitiful situations up here. It's not the same place I knew. There are a lot of grandparents raising their grandkids and even great-grandkids."
The area has change a lot since Martin graduated high school in 1999. He's seen a lot of families wiped out due to addiction to prescription pills like Oxycontin. Martin drove a school bus for a couple of years and knew kids whose parents were dead because of drugs. He says some local ministries document children losing as much as 15 pounds when food isn't available, such as summers when school is on recess.
In one case, Martin was appalled at the living conditions of a co-worker and her great-grandson. He and a group of North Carolina preachers provided some repair work. But, she needed a new house. Two years of prayer and finding support finally brought one, he reported.
An over-order just in time
Martin has delivered backpacks since 2014. Though filled with school supplies, the most precious gift therein, he maintains, is the gospel. This last year it looked at one point that Page School Center wouldn't get a single backpack. However, first one, then another school realized they ordered more backpacks than needed. In turn it provided the 600 Martin had requested.
" send these backpacks, which allows me to share the gospel and follow-up with the kids through First Priority," he said. "This year ten students prayed to receive Christ."
Frank Nuckolls, Georgia Baptist Mission Board state missionary in Associational Missions and Convention Planning, overseas the annual backpack collection. He estimates more than 2,000 Georgia Baptist churches minister actively through the effort or other partnerships with Appalachian churches.
Other state Baptist conventions joining the effort include Alabama, North Carolina, South Carolina, Kentucky, and the Southern Baptist Conservatives of Virginia. "Since we began," he added, "we've recorded 4,671 salvations.
"The associations play a large part in. It's a unifying effort among their churches and has brought around two-thirds of Georgia Baptist associations into involvement with Appalachian ministry to some degree."