Social media meant different things for people on the day Donald John Trump became the 45th president of the United State of America.
According to what you read, today was a day of victory and prayer or one of protest and lamentation. Crowds in support of the incoming president made their way to the Washington Mall, even while others struggled to get there amidst protesters actively working to strangle local transit and checkpoints.
Georgia Baptists' viewpoints on the day were overwhelmingly positive. In addition to words of congratulations to President Trump, many comments pointed to one of the more remarkable aspects of Inauguration Day. Mike Stone, senior pastor of Emmanuel Baptist Church in Blackshear, and Paul Caspers, pastor of Silvertown Baptist Church in Thomaston, addressed the importance.


The topic of prayer remained a common thread on social media. Flintstone Baptist Church posted this reminder on its Instagram account.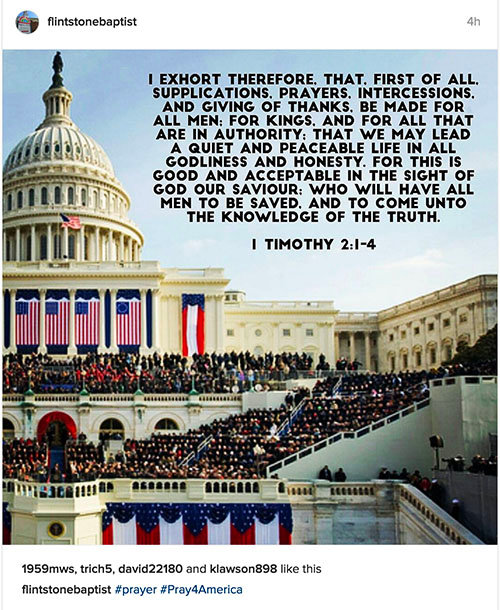 Many offered their prayers not only for President Trump but former President Barack Obama as well as Democratic nominee Hillary Clinton, who was in attendance with her husband Bill. Brad Whitt, pastor of Abilene Baptist Church in Martinez, and Mike Dorough, pastor of Riverbend Baptist Church in Gainesville, acknowledged as much.
Thomas McPherson, senior pastor of Joyful Life Baptist Church in Kathleen, took to Facebook in giving his approval of the event's tone. Danny Odum, pastor of White Oak Baptist in Lilburn, agreed.


Southern Baptist leaders Steve Gaines, SBC president and pastor of Bellevue Baptist Church near Memphis; Frank Page, president and CEO of the SBC Executive Committee; and Russell Moore, president of the Ethics and Religious Liberty Commission, also expressed their words of congratulations and support.



Riding a wave of populist sentiment, Trump shocked pollsters in defeating Clinton last November. In his address today, the president acknowledged that support.
"What truly matters is not which party controls our government, but whether our government is controlled by the people," he said. "January 20th, 2017 will be remembered as the day the people became the rulers of this nation again. The forgotten men and women of our country will be forgotten no longer.
"Everyone is listening to you now."