Staff of First Baptist Church in Blakely deliver masks to LifeBrite Community Hospital. Standing left to right in their Mission Georgia shirts are Senior Pastor Lyle Brackin, Student Pastor Bradley Crews, and Worship Pastor Jeremy Jordan. FIRST BLAKELY/Special
---
DULUTH — Right now 3,600 medical masks are in the process of being sent to hospitals in need throughout the state as part of Mission Georgia.
"Back in late March we received a list from the Governor's Office of hospitals in 'hot spots' throughout the state needing masks," said Lorna Bius, mobilizer for Mission Georgia. "We're partnering with churches in those cities to help get the masks to the hospitals."
Those churches delivering masks are:
First Baptist Blakely, to LifeBrite Community Hospital of Early
First Baptist Cordele, to Crisp Regional Hospital
First Baptist Milledgeville, to Central State Hospital
Flat Creek in Fayetteville, to Piedmont Fayette Hospital.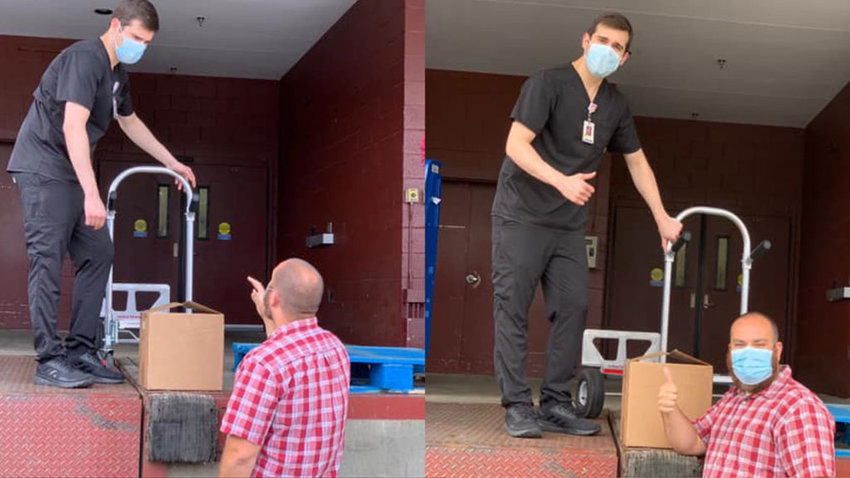 Ryan Appling, student pastor at Flat Creek Baptist Church in Fayetteville, delivers boxes of 400 masks to Piedmont Fayette Hospital on May 28. RYAN APPLING/Special
Ryan Appling, student pastor at Flat Creek, delivered 400 masks to Piedmont Fayette on May 28. Another shipment of 500 currently on backorder will arrive later.
"They were very appreciative," he told The Index. "They said they'd welcome any help."
Several members of Flat Creek are nurses at the hospital, he added, and told how the masks being delivered are placed over the N95 masks used by healthcare professionals, thus prolonging the N95s' usage. Appling learned from his sister, a nurse at Piedmont Henry, that they are also needing to reuse masks.
Though the masks were collected by the Georgia Baptist Mission Board, Bius pointed to the churches in making the operation work.
"This is one of the ways we see community collaboration and local church involvement in action," she said.
Appling agreed. Not long after COVID-19 became a pandemic, approximately 100 cars of church members made their way to the hospital parking lot as a drive-through prayer chain, expressing their support for doctors, nurses, patients, and all hospital personnel.
" is a continuation of that," he said. "Flat Creek wants the community to know we're a part of this with them. We're praying for them."
---