Georgia Baptist Disaster Relief volunteer Joyce Varnadore of Walkerville Baptist Church rocks a child during the SBC annual meeting in Nashville.
By Roger Alford

NASHVILLE – The versatility of Georgia Baptists serving with Disaster Relief was on full display at the Southern Baptist Convention's annual meeting in Nashville last week.

Best known for helping victims of natural disasters get their lives back in order, Disaster Relief volunteers provided childcare for nearly 150 kids while their parents took care of church business at Music City Center.
"Those kids wear you out," said Bob Sprinkel, childcare ministry coordinator for Georgia Disaster Relief and a member of First Baptist Church in Hinesville. "It was go time all the time. We didn't have time to take breaks. You're constantly on the go, but nobody complains. Our motto at Disaster Relief is 'Be Flexible,' and that's what everybody is."
Sprinkel was among 12 volunteers from Georgia who joined forces with more than 100 of their counterparts from across the country to provide childcare during the SBC annual meeting. Disaster Relief added childcare as a ministry some 40 years ago in the aftermath of a devastating tornado in Texas, allowing trained volunteers to care for children in the midst of emotional trauma while their parents worked to get their homes repaired.

"These volunteers are nothing short of remarkable," said Ricky Thrasher, who oversees Disaster Relief at the Georgia Baptist Mission Board. "They have such a way with children. The children simply love them. For the children, these volunteers are welcomed kind of like grandparents or favorite aunts and uncles. They have fun together."

Disaster Relief volunteers are best known for their chain-saw brigades that remove fallen trees from people's property, who shovel mud out of homes, who cook and feed storm victims, who set up mobile laundromats and shower units for them to use, who deliver hope and healing to the hurting.

The group's childcare ministry, while vital, is often overlooked.

"I consider childcare one of the greatest ministries that you can have because you're not only touching the lives of the children, but you're touching the lives of the parents, too," Sprinkel said.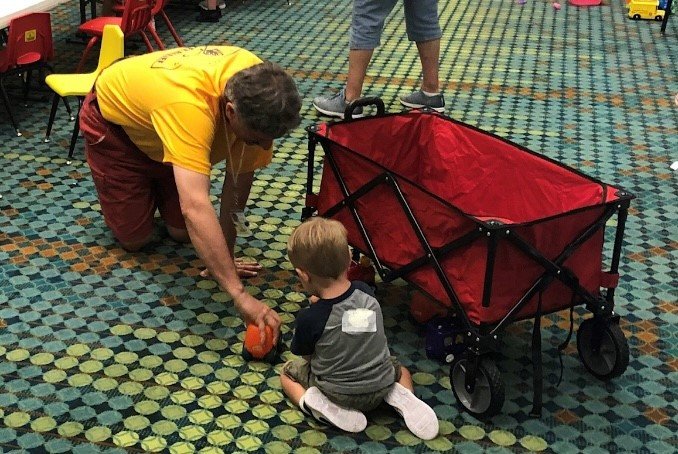 Disaster Relief volunteer Chris Fuller entertains a little boy at the SBC annual meeting in Nashville.
Baptist Disaster Relief now has childcare units operating in 20 states.

"It's a great ministry to go where people are hurting the most and show them the love of Christ," Sprinkel said.

Last week's deployment was different in that the volunteers were dealing with children from Christian homes, often pastors' homes.

The Georgia volunteers cared for all the 2-year-olds at the SBC annual meeting.

"One of the things I found just absolutely fascinating, when it was snack time for meal time, these kids sat at the t able so quietly and behaved so well," Sprinkel said. "It was unbelievable. They sat there themselves waiting for their food. They waited for the blessing to be done. It warmed my heart."

In the aftermath of storms, Baptist Disaster Relief volunteers typically roll into a hard-hit community with everything they need to provide childcare stored inside a pull-along trailer.

"Our mission is to take care of children in crisis," Sprinkel said. "When a crisis hits and there are children who need to be taken care of, that's what we do. It's a fulfilling ministry. Everything we do is geared to bring the message of Jesus."

In his years of service, Sprinkel said there have been so many memorable moments, like the time when a young girl who had never heard of Jesus couldn't wait to tell her mother about him.

"She was so excited," he said. "Those are kinds of moments that keep us going."