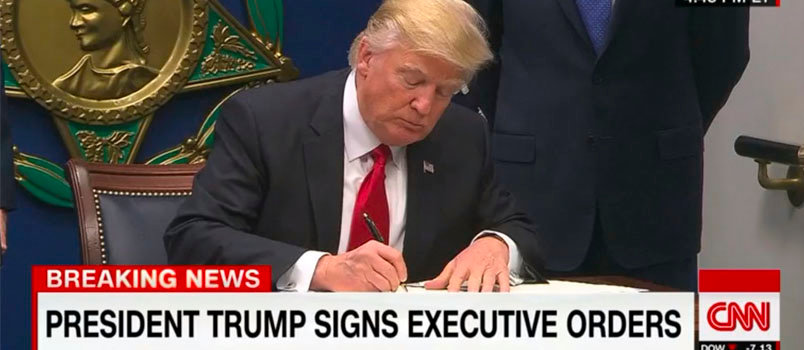 President Donald Trump signs the executive order Jan. 27 barring citizens of seven countries – Iraq, Iran, Syria, Libya, Somalia, Sudan, and Yemen – from entering the United States for at least the next 90 days. The Syrian ban is indefinite. Screen grab cnn.com[/caption]
Note: When a topic generates discussion over social media, The Index wants to know what Georgia Baptist ministers have to say. To help us see your comments, find us on Twitter so we can add you to our list of Georgia Baptists or tag us on Facebook.
No one can say President Donald Trump isn't following through on campaign promises. A week filled with a dizzying news cycle over executive orders involving trade, the environment, and border control culminated with Protecting the Nation From Foreign Terrorist Entry Into the United States, signed Friday, Jan. 27.
Through the executive order, entry into the United States for immigrants from seven countries – Iraq, Iran, Libya, Somalia, Sudan, Syria, and Yemen – was suspended for 90 days, excluding foreign nationals traveling on diplomatic visas and similar exceptions. The order further proclaimed the entry of Syrian refugees as "detrimental to the interests of the United States" and suspended until the president "determined that sufficient changes have been made to the [U.S. Refugee Admissions Program] to ensure that admission of Syrian refugees is consistent with the national interest."
The order simply mirrored that of President Barack Obama's in December 2015, White House Press Secretary Sean Spicer told reporters Sunday. President Obama's initial order included Iran, Iraq, Sudan, and Syria. Two months later Libya, Somalia, and Yemen were added to the list.
'A government's responsibility'
Georgia Baptist leaders fell on both sides of the discussion. Brad Reynolds, vice president for Academic Affairs and professor of Christian Studies at Truett McConnell University, wrote a guest commentary for The Index supporting the measure. In it, he compared the responsibility of the government with that of a man's duty to protect his home.
"No Christian I know wants our government to turn away refugees. We recognize the huddled masses longing for freedom," he said. "… But those of us who know our Bible know that the primary responsibility of government is the protection of its citizens."
A Christian's responsibility is to share the gospel, Reynolds pointed out.
"While government has a clear responsibility from God to protect its citizens it does not have a clear God-given responsibility to feed the poor. The responsibility to feed the poor is given to the families of the poor (1 Timothy 5:8), the church (Acts 5 and James 2), and to individual Christians (Isaiah 58:7; Matthew 25:34-40; and James 1:27) in Scripture. It is not given to governments, unless someone does hermeneutical hopscotch to argue from a theocratic concept in the Old Testament."
Reynolds went on to point out that government isn't prohibited from feeding the poor, but Christians "should not desire our government to shirk its God-given responsibility to protect its citizens." In fact, he said, one must keep in perspective the knowledge government agencies possess that isn't available to the general public.
"Let's allow some facts to shed light on this emotional topic. You and I are not privy to the information from the military, CIA, or FBI, which may have prompted our commander-in-chief to make this decision. Most, if not all, of the nations he placed on this travel ban have terrorist training camps where terrorists are trained how to terrorize their enemies (the United States being the grand prize). All seven of these countries were selected by the Obama administration as posing 'special risks' for visa entry (I know, it's mind-blowing that we weren't told that by the media).
"So, if you were a terrorist how would you get into the U.S.? Would you ever consider coming in with refugees from the country you were trained?"
Many echoed Reynolds' position via retweets and sharing posts on Facebook. Columnist David French's commentary on separating fact from hysteria at National Review proved to be a favorite.
'Better to reach out'
Johnson Ferry Baptist Church, Marietta Pastor Bryant Wright became part of the national discussion involving refugees last year. In the months following the November 2015 ISIS attack in Paris that killed 130 civilians, 31 U.S. governors – including Georgia's Nathan Deal – signed executive orders halting the Syrian Refugee Program after a Syrian passport was found on one of the dead attackers.
It turned out the suicide bomber wasn't Syrian after all, but a pall had already descended over refugees from that country. Appearing on 60 Minutes last night in a piece originally broadcast Oct. 16, 2016, Wright explained why Johnson Ferry sponsored one family during that time and has gone on to sponsor seven more Muslim families from Syria.
"Isn't it better to reach out and love these folks than to give them the cold shoulder?" Wright said in the report. "Which approach do you think might cause a Muslim refugee to be more sympathetic to Islamic terrorism? Which approach? To me it's a no-brainer."
With the report's re-airing, Wright found himself once again part of the topic. He responded to one comment on Twitter, taking time to make clear his church's overall position regarding the gospel.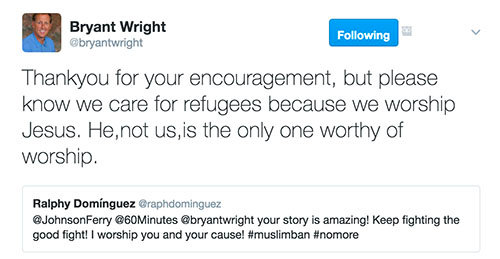 Jesse Colbert, pastor of Sunnyside Baptist Church in Toccoa, devoted his Sunday morning sermon from Matthew 5:44-47 to the topic.
"I don't like being political from the pulpit ... but this is a message we need to hear," he began. From there, Colbert expressed appreciation and excitement about the Trump administration in areas such as rights for the unborn. However, he termed the executive order issued Jan. 27 as "abhorrent."
"We need to stand against it," he stated.
Colbert pointed out that none of the perpetrators of terrorist attacks in San Bernardino, Orlando, Boston, Fort Hood, Charleston, or on 9/11 were citizens of the countries listed in the ban. Countries such as Saudi Arabia, Egypt, and the United Arab Emirates, he added, did not make the list despite having citizens who have attacked the U.S.
"We have become a people for safety at all costs … for comfort at all costs. Whatever it takes for me to feel safe… and comfort – that is what we want. … That is the most unbiblical attitude you could possibly have," he preached.
"The gospel is not about safety and comfort at all costs. [It's] about saving lives, forgiving sin, and transforming this world and that is not a safe message."
A call to work together
On Facebook Justin Carter, pastor of Bellview Baptist Church in Rockmart, urged for both sides to be considered.
"As a Christian I hope that we can do something to help refugees around the world, especially in Syria, in a way that doesn't forfeit our national security. We should work together for that as our end goal. I believe we can't turn a blind eye to it."
Carter then directed his thoughts toward what he feels is an under-discussed cause of the situation.
"[W]here is all the outrage against Islamic regimes that have caused these humanitarian crises? I agree we have work to do as a nation in regards to protecting and ensuring women have equal rights, but where is the outrage against nations that don't allow women to drive, vote, speak in public, wear what they want to wear or marry who they want to marry? Whatever your viewpoint, I would encourage you to think independently and pray for the Lord's discernment with these issues."