MCRAE — The past couple of months have forced pastors to adjust to many changes. One of the more jarring ones is preaching to a screen instead of the familiar faces they're accustomed to seeing in the seats before them.
It's not a stretch to say Darren Talley, pastor of Southside Baptist Church in McRae, is more comfortable with technology than most pastors. He's active on social media and produces regular videos for church members, even when babysitting. Still, he admits that there's nothing like being with your people in person.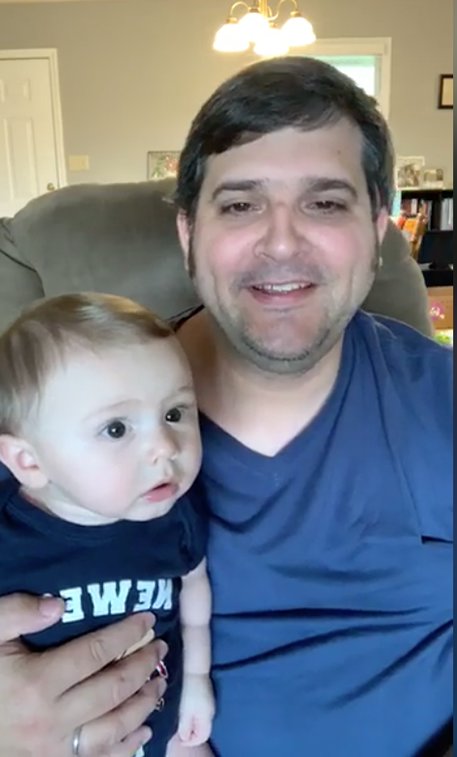 Josiah Talley joins his daddy for an online Wednesday night prayer meeting.
That certainly accounts for his reaction last Sunday, May 3 to walking into the sanctuary at Southside. For the first time in nearly a month, Talley saw smiling faces he hadn't witnessed gathered in the same location. During the week some church members had collected photos of families and individuals, setting them up among the pews.
"I had been running a little late that morning so when I walked in the door, it almost didn't hit me what was going on," Talley, who admitted the sight shocked him, told The Index.
"I walked around the room and looked at each picture and it just hit me," he continued. "I started recording my own video of it because I never wanted to forget that moment. We have been through so much with this congregation in 2 years of service here, from our house being torn up by a tree last year, to Josiah's adoption, to grieving the loss of one of our students, as well as one of our deacons, all this past year. When I saw that, all those things started flooding my mind and how God brought us to this place for 'such a time as this.'
"Our church is our people, and not having them there in this quarantine, even though we have all stayed in fairly close contact through our online services, just has not been the same. Seeing them there Sunday, even in printed form, made it feel a little more like it should be."
Watch Talley's video below.
---