One Life Church hosts an outdoor movie night in an effort to reach nearby residents.
By Keith Ivey
When Kennard Weever was invited to become pastor of what is now One Life Church, they were meeting in an elementary school in Lawrenceville, the third location for this fellowship that started in Norcross as Northeast Community Church in 1994.

For Weever, who works as the career academy specialist for the South Gwinnett Cluster of Gwinnett County Public Schools, where they were meeting was the biggest attraction for him. The church history records then that, "The second half of 2018 and the first half of 2019 were spent reviewing and evaluating the ministry's focus, leadership development training and strategic planning." 
Leading the church to be faithful to the community in which they had been planted, Kennard asked two questions in his first months as pastor: "Does the community know we are here?" and, "How have we partnered with this school?" The answer was that there was a sign out front and they paid rent. So, they approached the school. When asked how their church could help, the principal shared that a significant number of kids had overdue lunch accounts and because of that these K-5 students were only receiving peanut butter and jelly sandwiches and water for their lunch.

The church responded by creating an account for the school to draw from whenever a child had an overdue account. Families noticed and some even visited, wanting to know who this church was that was paying their bills. That year for the 5th grade graduation, the church was recognized by the principal with an award for their generosity to the school.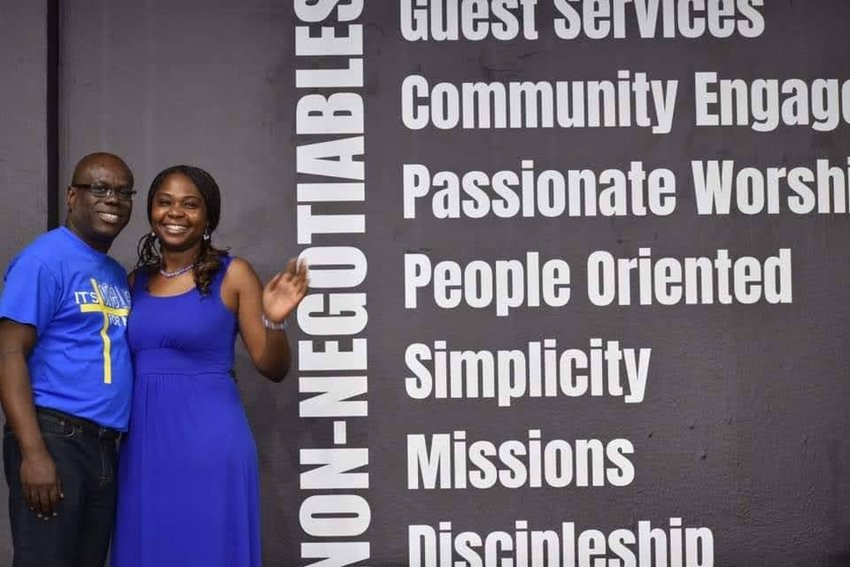 Pastor Kennard Weever poses with Esung Ngalame-Weever in front of a sign showing a list of non-negotiable traits of their church.
Under Weever's leadership, the church also made a deliberate choice to connect with the local association of Southern Baptist churches in Gwinnett County. There the church was introduced to Pastor Danny Odum and the congregation at White Oak Baptist Church in Lilburn. White Oak was in a challenging season as a church and had just made the strategic decision to become a site for multiple ministries. Odum calls it "a place for others to start." So, in June of 2019, an amazing relationship commenced. One Life Church began meeting on the campus of White Oak Baptist Church. They shared the sanctuary and worked at coordinating calendars. They had joint worship services and outreach events.

"We didn't just open up our doors, we opened up our hearts," Odum said.

In the year and a half of ministry that followed, whenever they did anything in the community, the names of the churches were not promoted – only the church address. It was a relationship that has benefitted both churches. And it is a strategy that White Oak has continued. Currently, they are hosting two additional congregations in their facility.
Recently, on Weever's third anniversary, One Life Church celebrated their inaugural service at 787 Paden Drive Lawrenceville, Georgia 30044, a property developed through the work of Gwinnett Metro Baptist Network's New Work Foundation. Dr. Steve Parr, executive director of the GMBN, celebrates the addition of another strong congregation to Northeast Georgia's Most Lost Zip Code. The Foundation was looking for a church to occupy the Paden Road property that would impact the community. And in One Life they saw a church and pastor already doing just that at White Oak.
One Life Church is continuing to ask the same questions with the same Kingdom perspective. Posting informational signs at the neighborhoods that are within walking distance from the church has produced new visitors each Sunday. And they are ready for those visitors. "We don't have hosts and ushers; we have guest services instead. Everyone is treated as a guest. New and old members are treated as VIPs," Kennard said. And it shows. One young mother who recently began attending One Life said, "As I enter in… from the time I pull onto the lot, I am treated like royalty."
Yet, with a steady stream of visitors, some churches might say, "We are here. We are in this community. Let's just invite the community in." Weever acknowledges that the community is really not just going to come in. After all, he said, "We are not Chic Fil A!"

The Evangelism and Outreach Team has been renamed the Community Engagement Team hosting community events like a family movie night at a neighboring park that drew the community into an engaging environment where the church and community can DO LIFE TOGETHER.  The Community Engagement Team of One Life Church registered participants for Gift Cards they gave away at points throughout the evening. Using that contact info, they continue to promote community events like an upcoming community cookout where they will have a prayer tent and a photography booth. And all these events are building to One Life Church Grand Opening to the Community on Sunday, September 19, 2021 – BACK TO CHURCH SUNDAY.
And this body of believers is continuing to keep a forward focus, refusing to allow opportunities to be limited because of resources. As one of the partnering churches in Northeast Georgia's Most Lost Zip Code, Kennard believes that, "God will send what we need." One Life Church is ready to partner with Northeast Georgia churches in a reciprocal relationship. The church mission is simple: REFRESHING People – Purpose – Promise & Potential by REACHING People Where They Are – How They Are – No Matter Who They Are. They welcome the help in reaching a largely unchurched and highly diverse community. And they hope to encourage their partners as well with the thought, "How can what we are doing help them where they are?"
For more information about partnering in the most lost zip codes of each of the six regions in Georgia, contact Keith Ivey at kivey@gabaptist.org.