At the annual Legislative Breakfast, Pastor Anthony George, First Baptist Church of Atlanta, encouraged the 50 Georgia legislators in attendance to seek God's wisdom. COURTESY/Mike Griffin
---
ATLANTA – Public Affairs Representative Mike Griffin spends months out of the year at the Georgia State Capitol. He's often seen speaking in hearings or interacting with legislators, but another little-known part of his ministry is fellowship and outreach to the legislators themselves.
In addition to praying with and for these legislators, he also hosts the annual Legislative Breakfast, which is sponsored by the Georgia Baptist Mission Board. This event has been recurring for 20 years.
"The purpose of the prayer breakfast is to bring legislators and constitutional officers together for a time of inspiration and encouragement around prayer and God's word," Griffin said. "One of the highlights of the breakfast each year is that it does not focus on politics or any legislation. Legislators need time to put aside the worries of the legislative session and be encouraged around the things of God."
This year, the breakfast was attended by nearly 50 legislators, who gathered in the early morning hours of Feb. 4.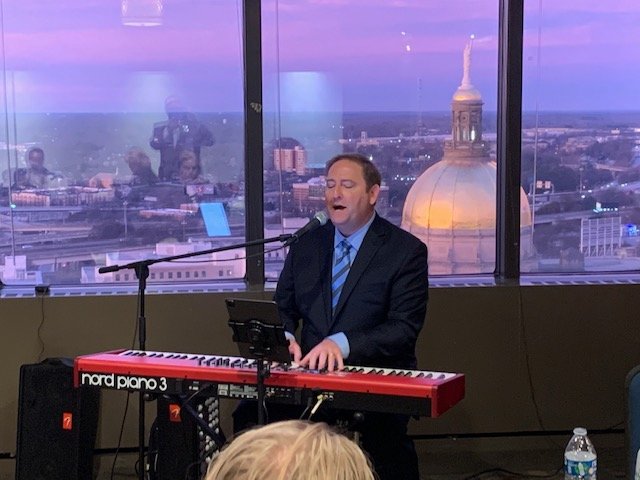 Rhon Carter, worship pastor at First Baptist Church Statesboro, led the legislators in worship. COURTESY/Mike Griffin
Rhon Carter, worship pastor at First Baptist Church Statesboro, led the legislators in two songs of worship, "No Longer Slaves" and "It is Well with My Soul." Carter also serves as the Southeast Region consultant for the Worship and Music team of the mission board.
"I believe that one of the highlights of the meeting was when Rhon Carter opened up the service time with the song, 'No Longer Slaves,'" Griffin said. "This song really set the tone for the message Anthony George presented."
Executive Director Thomas Hammond spoke at the breakfast and thanked the legislators for their presence and service. He also introduced the guest speaker, Anthony George, pastor of First Baptist Church of Atlanta.
"I say he's one of the best preachers," Hammond said. "I'm partial to him because of our friendship, but as you'll see in a few moments, he's been given a gift by the Lord to really teach and proclaim the Word of God. The one thing he always does is point people to Jesus."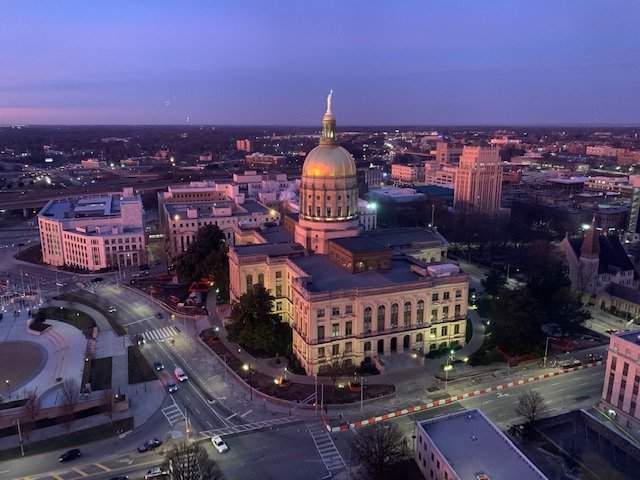 The sun rose over the Georgia State Capitol while the legislators enjoyed fellowship, worship, and a devotion. COURTESY/Mike Griffin
Framed in front of a window that displayed the early morning light over the Capitol, George opened his devotional time with encouragement for the legislators.
"Prayerfully, the rising of the sun over that golden dome is indicative of God's continued favor over our state, that we do not need to give into despair about what's going on around us," George said, gesturing to the glimmering dome of the Capitol behind him. "God still has a plan for us, and there is still hope for Georgia."
His message, he said, was one about an "awesome request for wisdom." George shared a story about when he was a new Christian in the 12th grade, and how he started growing spiritually and learning as much as he could about the Word of God. He shared how he was challenged by a particular passage of Scripture – 2 Chronicles 1. George emphasized verse 7.
That night God appeared to Solomon and said to him, "Ask for whatever you want me to give you."

2 Chronicles 1:7
"I remember hearing that passage for the first time, and how it challenged me to make that my lifetime prayer," George said. The prayer for wisdom has become a part of his daily prayer life.
"The most important prayer – apart from the prayer of salvation – is 'Heavenly Father, please give me your wisdom,'" George said.
The Lord answered Solomon's request for wisdom. Solomon is known as the wisest man who's ever lived. George said he can look back over his life and see times when he neglected to use wisdom he had or was ignorant of the wisdom available to him. Inversely, he can look at his life and see times when he's utilized the wisdom God has provided to him by grace.
"Wisdom tempers ambition," George said. "Wisdom balances zeal. Wisdom rebukes pride. Wisdom values relationships. Wisdom prevents regret."
He urged the legislators to think about wisdom in their lives, and the decision-making roles they fill on a daily basis. He said not one of us has the wisdom of God without asking. The legislators, he said, are in a ministry of sorts in their positions.
"The assignment you have was given to you by God," George said. "You've got gifts and talents that will help you. If you will seek wisdom from God, it will distinguish you from others around you. It'll set you apart from your peers. By seeking wisdom, you're acknowledging that what you're doing is important enough that you're asking God. It gives dignity to your assignment."
George said at the end of their assignment, the legislators can look back and know that they've asked for the wisdom of God, which also invokes the favor of God in their work. George ended his message with prayer for and over the legislators.
At the close of the meeting, Georgia Agriculture Commissioner Gary Black led a prayer praising God for His sufficiency and asking for his instruction.
George's full message and the service can be found online here.
---