Doug and Greta McCart are praising the Lord for seeing them safely through a tornado with winds estimated at 175 mph.
By Roger Alford
NEWNAN, Ga. – Pastor Doug McCart, who survived a potentially deadly EF-4 tornado while sitting at the foot of a cross with his wife Greta in late March, is still finding lots of reasons to praise the Lord.

The McCarts had taken refuge inside Unity Baptist Church when the twister struck with winds estimated at 175 mph, doing more than $3 million worth of damage to five buildings on the church's campus.

Roofs were torn off. Walls were ripped away. Sheet metal flew through the air like huge pieces of shrapnel. But the McCarts, serving the church on an interim basis while the congregation searches for a new pastor, were unharmed.

A landing in a stairwell in the gymnasium seemed the safest place, so the McCarts took shelter there as the tornado ripped and tore at the structures, scattering insulation like heavy yellow snow across Newnan. Outside, their vehicles, including the RV they lived in, were being beaten with debris and tossed about.

They had been in the RV when they received the alert that the tornado was approaching. The twister rolled the RV three times, demolishing it, only minutes after they had exited it to go inside the gymnasium.

"I felt the building shaking," McCart said. "I thought, 'the building can't withstand this. I'm about to meet Jesus face to face.'"

It turned out, the pastor said, that on the other side of the wall where they were waiting out the storm was a cross.

"Where that landing is, we were sitting right at the foot of the cross," he said. "It was like the Lord was standing there at that wall and said to that tornado, 'stop, that's as far as you can go.'"

The McCarts' survival was national news. The Weather Channel shared video of the pastor and the badly damaged church with TV stations across the country.

The tornado that did so much damage in Newnan was among several that hopscotched across Georgia and Alabama on March 26, leaving widespread destruction in their wake.

"The Lord has just been so awesome through this," McCart said Thursday, two months after the tornado outbreak. "Our attendance has increased. Thanks to insurance, we'll end up with better buildings. I have a better RV, a better truck. It's amazing what a mighty God we serve."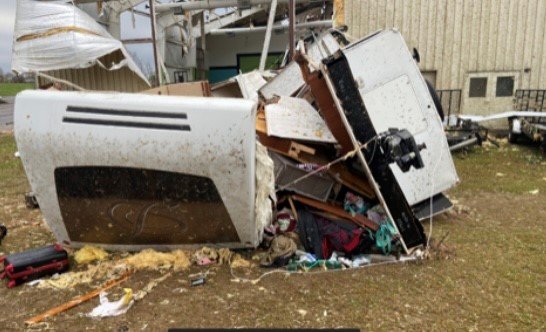 A tornado with winds estimated at 175 mph demolished an RV belonging to Doug and Greta McCart.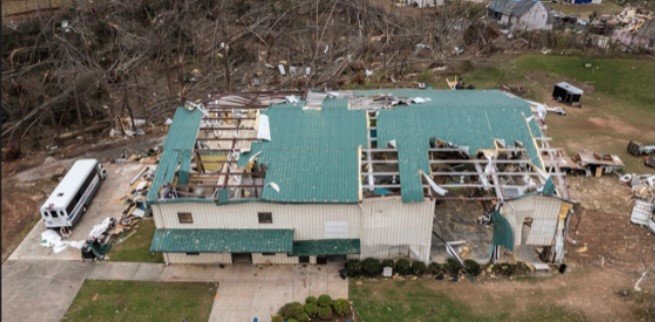 The gymnasium at Unity Baptist Church received heavy damage. Doug and Greta McCart had taken shelter inside the building in the minutes before the violent tornado arrived.